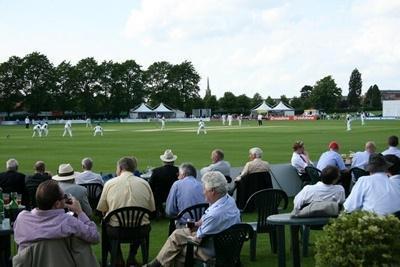 It is known that the boys of Oakham School were playing cricket during the nineteenth century, and the first known reference is to a match, which was won, against Uppingham School in 1815, with the rules of the School Cricket Club being drawn up in 1836. In 1884 the School celebrated its Tercentenary, and since then full details of all cricket matches played by the 1st X1 have been kept. An annual Statistical History is published (contact BN2@oakham.rutland.sch.uk) and all match cards since 1884 are published on www.cricketarchive.com . Since 1884 up to the beginning of the 2016 season, excluding t20 matches, the X1 has played 1864 matches (won 607, lost 602, drawn 643, tied 12).
S.C.J. Broad, P.G. Cook, C.F.D. Morgan, Y.A. Tariq, and I.D. Saxelby have represented ECB U19 in recent years.
The Director of Cricket 1999-2012 was Frank Hayes (Lancashire and England) with David Steele (Northamptonshire and England) and Phil de Freitas (Leicestershire and England) coaching; then Fran's role was taken by John Crawley (Cambridge, Lancashire, Hampshire and England) 2013-15, although Frank remains coaching; from 2016 the new Director of Cricket is Neil Johnson (Leicestershire, Hampshire and Zimbabwe).
Between 1846 and 1849 Old Oakhamian R.T. King gained Cambridge Blues, as did C. Warren in 1866; J.J. Bull won an Oxford Blue in 1999 and R.T. King, K.H. Pearce, A.E. Wright J. Atter, H. Burgess, J. Burgess, J.W. Bradshaw, J.A.S. Taylor, M.A. Boyce and A.C. Wyatt played for Leicestershire, A.W. Cursham and P. Vaulkard played for Nottinghamshire and then Derbyshire, C.R. Morris and P.R. Forman played for Nottinghamshire, S.H.G. Humfrey and F.K. Thornton played for Northamptonshire, and A.P.F. Chapman played for Cambridge, Kent, and England (having attended the School in his early years before migrating elsewhere).
Presently playing First Class cricket are: S.C.J. (Stuart) Broad (Leicestershire, then Nottinghamshire, and England), J.J. (Josh) Cobb (Leicestershire and then Northamptonshire), and T.C. (Tom) Fell (Worcestershire).
Directions
Directions to the school:
http//www.oakham.rutland.sch.uk/map/oakham/oakham.htm
School Map (1st XI cricket is played on Doncaster Close):
http://www.oakham.rutland.sch.uk/map/school/index.htm
Further information can be found at www.oakham.rutland.sch.uk.