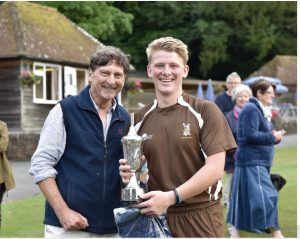 John Barclay presenting Harry Brook (Sedbergh) with the Nationasl Schools T20 Trophy at Arundel in 2017
See Latest results for news
Welcome to the website which was established in April 2009. This is the ONLY place where you can find comprehensive (and free) coverage of schools cricket, with a huge set of weekly results plus a review of the game throughout the UK. The national newspapers nowadays provide scant or nil coverage of this important nursery of cricket. One or two paying websites offer a very limited amount of information. The Editor is in regular e-mail contact with almost every cricket-playing school in the British Isles (including all of Ireland). However, we are still keen to expand coverage of state schools and girls' cricket.
Do use our brilliant Search facilities to find anything you want to know. There are two of them and they are slightly different. If you don't find what you want on one of them, try the other.
Please take time to visit our sponsors, whose links you will find on every page. They are all well-known to us personally, and we highly recommend what they offer. Our sponsors offer a range of things from the latest type of cricket ball to travel to GAP year coaching opportunities to specialist clothing.to specialist bat makers.
Do take a moment to scan down the links on the left hand side and dip into whatever takes your fancy. There are some interesting pieces under "Useful articles". On this site you will find far more than just recent results. We have an archive of weekly results and commentary published in The Times from 2004 to 2008 (by kind permission of The Times) and similar coverage on this website from 2009 onwards.
There is also an archive of statistics, reports and reviews of schools cricket from Wisden for the seasons 2002 onwards
. It contains full details of all school players who qualified for inclusion, and is vastly greater than Wisden itself has space for. With either Nitro reader or Adobe reader XI or later (both free) it is fully searchable. Beyond that, every Schools section of Wisden from its inception (1887) is now available here in PDF form, but still searchable. This whole section is published by kind permission of Wisden Cricketers' Almanack. Seasons are added six months after the publication of Wisden (April/ November).
Schools are subject to ECB guidelines, and up-to-date versions are published here. We have a most interesting and ever-growing section on individual schools, their history and their grounds. There are links to the key websites of interest. Various possible formats of the game are shown in a special section.
The website's Editor offers various free services such as contacting schools to arrange fixtures (see FAQ). Commercial organisations may make use of this service only in very limited circumstances where it is deemed to be of special interest to schools; sponsors of the website may make use of this service more frequently, at the Editor?s discretion.
This is a free website to promote the well-being of schools cricket by providing weekly results, comment, news and information; also links to other useful sites. In short, this is the key website for all who have the future welfare of the game at heart.
If you are a cricketing school, please make sure that the link schoolscricketonline.co.uk is available on your own school's website so that your current pupils, members of staff and former pupils have instant access. For all, please add this to your Bookmarks/ Favourites.
The editor of the website is Robert Morris. He took over as secretary after the sudden death of Douglas Henderson in February 2022 and will compile the Schools cricket section of Wisden. The Chairman is Andy Whittall, the former Test and ODI cricketer for Zimbabwe.
We welcome advice and comment on the development of the site. Send to [email protected].