Tuesday June 15th 2021
Scroll down if you want further information about the Wisden 2021 special supplement.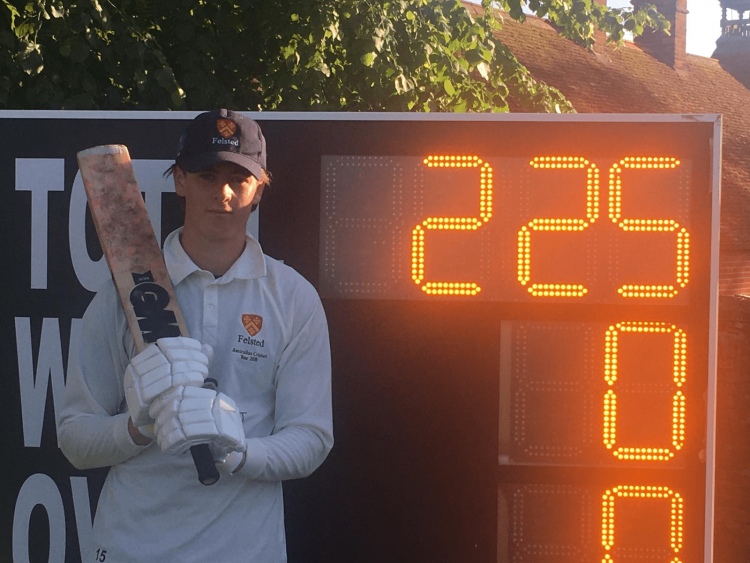 Never mind London buses. In these days of Covid, a 50-over game* (let alone a declaration one) has become an endangered species and with it the prospect of any chance of a double hundred this season. This supposition was rendered null and void when two players on Saturday scored a double hundred in a 40-over match. Both were made by sons of well-known cricketers, David Sales and Jason Gallian. Both were astonishingly similar in their statistics: Wellingborough's captain James Sales scored 215 not out from just 124 deliveries, with 10 sixes and 25 fours; Harry Gallian took even fewer balls, 117, to reach the even higher score of 225, hitting 18 sixes and 12 fours. All credit to their oppositions who in these difficult days had to turn out a weakened side to fulfil their school's requirement to play only in bubbles.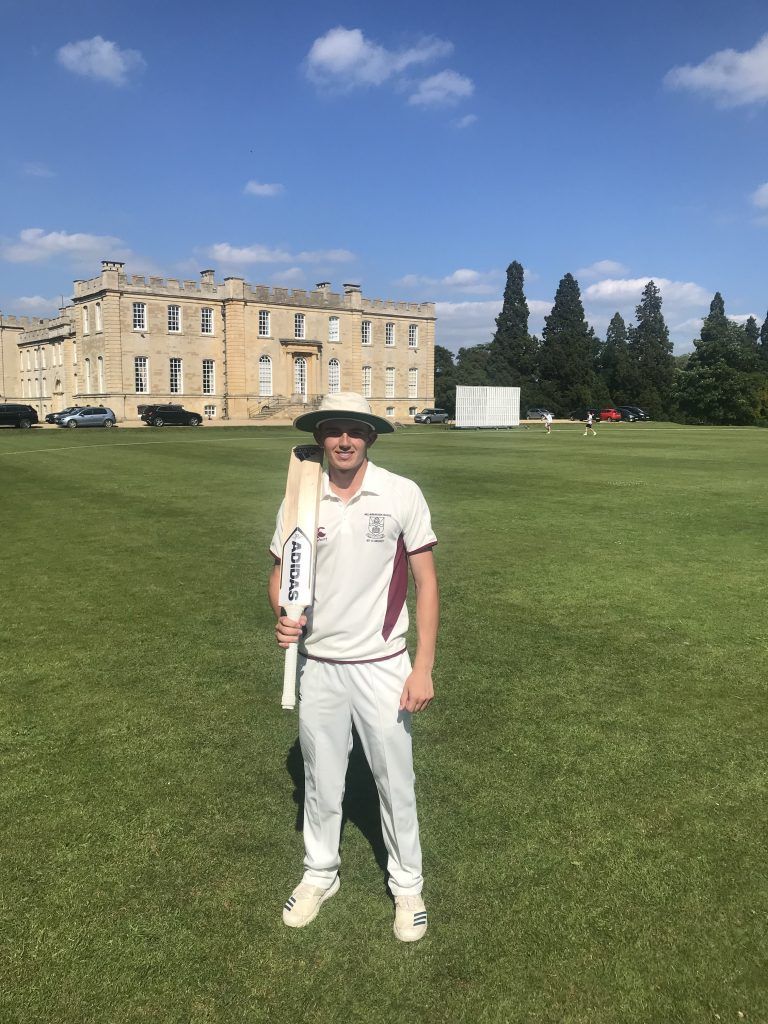 That pattern has been very widespread: though at least boys and girls have been playing some cricket, many schools have been required by their Heads and management teams to play only in single-year-group bubbles, so in practice have not really turned out their proper 1st XI.
Have we now moved into the broad sunlit uplands? Possibly. Teachers are completely exhausted and Masters i/c Cricket extremely frustrated by a summer term blighted not just by Covid or even nervous SLTs (and other acronyms) but mainly by Teacher Assessed Grades. I have had several emails this week on this topic and I choose just two to illustrate the almost universal theme: "never known anything like this before; we have still not played a 1st team Saturday match yet and it is the 9th of June!" or "endless teacher assessments". Now I've just spoken to one Master i/c who said in exasperation "this experience has been far and away worse than a normal exam term" and that has been a serious pain in the neck for years.
I had thought that these appalling TAGs had finished by half-term, but no. One school reported that they were continuing into the first week afterwards and now the poor old teachers are doing all the marking, assessing, standardising etc that exam boards normally do. At the same time teaching a full timetable for other year-groups. And the exam boards have the cheek to demand the vast payment for all this work that is actually being done by teachers, according to Alice Thomson in The Times, whom I quoted a couple of weeks ago. I shall repeat (from her article) what I think is a major scandal:
"The exam boards are collectively charging £220 million, the same as for a normal year, despite merely setting some sample questions but not marking them. Some schools are spending more than £100,000 on these non-exam entries."
The upside? All this nonsense may have just died down and the sun has come out (I forgot to mention the appalling May weather). The only problem is that there are only three weeks of term left for most independent boarding schools, the just-about-still-beating heart of competitive schools cricket. And one of those weeks is probably set aside for internal exams.
Desperate times.
*Stop press: news reached me this morning that Eton and Bedford played a 55-over match. The only problem was that the over rate was so desperately slow (alas, par for the course these days) thatthe game lasted until 7.45pm! I think there is a case for penalties within the game (eg extra runs) as there is for some T20 competitions.
Results (see below for National Schools T20 results)::
*Bede's 230 -9 (35 overs) Eastbourne 180 (National Under-17)
*Millfield 277-9 (45 overs), Hampshire Under-18 234
The Leys 183-5 (20 overs), *Felsted 184-5 (H Gallian 110 not out)
*Oakham 256-5 (40 overs), XL Club 201-6
MCC 259-3 dec,*Oakham 244
Cathedral School Llandaff 146-7 (20 overs), *Colston's 119
*Cranleigh 177-9 (50 overs), RGS Guildford 81 (Y Majid 5-10)
Wellingborough 345-6 (40 overs)(J Sales 215 not out), *Kimbolton 61
*Oakham 150, Stowe 151-1
*KCS Wimbledon 292-8 (40 overs), Reigate GS 104 (K Sivapathasundram 5-30)
*Felsted 361-5 (H. Gallian 225) , Bishop's Stortford College 211
XL Club 219-1 dec, *Christ's Hospital 82
King Edward's, Witley 127, *Christ's Hospital 132-2
*Marlborough 259-6 dec, Free Foresters 77
Marlborough 266-5 (F Kottler 105), *Bradfield 183
Trent 251 (50 overs), Repton 228-8
Bede's 186-8 (30 overs), *Hurstpierpoint 126 (National Under-17)
Bedford 252-9 (55 overs) (C Mumford 105),*Eton 214
National Schools T20 Results
To see more detail including the chart of the 2021 competition, please go to The National Schools T20 competition
North East group 1
*Worksop 202-0 (S Meadows 104 not out), Hill House 72-7
Worksop win the group

North East group 2
Scarborough 122-7, St Peter's York 124-8
Mount St Mary's 124-7, Scarborough 125-0
St Peter's York 175-8, Mount St Mary's 142-5
St Peter's York win the group
North East final
Worksop 126, St Peter's York 121
Worksop win the North East section and now play the winners of the North West
North West group 1
Birkenhead 159-4, King's Chester 147-6
Birkenhead 123–6, Wirral GS 84-9
Birkenhead School win the group
North West group 2
Manchester Myerscough 226-2 (M. Fisher 121 not out), Cheadle Hulme 134-4
Myerscough Preston v Altrincham GS – no score received yet
Myerscoiugh Manchester win the group
North West group 3
Rossall 157-4, Kirkham 89
Rossall 105-5, Lancaster RGS 106–1
Lancaster RGS win the group
North West group 4
Manchester GS 173-2, Rossall 141–6
Myerscough Manchester 194–0, Merchant Taylors' Crosby 86
Myerscough Manchester 134–4, Manchester GS 123-7
Rossall 155–6, Merchant Taylors' Crosby 123
Myerscough Manchester qualify for the North West Final
North West group 5
Sedbergh 162–6, Birkenhead 93–4
Bolton 119, *RGS Lancaster 120-2
Sedbergh now play RGS Lancaster and the winner plays Myerscough Manchester in the North West final
East group 1
Trent 120-7, Repton 123-6
Oakham 155-6, Repton 157-3
East group 2
Three teams withdrew
Rugby win the group by default
East group 3
*Bedford 148-3, Wellingborough 106-6
Stowe135-9, *Bedford 113-9
Stowe win the group
East group 4
*Felsted 147-6, Perse 91
Awaiting other results
East group 5
*Gresham's 182, Culford 61
Langley conceded the game to Gresham's
Gresham's win the group and now play Felsted
East group 6
*Ipswich 168-6, Royal Hospital 135-7
Framlingham 110, St Joseph's 111-7
*Ipswich 132-6, St Joseph's 120-7
Ipswich win the group
East group play-offs
Gresham's 158-6, *Felsted 160-5
Stowe 104-3, Rugby 100-6
Semi-finals: *Repton v Stowe, *Felsted v Ipswich
West Midlands and Wales group 1
Llandaff Cathedral 98-8, Monmouth 99-1
RGS Worcester 117-9, Monmouth 118-3
RGS Worcester 159-6, Wycliffe 107-7
Monmouth win the group
West Midlands and Wales group 2
King's Worcester 73-7, Bromsgrove 75-3
Malvern 215-6, Dean Close 128-7
Bromsgrove 128-7, Malvern 131-1
Malvern now play Monmouth in the semi-final
West Midlands and Wales group 3
Newcastle-under-Lyme 66-6, Shrewsbury 68-0
Ellesmere withdrew
Shrewsbury win the group and now play Wrekin

West Midlands and Wales group 4
Queen Mary's GS, Walsall, 105-4, Wrekin 46-1 (DLS revised target)
Wolverhampton GS withdrew
Wrekin win the group and now play Srewsbury

West Midlands and Wales group 5
Warwick 167-4, KES Stratford 125-5
KES Birmingham 134-7, Warwick 135-6
KES Birmingham 155-3, KES Stratford 96-6
Warwick with the group
West Midlands and Wales group play-offs
Wrekin 121-5, Shrewsbury 125-0.
Warwick were forced to with draw and so Shrewsbury now play Monmouth or Malvern in the regional final
South East group 1
Simon Langton 144-6, Hurstpierpoint 145-3
Bede's 146-5, St Lawrence 135-7
Hurstpierpoint 144-7, Bede's 145-3
Bede's win the group
South East group 2
*Eastbourne 192-8, Seaford 98
*Eastbourne 233-1 (T Hinley 136 not out), Sevenoaks 96-9
Eastbourne win the group
South East group 3
*Tonbridge 202-1 (S Hadfield 112 not out), Skinners' 112-8)
Skinners' 161-5, King's Rochester 95
King's Rochester 110-5, *Tonbridge 111-1
Tonbridge win the group
South East semi-finals and finals
Eastbourne 112-8, Bede's 109-9
Hurstpierpoint 146-6, Tonbridge 150-6 (19.1 overs)
Tonbridge 132-9, Eastbourne 81-8
Tonbridge win the South East
North London group 1#
Berkhamsted 147-8, Forest 125-7
Berkhamsted 175-4, *Merchant Taylors' (Northwood) 92
Berkhamsted win the group
North London group 2
Haileybury 204-3, Dame Alice Owen's 110
*Haberdashers' Aske's 156-5, Haileybury 159-7
Haileybury win the group
North London final
Berkhamsted 108-7, *Haileybury 109-3
Haileybury win North London
South London group 1
*Hampton 197-5 (T Tanmay 106), Tiffin 119
KCS Wimbledon 78 (P Kiritharan 5-1 inc. hat- trick), *Hampton 79-2
*KCS Wimbledon 155-5, Emanuel 93-9
*Hampton 251-1 (T Thanawalla 134 not out), Emanuel 51
Hampton win the group and now play Dulwich

South London group 2
Langley Park 197-3, Colfe's 114-5
*Dulwich 138-4, Eltham 65-8
Colfe's 129-5, Eltham 130-2
Langley Park 140-4, *Dulwich 141-8
Dulwich win the group and now play Hampton

South London group 3
Wilson's 128-8, *Whitgift 112
Trinity Croydon 126-6, Wilson's 83
Trinity Croydon 87-7, *Whitgift 89-3
Trinity Croydon win the group
South London group 4
Reed's 136-2, *St George's Weybridge 141-4
Awaiting other results
South Central group 1
Wellington 179-3, Churcher's 86-6
*Bradfield 146-8, Magdalen CS 91
*Bradfield 92, Wellington 93-6
Wellington win the group
South Central group 2
RGS High Wycombe 95, Shiplake 97-0
Radley B 201-7), RGS High Wycombe 134-8
*Radley A 203-5, Shiplake 104-9
Radley win the group
South Central group 3
Abingdon 138-3, Dauntseys 84-7.
*St Edward's School, Oxford 182-6, Reading Blue Coat 102-10
Reading Blue Coat 165-4, Dauntseys 168-4.
Abingdon 114 for 6, *St Edward's 118-4
St Edward's win the group
South Central group 4
*Oratory 150–5, Lord Wandsworth 151-7
Lord Wandsworth 95, Winchester 96-4
*Oratory 168-7, Winchester 169-0
Winchester win the group
South Central semi-finals
St Edward's, 111-8 (16 overs – rain), *Winchester: 112-6
*Wellington (Berks) 142-2, Radley 112-6
Winchester play Wellington in the South Central final
South Central final
Wellington (Berks) 135-9, Winchester 121-7 (at The Oratory)
Wellington win the South Central region and now play the King's Taunton for a place at Arundel

South West Tier 1
Clifton 168-6, *Taunton 93
*Millfield 165-8, SGS (Filton) 118-8
Taunton 36-4 (7 overs), *Millfield 40-2
Clifton 110-7, *King's Taunton 114-2
*King's Taunton 174-6, Millfield 142-9
SGS (Filton) 69, King's Taunton 73-3
*Taunton 117, King's Taunton 120-1
*Clifton 147-7, Wellington (Somerset) 46
*Clifton 134-7, Millfield 135-0
Millfield 144-6, Wellington 104-5
Wellington (Somerset) 120-9, King's Taunton 123-2
King's Taunton win the South West region and now play Wellington (Berks) for a place at Arundel
South West Tier 2 group 1
Queen Elizabeth's Hospital 157-6, Bristol GS 135-7
Colston's withdrew so Queen Elizabeth's win the group
South West Tier 2 group 2
Queen's, Taunton 179-4, Warminster 128-6
*Warminster 81, Blundell's 85-3
*Queen's Taunton 121-9, Bryanston 107-6
Blundell's 159-4, Queen's Taunton 105-8
Blundell's 163-4, *Bryanston 137-6
*Bryanston 181-4, Warminster 93-9
Blundell's win the group
South West Tier 2 group 3
Mount Kelly 100-8 , *Plymouth 103-1
Truro & Penwith 143-6, *Mount Kelly 145-7
Truro & Penwith 102, *Plymouth 102-0
Plymouth win the group
Best runner-up
To be announced

Wisden 2021 special supplement
For the briefest of introductions to the schools section you can read the Wisden 2021 Press release. We are delighted to publish simultaneously an extended supplement to the main article in the printed version. We'd strongly urge you to read the printed version first, in order to put the supplement intro perspective. Click on the link to read in full the Wisden Schools Cricketer of the Year – a retrospective
As you will realise there cannot possibly be anything like the normal schools cricket section covering the non-season of 2020, and so there is a very unusual special schools section instead. It is so massive in its extent that Wisden itself is publishing only the main part of it. We are privileged to offer a supplement which includes a vast amount of data which Wisden could not possibly find space for.
Here are the details for ordering Wisden 2021 at a substantial discount:
For schools (including members of staff, pupils and parents) who wish to order the new edition of Wisden annually, the best price available is the less-than-half-price (£25) offer if you take out a subscription. To subscribe, please visit: www.wisdenalmanack.com/subscribe.
For those who prefer not to subscribe, the 2021 edition (hardback or soft cover) can be ordered for £35 (post free) from www.wisdenalmanack.com/2021. The large format edition and Shorter Wisden ebook can also be ordered via this link.
The hardback or soft cover edition can also be ordered for the discounted price of £35 (post free) by phoning 01256 302692 (choose option 1 followed by option 1 again) and quoting the discount code "GLR UK7". The large format edition can also be ordered for £55 (post free) by quoting "GLR UK7".