Cricket at Fettes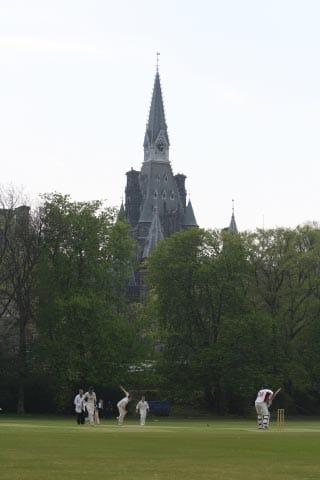 When the school opened in 1870 the cricket field, known since as ?Turf? was being used by the Grange Cricket Club. On the day the school opened, 5th October 1870, with 53 boys, the oldest of whom was 14, there was a scratch game of cricket organised by one of the masters. Over the years since, though more Fettes rugby than cricket players have reached great heights, cricket has always been played on good wickets to a high standard. By 1873 the XI was playing the first teams of other schools and acquitting itself well. In 1889 the first Blue was gained at Oxford by M.R. Jardine (father of the English captain, not a Fettesian, during the bodyline controversy) and in 1908, the legendary K.G. Macleod whom Wisden describes as Scotland?s greatest all-round athlete, won a Blue at Cambridge before playing regularly for Lancashire.
In 1906 the present fine cricket pavilion was built in memory of John Yeo, a housemaster who died very suddenly.
Since 1885, the school has been well-served by a small number of cricket professionals. Geordie Howell, Bob Haywood (Northants), Reg Hollingdale (Sussex), Jack van Geloven (Yorkshire and Leicestershire) and currently Bruce Russell (Scotland ? captain).
The XI won the Lothian Schools Cup in 2008, as it had done in 2004. Each year, a cricket festival takes place with The Leys, Monkton Combe and St. Paul?s. In 2001 Neil Millar captained Oxford, and in 2009 Scott MacLennan is Vice Captain of Cambridge.
Finding Fettes College and the Cricket Ground
From the East and West of the city approach along Ferry Road. From Ferry Road turn onto East Fettes Avenue. The entrance to Fettes College will be seen at the top of the rise after 600 metres on the right-hand side. Turn first right inside the campus the cricket ground is situated within 100 yards just behind the Estates office, which is sign posted. From the South and East come in via Leith, picking up Ferry Road as above; come along London Road to John Lewis -> Broughton St / Inverleith Row -> Inverleith Place and come straight across the junction with East Fettes Avenue into Fettes; or link up with the bypass West and link up with Queensferry Road before coming off onto Telford Road and heading onto Ferry Road.
Further information can be found at www.fettes.com.