Cricket at Queen's College, Taunton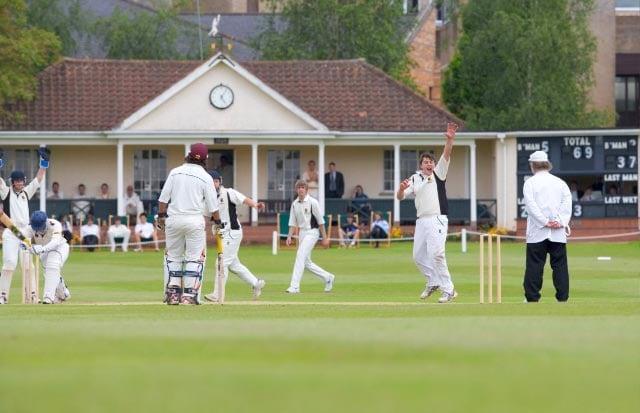 Twenty years ago the cricket was run by Jeff Davies ( 1976 ? 1994) currently the Under 19 coach for Somerset, and also the coach at Taunton rugby club. Under his tutelage the game thrived. In the late 70?s Queen?s went four and a half years without being beaten.
Gary Palmer was one of the College?s leading lights at cricket and went on to play for Somerset. He played for England schoolboys in 1981 and took exactly one hundred wickets for the school Ist XI. He was also a very hard hitter of the ball and scored three centuries, one in each of his years in the side.
Jeff had some very talented sportsmen at his disposal in the mid 1980?s and early 90?s, non more so than the Essien brothers, Tony and David. Tony took 122 wickets for the school ?in 1985 47 wickets at 8.14 each and in 1986 36 wickets at12.91 apiece. David, the younger of the two, had prodigious talent in pretty well any sport he took up ? he was a double international playing schools cricket at U-18 and England Colts rugby.
In 1994 Andrew Free took over from Jeff and the late Nineties saw another golden age. The three Bailey brothers all represented the school for three years each and must have amassed thousands of runs between them and in 1996 all three scored hundreds for the school. Andrew Free was also blessed with two good spinners at this time; Mathew Gitsham and William Bates. Mathew took 98 wickets with his wrist spin as well as scoring three centuries. who took 94 wickets at an incredible average of just 8.75.
Ben Ackland, who left the school in 2008, played for the Ireland U21 team and also had a season with Northampton?s development squad. The future also looks bright with four yongsters from the same year; George Musgrove, Jake Lintott, will Steward and Will Tanner in the Somerset U16 squad.
The Ist XI still tour quite regularly. Andrew runs the lads down to the West Country at the end of the summer term and there have been three very enjoyable tours to Barbados within recent memory.
Further information can be found at www.queenscollege.org.uk.