Directions to the school can be found at this link. For the cricket ground take the first right on the Tonbridge Road into Solefields Road, second right into Grassy Lane, first left into Oak Avenue which takes up to the ground.
Cricket is a major summer sport at Sevenoaks with nine teams representing the School: 1st, 2nd & 3rd XIs, U15A&B, U14A&B and U13A&B. The staff also have a very active team. We have block fixtures for Senior and Middle School teams every Saturday afternoon, whilst the Juniors play matches on Wednesday afternoons. In addition the U15, U14 and U13 teams enter the Kent Cup competitions.
The 1st XI went to St Lucia in 2010, and are touring Sri Lanka in 2014.
In 2013, as a Lower Sixth, Natasha Farrant made her debut for the England Women?s Cricket Team, playing in T20 matches at Loughborough. In 2014 she went to Australia as part of the Ashes winning squad.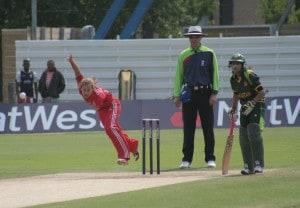 Natasha Tarrant bowling her first ball for England v Pakistan
The pavilion at our Solefields ground displays team photos going back as far as 1896 and statistics from 1947. Chris Tavar?, the Master i/c Cricket, is a former England, Kent and Somerset player. He played 31 Test matches and 29 One-day Internationals, with a top score of 149 against India in Delhi in 1981. From the same era Paul Downton represented England in 30 Test Matches with 70 catches, 5 stumpings and a highest score of 74. He also played in 28 One-day Internationals and was a key player in Middlesex?s successful side of the 1980s. In 2014 he was appointed Managing Director – England Cricket, succeeding Hugh Morris.
Further information can be found at www.sevenoaksschool.org.