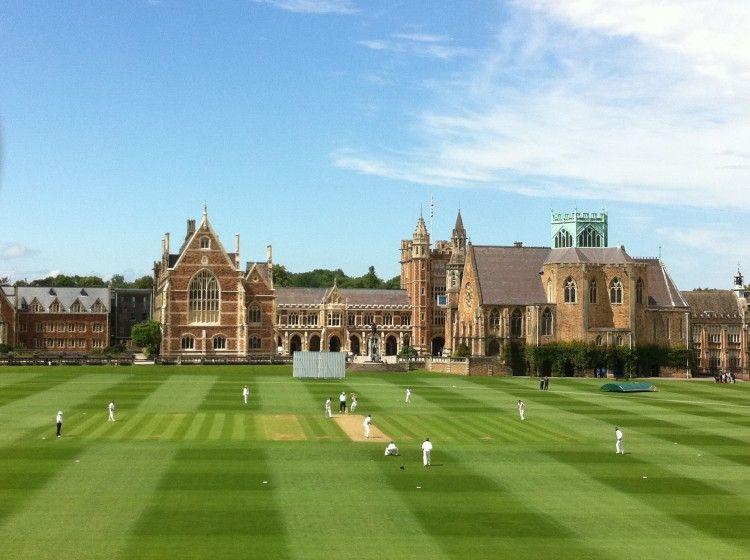 History
"There's a breathless hush in the Close to-night,
Ten to make and the match to win -"
"Vitai Lampada" Henry Newbolt (Clifton Head Boy 1881)
Henry Newbolt wrote these lines in 1892 about cricket on Clifton's Close and made The Close a sporting location famous throughout the cricketing world. Seven years after the poem was written, A. E. J. Collins scored 628 not out in a Clifton house match. This remained the highest individual score by a batsman ever recorded until it was bettered by a schoolboy in India at the end of 2015. An earlier world record (404 not out by E. F. S. Tylecote) was also scored on the ground.
The Close was W. G. Grace's favourite home ground; the county regularly played there until 1932.
Until 1967 when the Lord's square was completely re-laid over two years which necessitated drastically trimming matches played there, Clifton was one of the 10 "Lord's Schools" who played an annual two-day match (v Tonbridge). The others were Eton v Harrow, Rugby v Marlborough, Haileybury v Cheltenham and Beaumont v The Oratory. In 1968 we were instead invited to play the Clifton v Tonbridge match at Eastbourne and together with Felsted (soon joined by Winchester) formed the first of the many end-of-term festivals which sprang up at that time.
The modern era
Cricket is the main summer sport for boys at Clifton and the college fields three senior sides and two teams at Under 14 and Under 15 level. The college has a well-established, strong and extensive fixture list, with the 1st XI playing a combination of 50-over, T20 and declaration matches. The main cricket pitch, The Close, lies within the heart of the school and is an excellent playing surface on which cricketers are able to flourish. The junior pitches are located at the college's extensive sports grounds in Abbots Leigh and all the squares have been recently re-laid to a very high standard.
The college has strong links with Gloucestershire, Somerset and Glamorgan County Cricket Clubs and a significant number of current pupils represent these clubs from Under 14 through to academy level. In addition to this, many pupils play for various local club sides during the school holidays.
Clifton's 1st XI tour overseas every three years. Trips in the recent past have been made to Sri Lanka, the United Arab Emirates, Barbados, St Lucia and St Vincent.
Coaching
Cricketers at Clifton benefit from excellent coaching at the school, which boasts four members of the teaching staff with first-class cricket experience, in addition to having a number of staff members and external coaches to complement this group. The college has recently developed a ten-lane state of the art outdoor cricket school which provides the pupils and coaches with a top level area in which to practice and develop their skills.
During the summer term squad practices take place on scheduled games afternoons and small-group coaching clinics run in addition to these. Clifton also has four indoor nets which are used for weekly winter net sessions for both junior and senior cricketers. Those cricketers in the sixth form who are involved in the recently introduced High Performance Programme also benefit from weekly one-to-one winter coaching sessions as well as taking part in regular strength and conditioning sessions.
Success
In recent years a number of Old Cliftonians have played first-class cricket for Gloucestershire and Glamorgan and, most prominently, James Kirtley had an extremely successful career with Sussex CCC and represented England in all three formats of the game.
Of the current pupils at the college, two boys have academy contracts with first class counties whilst more are involved with county age group squads.
Master i/c Cricket: John Bobby
Cricket Professional: Jim Williams
For further information, including directions to the school's grounds, please visit the Clifton College website.