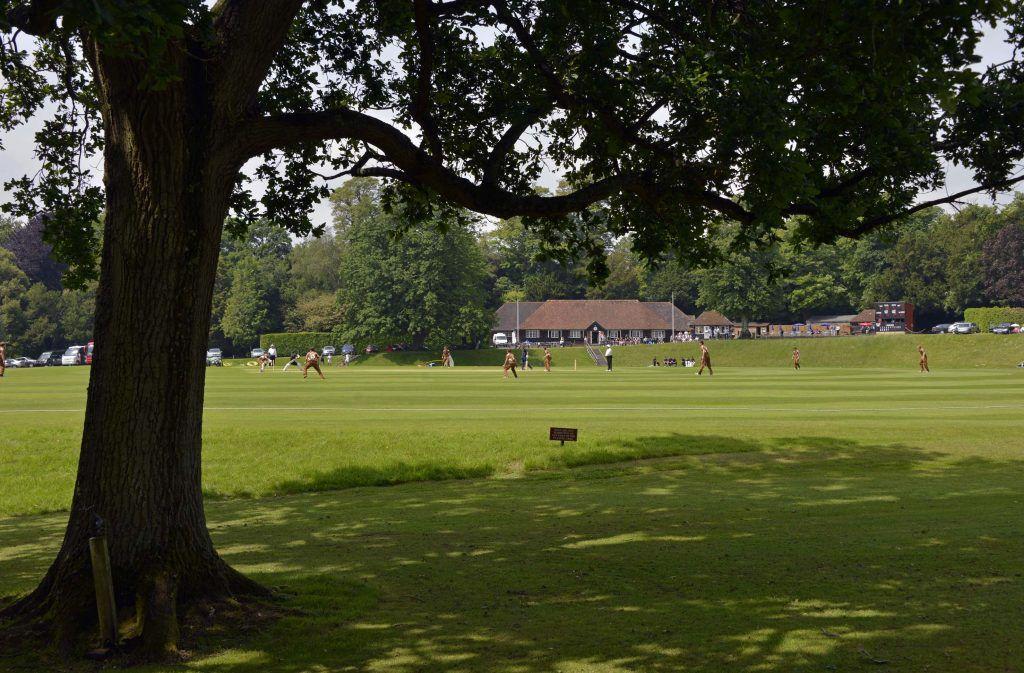 This is the 10th year of the National Schools Twenty20 competition, at least in its present form (there was a previous version run by a travel company), and the ninth at Arundel. The first Finals Day was held at Lord's (Nursery ground) by kind permission of MCC. So too, initially, was the second except that it was rained off after nine balls and we played the Finals in September at Arundel. On a glorious sunny day in that September we realised that this was the perfect location for such a day (except, perhaps, for schools like Sedbergh!) as one of the finest, most beautiful cricket grounds in the World, generous and welcoming hospitality and a superbly well-run organisation who whole-heartedly supported the event.
So it was too in 2019 with – as almost always – perfect cricketing weather. But before we get to the main event, Finals Day itself, I need to tease keen readers with probably the tightest game we have ever had in the competition: the regional final in the South East, where the winners of North v South London Merchant Taylors' Northwood played South East winners Tonbridge for a coveted place at Arundel, given that it has now become the pinnacle of the schools cricket season. It was a spectacularly close finish, even more so than the previous North London v South London final (see here for the report two weeks ago).
To see a much fuller slide show of Finals Day at Arundel, please click here. Click on Slide Show and then "From Beginning". It is a large PowerPoint file so may take some time to download.
© All pictures are by the legendary cricket photographer Patrick Eagar and are copyright. Click for full-screen.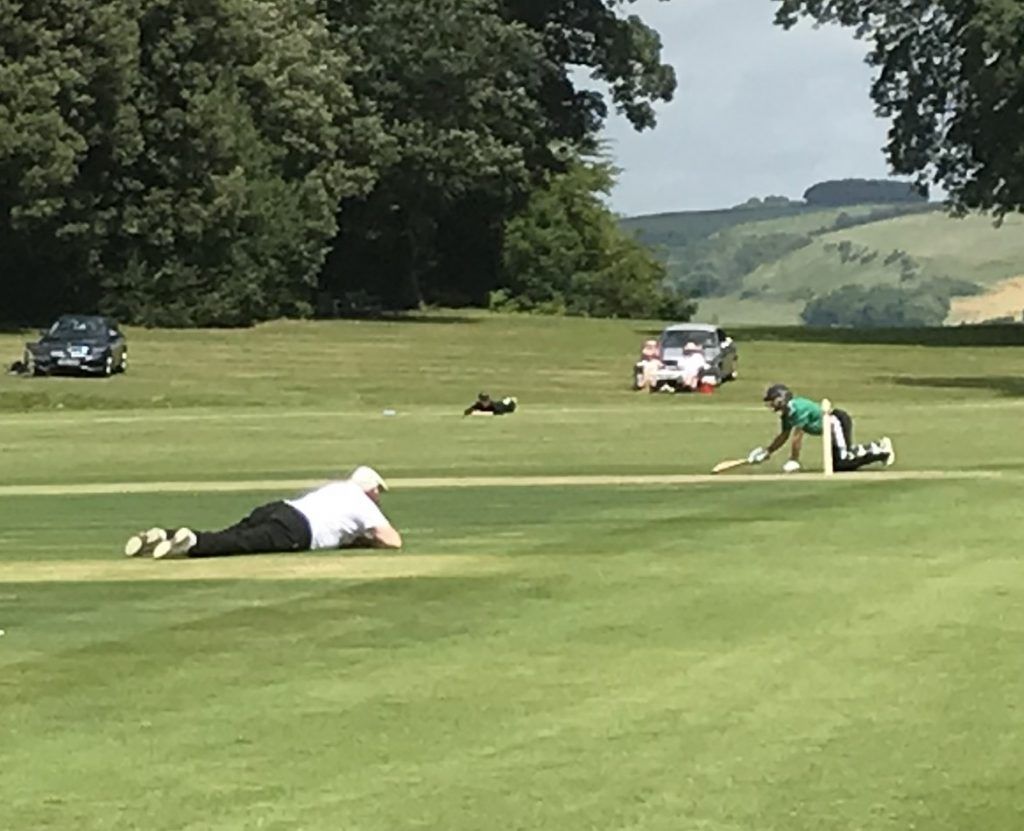 What's going on here? (answer below)
Merchant Taylors', Northwood and Tonbridge contested a thrilling South of England final. At 77 for one after 10 overs Tonbridge looked set to post a very high score, Julian O'Riordan leading the way with 51. After he was dismissed at 94 for three in the 13th over, the innings stalled in the face of accurate bowling by the Merchant Taylors' spinners. The last three overs, bowled by the returning opening seamers, yielded just 11 runs, and Tonbridge ended on what looked like a below-par 125 for nine.
Merchant Taylors' got off to the worst possible start by losing both openers off the first two balls of the innings, which were bowled by left-arm spinner Harry Bevan-Thomas, who went on to take four for 12 in his four overs. After 10 overs the score was 45 for four, and in the next few overs the required run-rate crept up to 10 an over. Jack Leathem kept Merchant Taylors' in the game, and at the start of a dramatic final over 12 runs were required with three wickets in hand. Crucially, Leathem was on strike for each ball. Final over: 1. skied to long-off and dropped; 2. over long-off for six; 3. dot, so four needed off three balls; 4. Leathem plays the ball to long-off again, runs two, but the umpire signals one short so one run scored, so three needed off two; 5. non-striker run out going for the second run, so one run scored and two needed to win; 6. Leathem hits the ball hard to mid off's left hand and sets off for a run, mid-off picks up, throws at the stumps at the bowler's end but misses, so the run is completed. The scores finish level and Merchant Taylors' win having lost eight wickets to Tonbridge's nine. Leathem scored 56 not out off 38 balls, a magnificent match-winning innings.
***
And so to Finals day on Sunday June 30th. Another glorious day for cricket, happily not as sweltering as Saturday, but mostly sunny with a slight breeze: perfect cricketing weather and all the wonders of Arundel as detailed above.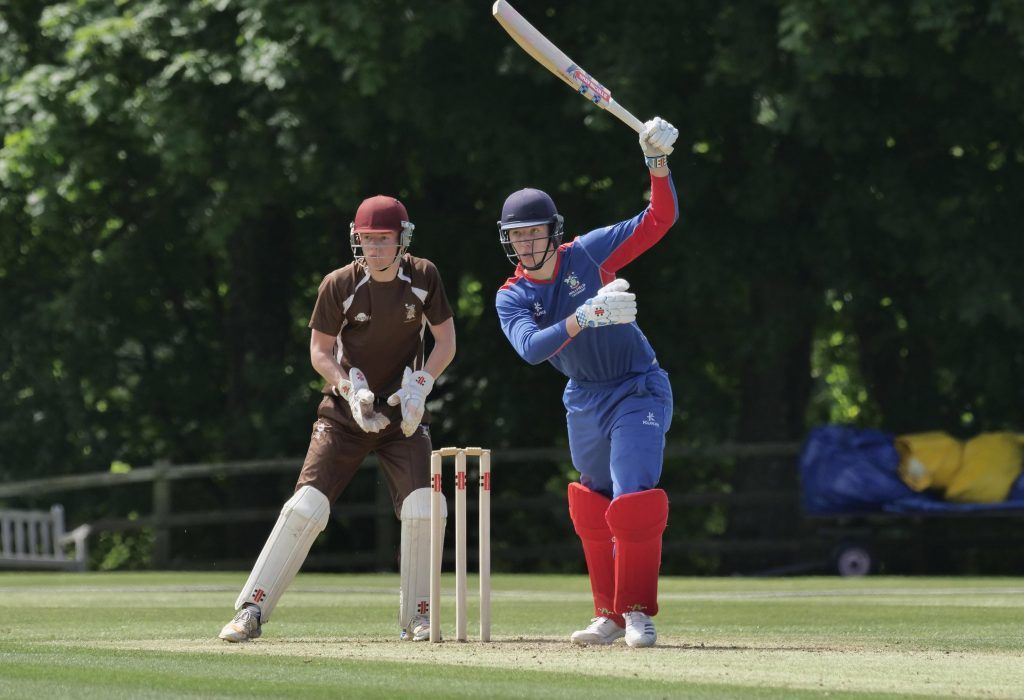 It was a slight surprise that Sedbergh's Net Run Rate was (just) the lowest of the four schools present and so they were drawn against the top NRR-rated school Millfield, last year's winners and also three times previously in the 10 years of the competition. Only Shrewsbury have won more than once; twice, in fact.
If you didn't know Sedbergh, who have made as many appearances as Millfield on Finals Day (seven), you might have thought that by inviting Millfield to bat after winning the toss they were putting their head in the lion's mouth or that it was a defensive insertion. The lion never even purred, let alone roared. What Sedbergh did very cleverly was not so much bowl unplayable deliveries as mix up and disguise their pace. As I spent a lifetime of coaching (and playing) saying, it is variety which takes wickets (alongside analysis of how any batsman likes to play).
Thus, Millfield lost a wicket in the second over and their second at 35 at the end of the six-over powerplay. Apart from a decent 46 from Lewis Goldsworthy, that was about it, including a run-out and a hit-wicket. Wickets were shared among the bowlers, Ben Davidson being the most successful with three for 18. 121 for nine was hardly the score of champions, certainly not for Millfield who have more than once scored 230 or so on Finals Day.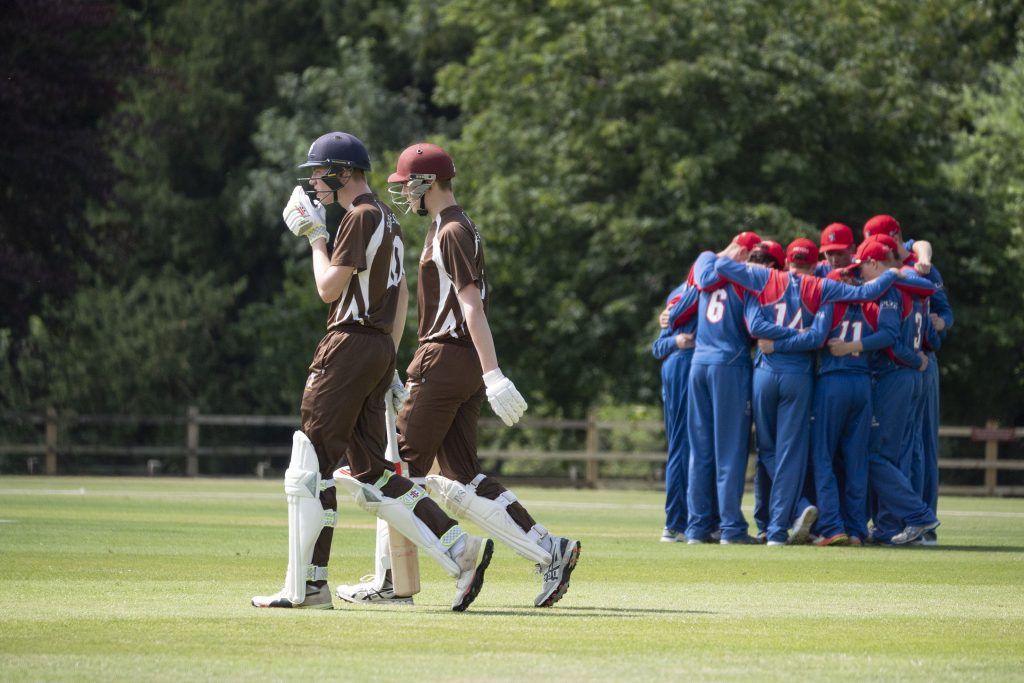 Sedbergh were never in any trouble in overhauling the score. In fact the only blemish at all was a quite idiotic and unnecessary run-out late in the innings going for an impossible second when there was never a need anyway. Maybe it was hubris, as already their running had been exemplary and perhaps they thought they could never be run out. Thus they won very easily by eight wickets (should have been nine).
***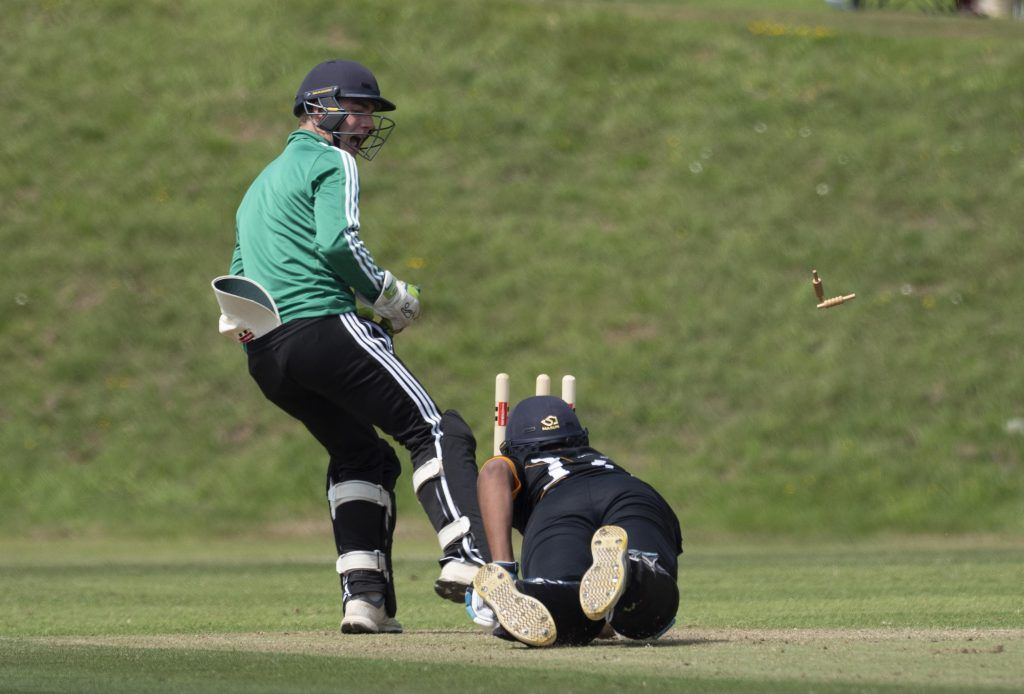 Merchant Taylors', fresh from two nail-biting finishes in the previous rounds (see above and Tuesday June 18th) found themselves facing Malvern. Both had featured only once before on Finals Day, and only Malvern had reached the actual final.
The latter won the toss and chose to bat. It was clear that their two openers, Jack Haynes, the captain, and Robbie Hardwick (also the wicket-keeper) were a class act. Haynes announced himself by hitting the first four balls he faced (apart from the wide first ball) for four, with a further one on ball six. 21 runs from over one; not a good start for Merchant Taylors'. It continued in similar vein, though not quite so spectacularly, for the six-over power-play which reached 79 for one, but at least they had just removed the dangerous Hardwick for 43. Malvern were reined back slightly so that at the halfway mark they were 104 for one. Soon after this, the also dangerous Haynes was removed by Samir Sardana (Merchant Taylors' most successful bowler with three wickets) from an ill-judged reverse sweep obligingly played gently into the hands of a strategically placed fly slip. From this point, one wouldn't say that Malvern lost their way, but certainly the innings was much more contained, though Dan Holland kept things going with 48 and Luke Tulacz contributed 23 not out. However, such had been the start that the eventual target of 195 for five seemed pretty invincible.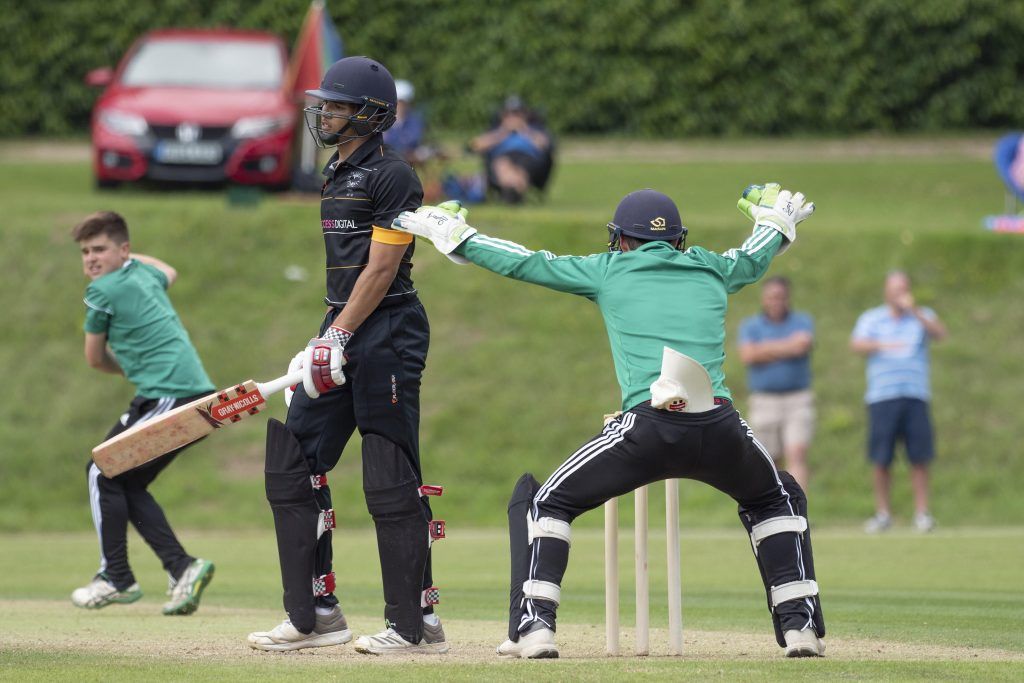 So it proved, but Merchant Taylors' were by no means daunted. They had a more restrained start, understandably, despite losing the fine all-rounder Rohan Day to a direct-hit run-out at 38. So 48 for one after the six-over power-play was a decent base. They crucially lost Jack Leatham – hero of the game above – for only three but Max John (43) and David Burnell (33) kept them not far behind the run-rate, ready for a final assault. This seemed to be coming in Over 13 when Burnell and Tom Steene took it in turns to strike three glorious sixes, by no means slogged. Alas, the great assault finished there and as the needed run-rate rose exponentially the batsmen perished in their desperate attempts and Merchant Taylors' were bowled out for 138.
***
The final seemed a tantalising prospect between Sedbergh, who had made short work of somewhat demolishing Millfield, and Malvern who had dominated Merchant Taylors' albeit with rather more resistance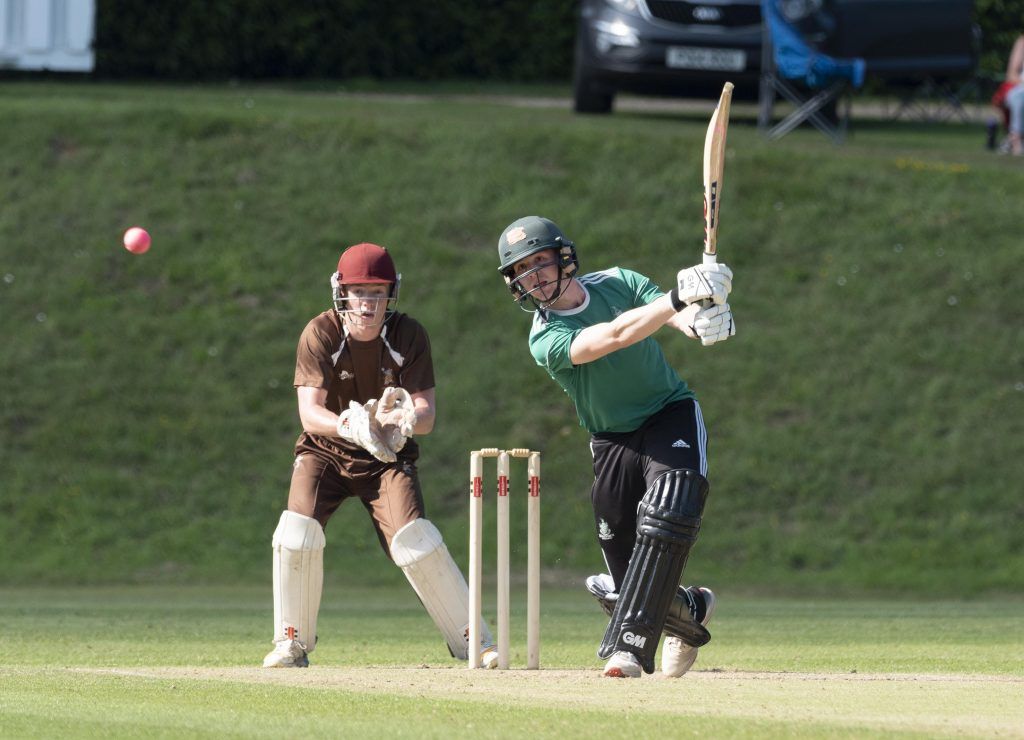 Malvern again batted first but this time were inserted. This probably followed Sedbergh's successful policy in the morning. Malvern, clearly strongest in the top order department, were somewhat more circumspect this time round and reached a decent 49 for the loss of Hardwick for 22 in the six-over power-play. 74 at the halfway stage suggested a good but not impossible score. However, once Jack Haynes had been dismissed for 49 to a surprisingly tame shot, perhaps undone by Sedbergh's (again) clever changes of pace, the innings not quite fell apart but certainly never looked threatening and even 150 seemed almost out of reach. However, they did indeed reach 155 for six owing to lateish flurries from Sean Aggarwal (30, Luke Tulacz (18) and Josh Dickenson (14 not out).
To the outside observer this looked as if it would be the tightest match of the day. 120 should be fairly easy; 190 should be very difficult; as we had seen earlier in the day. 150, well, who knows?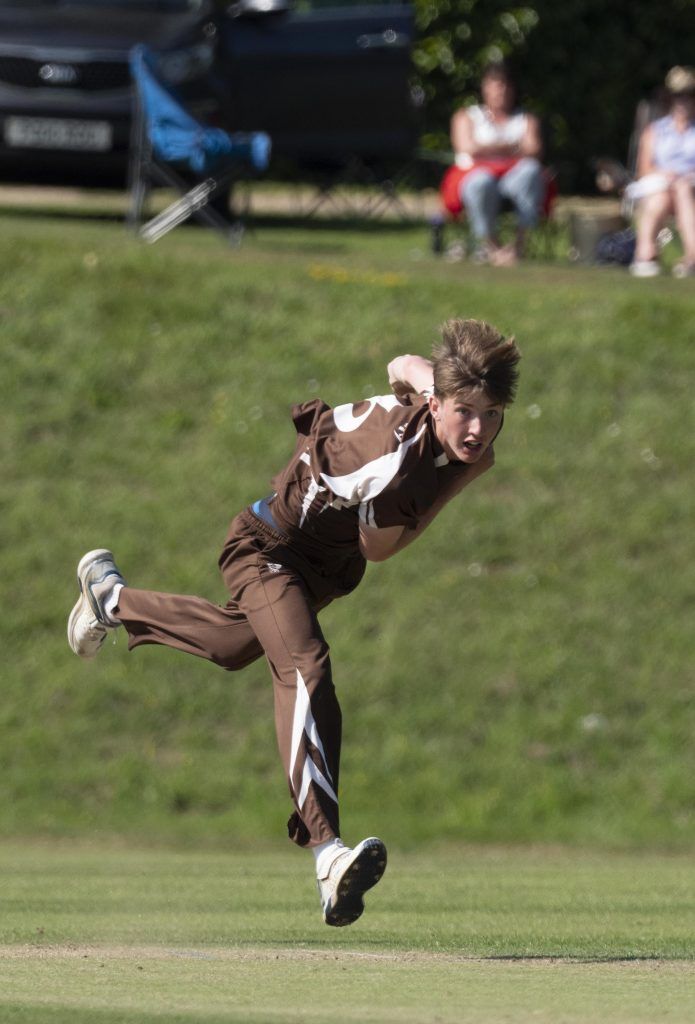 The omens were not good: where against Millfield the top order had had no problems at all, here Sedbergh's wickets started to fall early. Josh Baker and Ludo Staley to my eye looked pretty useful but not that much more threatening than Millfield's attack. Nevertheless, wickets started to fall and kept falling. Two for one led to 42 for five and 55 for seven, and the game seemed over. Cue a distinctly thrilling revival where almost all impartial spectators found themselves egging on Sedbergh to a wholly improbable victory. It became 95 for eight (oh well…) but then 136 for nine and finally it left 19 to win in 18 balls. Do we hit out? Answer, no (Malvern seemed to think they would, with the boundary well-tended). That means a single per ball is dead easy with all the gaps. Sedbergh sensibly took this option (alongside a spot of tip-and-run). The key moment had been a wicket earlier when Toby Wheatley had hit what seemed to be glorious six over deep wicket but Dan Holland had taken a (literally) brilliant catch straight out of the sun. Chipping away in singles, sadly this heroic revival was cut short and the game lost by a very simple error, namely cutting loosely at a spinner and being caught behind. Sedbergh were bowled out 13 short but they had provided a thrilling and seemingly impossible pretty close finish.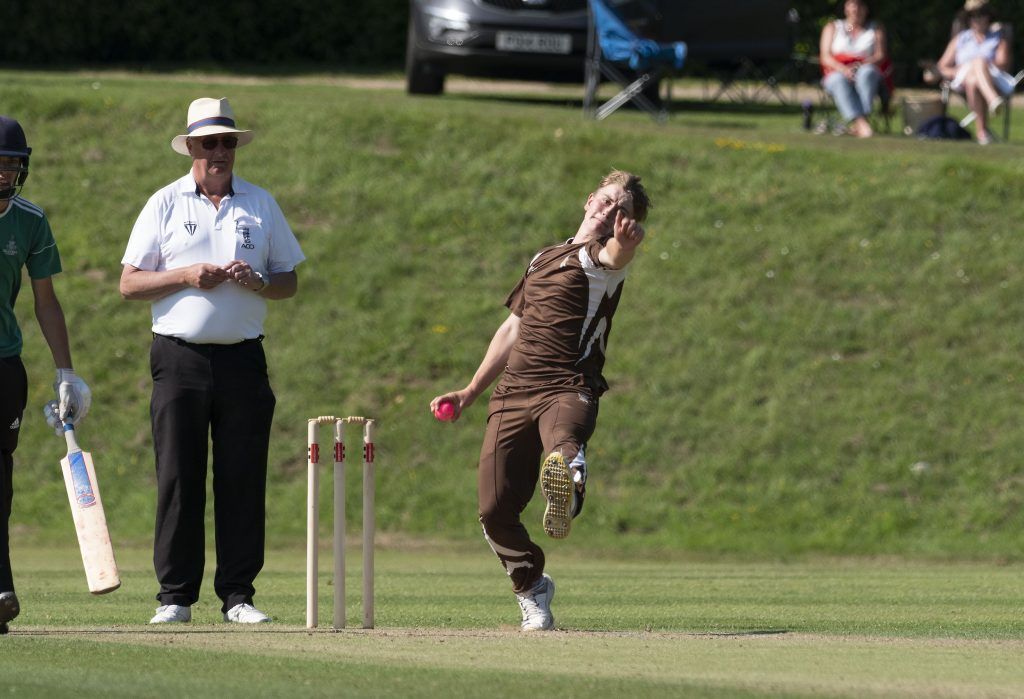 What I took away from the day was not only the usual qualities of competitive cricket played in the best spirit (under the watchful eye of some of the best umpires in the game, including the principal writer of the new Laws) but, a matter close to my heart, brilliant running between the wickets. Sedbergh in particular looked as if they spent all their idle hours – they may have many where they are – playing tip-and-run, as we all used to do all the time in our youth. A brilliant day, with huge thanks to Arundel where we are privileged to play.
Answer to the image above? Not that our chief umpire decided it was time for a spot of kip but a swarm of bees stopped play and almost everybody (except the other umpire) lay prone for a couple of minutes.