Hampton School Cricket Tour to India 2013
by Harry Mayes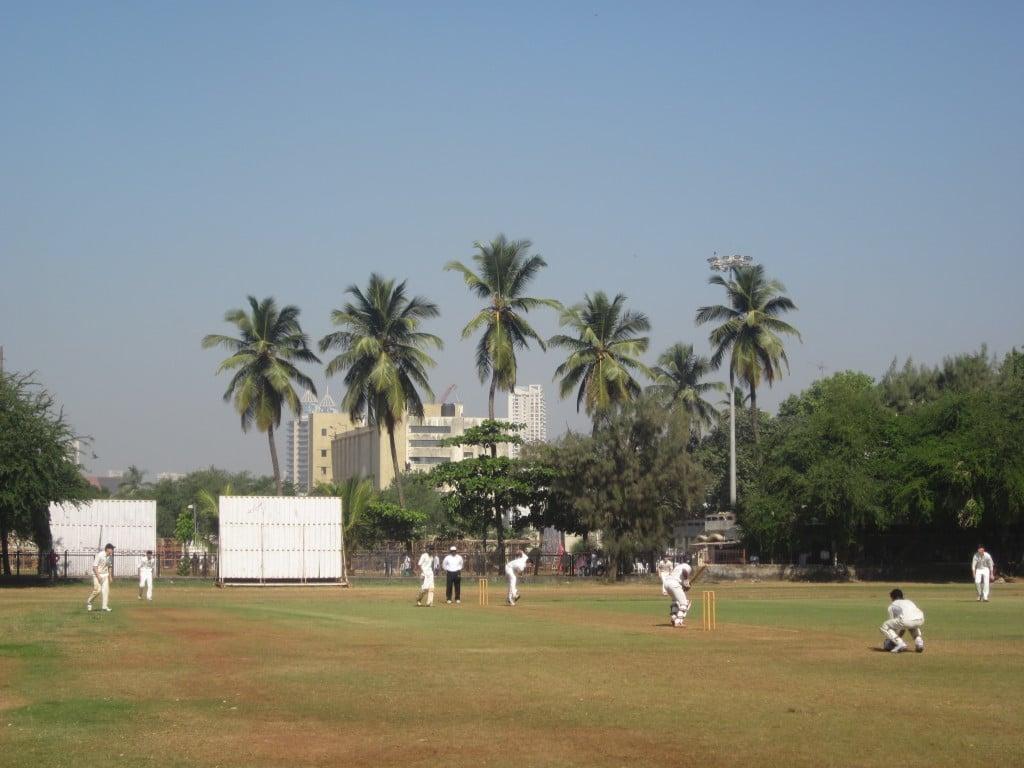 India is seen as one of the most beautiful and interesting places that someone could wish to visit; on top of this it offers some hugely challenging cricket which is completely different from anything which could be experienced in the British Isles. This meant that the experience, which the sixteen Hampton School cricketers and three coaches who assembled at Heathrow Airport during the Christmas holidays got to enjoy, was greeted with great anticipation.
We arrived in Mumbai at 6am after a four hour delay at Heathrow, which was not an ideal start. Despite this we managed to get a few hours' sleep at the hotel and then were ready for our city tour of Mumbai. Mumbai is a truly incredible place and with around 20 million people living in a place one third the size of London this gives you an idea of what this vibrant city is like. We saw many of the landmarks in Mumbai. The most notable of these was the gateway of India which was built to commemorate King George V?s visit in 1911. It was a slightly surreal experience with lots of people coming up to us taking photos of us or trying to sell things. At one point Jamie Williams was forced to hold a baby while the parents took photos of it. We continued our tour and saw many of the Victorian buildings which are still used to this day as hospitals, universities, railways etc… for most of us it wasn?t the landmarks we saw which was the most interesting but just simply the difference in culture and the stark contrast between rich and poor. That afternoon we saw the world?s largest house, but Mumbai also has the world?s largest slum. The enduring message we took from this was of the warmth and friendliness of the Indian people, which remained a constant theme throughout the tour.
Having recovered from the previous day?s travelling we went down to breakfast early and then made the long journey to our first net session on tour. We arrived to see hundreds of Indians playing cricket, which is quite an incredible sight. We set up by the two nets on wickets very different to ones we find at home and an outstanding practice facility. We had a quick warm-up and then got into the net session. The practice wickets were just what you required at the start of your tour. The temperature was already up at 30 at 9.30am but we were all ready to get started.
Afterwards we made our trip to the Mumbai?s Test ground Wankhede stadium. We watched a first-class game and saw some phenomenal batting.We then went to a local bat-maker who makes bats for Tendulkar. This led to Mayes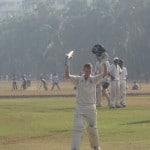 buying a bat for 8000 rupees with a dubious slogan carved onto both edges. We made it back to the hotel and after another excellent meal we settled in to watch the football. We then went to bed fairly early as we needed to be ready for the game the next day.
The following day saw us compete in our first match. The ground was away from the city and close to the Mumbai slum but the stage was ready for our first game against Harsit Dubey Academy. ?Captain Harper nicked off in the first over which was not an ideal start but Bennett and Williams batted well despite an early drop.? We got off to a very encouraging start with the youngest tourist, Williams, scoring 65 in his first senior game. ?We were eventually bowled out for 178 for 9 in 40 overs. David Williams got the first wicket with an exceptional piece of bowling getting out a very good batsman – fresh from a triple ton for Mumbai Under-16s. Dowse ran in and performed very well for his three wickets, all caught in the ring with the catchers being thanked multiple times from a grateful Dowse. Off-spinner Bentley struggled despite assistance from the pitch and they appeared to be at ease with the only difficulty being retrieving the ball as it raced to the boundary. ?They knocked off the runs in 35 overs but despite this there were many positives to take from the game.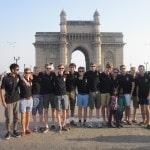 Our second match was against Birla Academy at the Gymkhana ground which was just by the gorgeous Marine drive. After winning the toss we decided to field and our opening bowler Morley was not quite at his best but was rewarded with two wickets. Bentley again struggled in these favourable spinning conditions and must have considered himself very fortunate to pick up two wickets. Carlton came on despite throwing himself about in the field earlier. He bowled very effective left-arm spin and showed himself to be a far more effective bowler than Bentley. Carlton used his variations superbly and was unlucky to take only two wickets. Morley steamed in for the final over and must have been disappointed to go for two runs allowing them to get to a competitive 170. We felt this was a gettable total and as Mayes and Bennett went out to bat the mood was one of supreme confidence in the newly promoted opening batsmen. Bennett looked uneasy as the ball consistently beat the bat and he was frankly very lucky to still be there after the opening overs. Campbell batted superbly using the aerial route effectively to push the field back. Bennett showed very promising signs and looks set to make many more runs. ?We lost some quick wickets and fell 60 runs short of our target. Despite this we feel that the bowling performance was very impressive and despite some little issues with the batting the signs are positive and we look forward to our next game.
We had a bit of a lie-in and the following day we got on the bus and made our way to a local Akanksha school for under-privileged children. This was truly eye-opening but in many ways an uplifting experience as the teachers were doing a great job as the kids really seemed to have hope. Getting the chance to work with the children from the Akanksha school was humbling because it is such an inspirational centre of education.?It was a great day and we will never forget the experience. In the afternoon, we left and made our way to do a spot of shopping in the local area. We bought a few Mumbai Indian?s shirts and then waited for tuk tuk and all of us made it back safely despite many close shaves.
We turned up at the ground brimming with confidence as we were fresh from our back-to-back losses. Our game was against former Indian test player Dilip Vangsarker?s Academy at ELF Oval ground. The ground looked superb with an excellent background and location. After a light warm up we were ready to go and Captain Guy Harper lost the toss but we were ready to field. Dowse again bowled well and must think 1st team cricket is easy as he leads the tour for wickets after taking a couple in this game. At this point we seemed to be doing well and Harper made the wise choice of bringing Mayes on to bowl. Mayes and Carlton bowled a superb second overs between them, managing to take one very important wicket and also having lots of dropped catches off their bowling. ?Morley also bowled at the death and they played him very effectively despite assistance from the wicket. All of this led to the opponent getting up to a respectable 260 off 35. Mayes and Harper went out to bat and the ball was hooping around in the air and off the pitch. This surely begs the question of why our seamers were not able to do the same. This left us at 10 for three and Campbell came out to bat. The conditions got easier as they brought on their part-time bowlers, and Williams and Campbell capitalised with an array of?stroke-play. When the spinners came on Williams struggled to get the ball off the square as his lack of strength let his down and a visit to the gym very necessary. At this point Devon was motoring and deposited their leg-spinner for three sixes in an over. Campbell passed his fifty and was showing why he is one of the best English junior player of spin. Preston came out to bat and did well to support Devon as he attempted to leave balls which were already in the keeper's gloves. Campbell continued to play an excellent innings and made 111 not out. Despite this the game had been lost a long time before and we fell 70 runs short.
After the game we head off to other side of the country- Chennai. We got on the bus and after blocking a three-way highway, crossing the same highway on foot and a ?170 fine for excessive luggage in the Airport we made it to Chennai. The signs from Chennai were looking good as we arrived at the Metropolitan Hotel which was a slight step up from the Emerald. ?The steam room and the swimming pool were sensational and it was a surprise that people did not stay in for longer. After the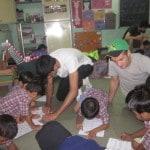 lunch, we were ready for Chennai city tour. First we went to a museum which we were all thrilled by and the bronze statues were incredible. We hopped on the bus and made our way to fort St George which was nice. We then made our way to St Thomas basilica which was a truly spectacular building and the excitement was palpable as we went to see the remains of one of JC's apostles. After a lively team meeting at night and getting through many pieces of fried chicken we settled in for movie night Madagascar 3. As we went to bed we felt ready for the game the next day.
We rocked up at the ground at VB Chandrasakhar Academy and the spinners were glad to see some proper boundaries. After losing the toss we were put in to bat which we were all relieved about. Harper and Bennett went in to bat. Bennett got out LBW to a dead straight ball and Harper continued batting and was picking up the average as he reached double figures. Williams came in to bat and again his lack of strength was evident for all to see as he again couldn't get the spinners away. Harper continued batting well and looked set for a big score. As Campbell got in he built his partnership well with Harper. They batted superbly and looked set to go big.
Unfortunately Harper seemed more worried about his average (which is fair enough considering his previous poor scores) and he knocked singles around when sixes were necessary. Campbell played every shot in the book as fatigue set in and Harper got bowled for 70 playing across the line. Campbell got out for 60 as he simply didn't have the energy to continue. All this led to us reaching a respectable 199 off 40 overs.
When we came out to bowl we were hopeful that they would not be able to knock off the runs that quickly. David Williams opened the bowling and confused the batsmen with an array of variations that the batsmen simply couldn't get away. When Dowse and David Williams were whipped out of the attack the Indian duo joined the attack and the batsmen looked at home as they knocked their fellow countrymen around the ground with ease. Bentley then made the bold decision of putting himself on to bowl which immediately backfired as the batsmen milked him easily. It was then time for Mayes to take his first wicket. It was frankly incredible that he hadn?t picked one up early considering the quality of his bowling in previous games. The new batsmen that came in looked like a gun and could score many runs. The first two deliveries put him under serious pressure and the third got him with a beauty. Mayes flight ends it up with drift and spin. This left them under pressure. We were able to keep them under pressure with accurate death bowling from Dowse and Williams and some truly inspirational fielding. We win as they came up 10 short. The game was set up by the good batting of Harper and Campbell and the excellent bowling performances
We were once again very lucky to be given the chance to play on another first-class ground- The Nest. When we left the hotel we heard stories that the ground had hosted New Zealand and was a first-class ground. We batted first and posted the very competitive total of 130-8 in 40 overs, thanks mainly to the audacious and powerful batting from Bennett and Campbell. ?When they went out to bat hopes were high that we might be able to get back to the hotel early. Despite this Hampton started well as Williams steamed in and consistently beat the bat. Hampton school's premier finger-spinner then came on to bowl and deadly Fredley used flight and effectively to pick up two vital wickets. Dowse replaced Bentley and had a dropped catch off his bowling from David Williams, who clearly feels he has a chance of catching Dowse as leading wicket-taker. Consequently the opponent knocked off the runs with seven overs to go. We now look forward to our next game.
Next day we arrived at the Nest for our final 40 overs game feeling confident as we knew the conditions better. After some high catching we were sent out to bat after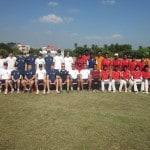 Bentley won the toss. Bidwell and Bennett opened up. Many were surprised with Bennett's selection as fast scoring had proved to be a challenge for the young batsman from Teddington. Bidwell looked composed as he went out to the middle and looked set to anchor the innings. After a naughty shot back over the bowler's head for six Bidwell again crunched one into the covers and was out in the second over. Bennett continued plodding along as the wickets feel at the other end. Campbell then came out to bat to join Bennett as they seemed to have recovered from their night at the Zodiac. After a late flurry from Campbell who finished on 40 not out we reached 98 in 20 overs.
When we went out to field we again felt that we might be back to the hotel early in time for some serious water-polo. Bentley bowled one over up top as he wanted to get an over out the way when the batsmen were getting in. He was right to bring hums left at the attack as the batsmen never looked threatened against his gentle off spin. Then it was time for Mayes to bowl. He had performed excellently in previous games without just reward for his efforts. He again shone in this game as his control of line and length proved too much for the opposition batsmen. This led to Mayes taking a much deserved three wickets and he must feel unfortunate not have got more. At this point Carlton got a wicket and then Bentley took four wickets by cleaning up the tail. We won the game by 20 runs This capped off a great team effort with an excellent bowling and fielding display. This was a good end to a great tour and an experience we will never forget.
We had gained valuable experience playing against spin bowling of the highest calibre, something which would put us in good stead for the upcoming season. The standard of the opposition, the nature of the wickets and the climate all ensured that it was a very challenging tour which helped to develop us as players immeasurably. In addition, we were all extremely privileged to be given the opportunity to visit such a beautiful, interesting and hugely welcoming country such as India. The boys formed genuine friendships with them and gained a lot from listening to them speak about their country. Finally, on behalf of all the tourists I would like to thank Mr Banerjee, Mr Peel and Mr Parrish who all gave excellent cricketing advice and kept the tour an extremely enjoyable experience for all of us.
Harry Mayes, L6th
Hampton School