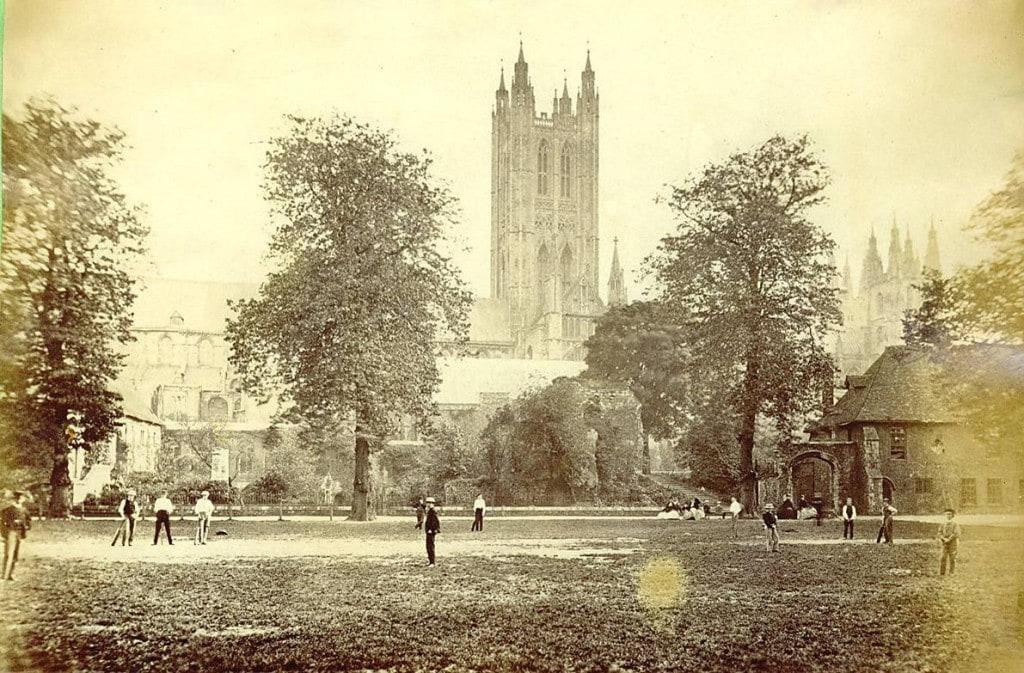 The first references to King's School boys playing cricket come from the later 18th century. Matches against other schools are recorded from the 1840s. From the 1870s there were regular fixtures, with opponents before the First World War including St Edmund's, Dover College, Dulwich, Eastbourne, Felsted, Highgate, and Sutton Valence.
Many Old King's Scholars have gone on to play first class cricket. Henry Brydges Biron, for instance, played for Kent between 1857 and 1864 and scored the first double century in Sussex. Cecil Paris, who captained Hampshire in 1938, was the first chairman of the Test and County Cricket Board in 1968 and President of the M.C.C. in 1975. David Gower was the outstanding batsman of his generation and continues to illuminate the sport as a television commentator. In recent years, several old girls have played for Oxford or Cambridge Universities. The most recent old boy to play county cricket is Paul Dixey.
From the 1830s the school used the ground of the famous Beverley Club: first at St Stephen's, then on the Sturry Road, and finally, from 1847 to 1935, at the St Lawrence Ground, which was also the Kent county cricket ground. Since 1936, Birley's (or St Stephen's Piece) has been used. It is large enough to host four or five matches. The new pavilion was opened by David Gower in 2005.
Most of the school's professional coaches have been former Kent cricketers. The first was Fuller Pilch, the greatest batsman of his day. His successors have included Frank Woolley, Doug Wright, Alan Ealham and, since 2009, Mark Ealham. Masters in charge have included Colin Fairservice (1954-75) and Alan Dyer (1975-98). The current master-in-charge is Richard Singfield: [email protected]
The school usually runs nine teams: three at senior level, three at Under 15 and three at Under 14. The current fixture list includes matches against Cranleigh, Sevenoaks, Eastbourne, Felsted, Hurstpierpoint, Haileybury and Trinity. There is a cricket festival in the last week of term. Cricket tours have included trips to Sri Lanka, Barbados, Grenada, and most recently to Dubai.
Cricket is played at Birley's Field, St Stephen's Road, Canterbury CT2 7JS. For directions, see: http://www.kings-school.co.uk/client_files/kings-map-2009.pdf
Further information on the King's School can be found at: http://www.kings-school.co.uk/