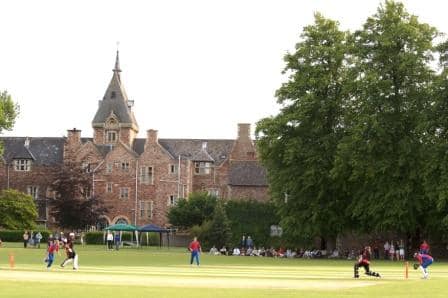 Cricket has been a part of King's College, Taunton's way of life ever since the school began. It is now a Centre of Cricketing Excellence summarised by the Summer Festivals which many a young Cricketer will already have played at.
King's has produced many a fine Cricketer dating back even to the early 1900s. The evidence of all past 1st XI Cricket sides can be found on photos hung up in the 1st XI Pavilion, both in colour and of course black and white. Roger Twose (ex New Zealand Test and ODI cricketer) can be found on a few of these photos. Along with Richard Harden, Nick Boulton (Schoolboy Cricketer of the Year 1998), Tom Webley, Phil Lewis, Charles Morris and of course the current Somerset? CCC quartet of Jos Buttler, Alex Barrow, Craig Meschede and James Regan who have all appeared in recent Somerset 1st XI games. Jos Buttler (Young Wisden Schoolboy Cricketer of the Year in 2009) has now made his full England international debut and continues to impress on the county circuit. Jos and another star of the future, Alex Barrow, recently broke the English schools' partnership record, scoring 340 runs together in a one-day match against King's School, Bruton.
The pitch is set in a backdrop to the school, overlooked by a large proportion of the school's classrooms. Not good for afternoon lessons when our local rivals Millfield play us in the National 20/20!! That said, there is no better place to be at King's than sitting around the 1st XI pitch with the whole school watching on a warm summer's day after lessons. Dennis Breakwell, our head grounds-man, sat on his pitch roller cracking jokes and the coach doing endless laps hopefully celebrating a home team century!!
The school also go on regular cricket tours to various locations including South Africa, Australia, West Indies, Sri Lanka and India.
King's College boasts an large number of pitches where six games can be going on at any one time all with the backdrop of the school. The school has a number of artificial outdoors nets next to each of the pitches and the school also have an excellent indoor net training facility including two bowling machines perfect for our winter training schedule.
Director of Cricket? – P. D. Lewis (formerly of Loughborough MCCU, Somerset CCC and Dorset CCC)
Cricket Professional – D. Breakwell (formerly of Somerset CCC and Northamptonshire CCC)
– R.J. Woodman (formerly of Somerset CCC and Gloucestershire CCC)