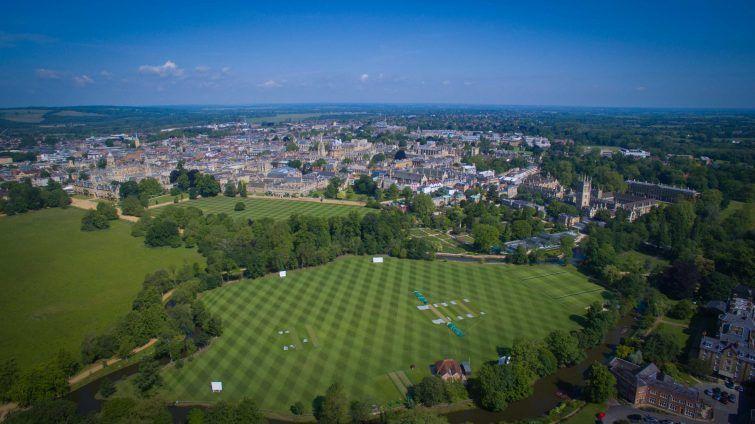 Founded in 1480 by William Waynflete, Magdalen College School was initially set up as a school of the university and quickly became established as one of the leading centres of learning in Europe. In 1894 the school acquired the playing fields now known as School Field. A unique island setting, accessed by two listed white bridges. The cricket ground is considered one of the most picturesque grounds in England, with the backdrop of punts on the Cherwell, the Botanic Gardens, Magdalen tower and the dreaming spires beyond. The School Field ground is the only island cricket ground in schools cricket. In 1913 the unique and iconic pavilion was built, and now stands as a tribute to those who played from it in its first year of existence, only to lose their lives in The Great War.
In 1998, Ben Thompson, then a sixth former at MCS, become the youngest century-maker for the Oxfordshire minor-counties side with 111, against Herefordshire, aged 17 years and 250 days. Today?s school has expanded to become a centre of academic excellence while maintaining a formidable sporting profile both locally and regionally.

MCS has produced a string of professional cricketers including David G.C. Ligertwood (Durham, Surrey), John D. Martin (Somerset), Francis B. Roberts (Gloucestershire), Arthur W. Roberts (Gloucestershire) and Octavius G. Radcliffe (Gloucestershire, Somerset), previous Heads of Cricket include John Crawley (Lancashire, Hampshire and England), and cricket professionals include Phillip Defreitas (Leicestershire, Lancashire, Derbyshire and England), and Raj Maru (Middlesex and Hampshire). Other famous people to have played cricket at the school include Sam Mendes (English stage and film director), Jim Rosenthal (Sports presenter) and Nigel Starmer-Smith (England and Barbarians rugby union player, rugby journalist and commentator).
MCS runs sixteen teams: 1st, 2nd, 3rd; 4th; U15A, B, C; U14A, B, C; U13A, B, C; U12A, B, C XI?s and its annual fixtures include MCC, Abingdon, St Edwards, Rugby, Haberdasher's Aske, Marlborough, Radley, Eton, Stowe and South Oxfordshire Amateurs. Regular tourists are Melbourne Grammar School (Australia) and Grey High School (South Africa). MCS host an annual two day U15 T20 festival in late June involving eight teams. In recent years the school has hosted the Lashings World XI and the Professional Cricketers? Association.
Cricket facilities at the school include
? Indoor cricket facility: Five nets; three bowling machines, plus one Merlin spin bowling machine.
? Five grass nets, three artificial outdoor nets.
? Seven Grounds (includes network of grounds of Oxford University Colleges)
? Winter academy
? The school has a formal partnership with Sussex Cricket, as part of its existing tie-up with the Oxfordshire Cricket Board. For more details click here
Dr David Bebbington (Head of Cricket)
Further information can be found at magdalen college oxford and magdalen college sport