Click on any thumbnail to see a larger image
Cricket has been played at Cobham since the School arrived from Watford just after the war. Reed?s inherited an extremely beautiful, if slightly small, ground formerly used by the Preparatory School Sandroyd (which can now be found in the West Country where it stayed after it was evacuated during the war).
The game became more important in the 60s under two great Headmasters Bob Drayson and, probably the greatest influence, Rodney Exton. His experience as a county cricketer at Hampshire when he was still a schoolboy drove the game to greater heights. More recently Headmaster David Jarrett, a Blue at Oxford and Cambridge, has encouraged the sport to reach its highest standard in the history of the School.
Reed?s produced D.O. ?Doug? Taylor who opened the batting for England Schools, Adam Jones who kept Jack Richards out of the Surrey Schools side and Mark Rowland who played at Hampshire and Sussex. More recently the School guided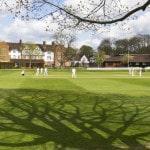 James Morrison (now a professional golfer playing on the European Tour) who was a team mate of Alastair Cook and now have a number of boys playing for county and country academies. These boys are now guided by the School Cricket Professional, Keith Medlycott.
We regularly tour either the Caribbean or South Africa with two teams selected from a number of year groups so that the touring experience can be had by as many boys as possible before they leave the School.
The wicket has always been a delight to bat on and over the years many great names have trod our hallowed turf as MCC, XL clubbers, Stragglers and Stock Brokers, School cricketers ? Bedser A, Bedser E, Cowdrey C, May, Benaud, Murray, Stewart M, Titmus, Willis, Lynch, Malcolm, Stewart A, Parks, Thorpe, Ansari ??
Throughout the season we host many Surrey County age group matches and tournaments on all our squares as well as Surrey Ladies matches on the main wicket.
A link to the School website can be found below.
http://www.reeds.surrey.sch.uk/