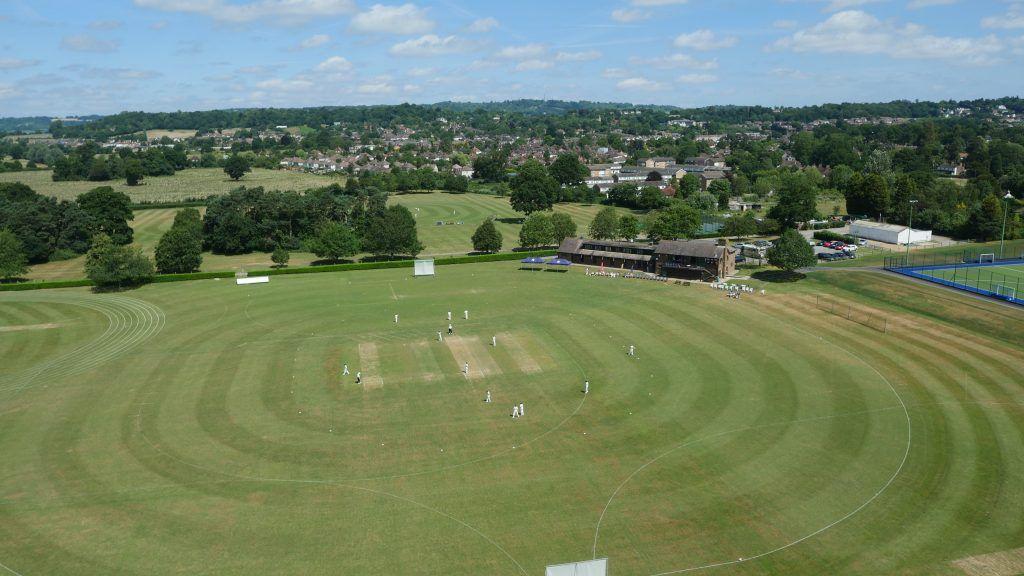 Building on a long tradition of high-quality First XI and junior cricket, the school regularly fields ten teams on Saturdays, all playing on a competitive circuit against schools for Surrey, Sussex and Kent.
Reigate Grammar School has excellent facilities at Hartswood including three grass pitches, one artificial wicket, six artificial nets and grass practice wickets. All facilities are maintained by a team of four full-time ground-staff, and the wheels have been put in motion for exciting plans of the facilities' enhancement for Cricket.
The standard of coaching is high and we cater for players of all abilities. Winter training begins in February with elite players invited to train from November. These sessions involve developing key individual and team skills in small groups or through 1-2-1 coaching sessions. In addition to coaching, players have access to video analysis and strength and conditioning programmes. Specialist professional coaches are integrated into these programmes when required.
The 1st XI regularly tours abroad in an attempt to challenge players' Cricket ability in unfamiliar conditions. Recent destinations have included Barbados, Grenada and Dubai. Participants love the experience and gain a great deal beyond cricket on these trips. The U13 cricketers tour Jersey annually, keeping strong our long-standing relationship with Victoria College and always enjoying their five-day stay. As part of the school's wider Summer Festival there is a First XI cricket week at the end of the Summer Term; recent fixtures have included the Old Reigatians, MCC and a Headmaster's XI vs a Foundation XI. RGS also hosts annual U10, U12 and U13 six-a-side competitions, inviting rival senior schools and local prep schools to participate from across the country.
RGS has strong cricketing links with Reigate St Mary's School; together we share facilities and coaching expertise. Players from the prep school have access to sessions run by the Head of Cricket at RGS and its Cricket Professional, Joey Benjamin. We have also developed healthy partnerships with Reigate Priory Cricket Club and Surrey County Cricket Club.
There is a rich cricketing heritage amongst the school's alumni, including Nick Falkner (Surrey and Sussex) and Andy Babington (Surrey, Sussex and Gloucestershire), along with current Sussex leg-spinner Will Beer, who has played test matches as a member of the full England Youth team. Most notably, 'The Bearded Wonder' – Bill Frindall himself was a student back in the 1950s.
https://www.reigategrammar.org/school-life/sport/cricket/ & http://www.reigategrammarsport.org/Fixtures_Teams.asp?Id=48&S=20182019&SID=9