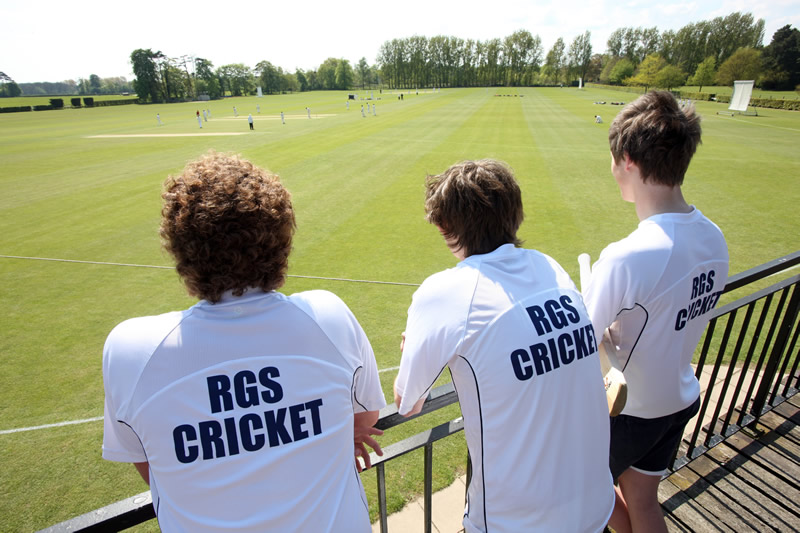 Reigate Grammar School's cricketing horizons have steadily expanded since the inauguration of its 'new' ground at Hartswood in 1982. Carefully tended for seventeen years by its initial groundsman, Harry Newton, and now supervised by his third successor, Tommy Mack, Hartswood has developed into a fine general sports complex and an attractive venue for cricket with three squares, plus, in the last year, a new artificial strip and a fine complex of artificial nets.
Reigate GS, formerly a boys' maintained grammar school, became independent in 1976 and now, following its move in 1993 to co-education, is a leading co-educational day school. With Joey Benjamin of Warwickshire, Surrey and England as coach, the school fields three senior boys' cricket XIs, as well as A and B teams, and occasional Cs, between U12 and U15. Girls participate in boys' cricket; three current pupils are regular team members, two of them being involved with cricket at County youth level, as have been two others in recent years. Reigate's most successful cricketing alumni have been Nick Falkner (Surrey and Sussex) and Andy Babington (Surrey, Sussex and Gloucestershire), along with current Sussex leg-spinner Will Beer, who has played test matches as a member of the full England Youth team.
Other famous Reigate cricketing names are Simon Hygate, holder of the record First XI innings of 221, and Devindran Muttucumaru, who as long ago as 1970 terrified schoolboy batsmen with his pace and took all ten wickets for seven runs in a First XI match. The renowned scorer and speaker, the late Bill Frindall, was an Old Reigatian.
Reigate GS especially values its strong friendship with Victoria College, Jersey, hosts to ten successive Reigate First XI tours between 1980-99 and recipients now of an annual Reigate Under-13 tour every May. More recently First XI touring destinations have moved further afield, with Barbados featuring twice. Reigate is always pleased to play at Hartswood against visiting teams from other parts of the country and from abroad.
Alan Reid, the School's Director of Sport, is Master i/c Cricket and Ed Wesson oversees the First XI. Hartswood is situated on the main A217 between Reigate and Gatwick. Heading south it is on the right just past Castle Drive (and the Beehive pub), about half a mile south of Woodhatch crossroads; heading north, on the left, about a quarter of a mile beyond Sidlow Church on the right, and Sidlow Bridge.
Further information can be found at www.reigategrammar.org/main/index.htm.