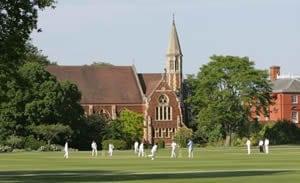 Shrewsbury is one of the best cricket schools in the country and, in recent years, has an outstanding record in national competitions.?? In the summer months, cricketers play on the fields described by the cricket-writer Sir Neville Cardus as ?The most beautiful playing fields in the world.?? Shrewsbury's cricket provision has been further enhanced by their high class indoor cricket centre, which opened in 2006. Shrewsbury's Master i/c of Cricket, Andy Barnard, said: "We are very fortunate to have a purpose-built facility dedicated solely to cricket at our disposal throughout the year.?? It features:
four lanes of nets with a 16 metre run up and underfloor cushioning for fast bowlers
?supergrasse' floor which looks and feels like grass and provides pitches of test match standards? (identical to the surfaces at Loughborough and Lord's)
state of the art video analysis software for instant feedback to players and coaches.
There are also 6 cricket squares, 18 grass nets and 4 artificial nets. Shrewsbury plays host to ECB age-group festivals after the end of the summer term and in 2013 hosted the ECB Under-13 and Under-15 club Twenty20 finals day. In recent years, they have also hosted the Unicorns against Essex and Leicestershire in the 2nd XI Twenty20 competition.
Other facilities include a full sized Astroturf training area, tennis courts, squash courts, an indoor rowing tank, Fives courts, a brand new 25 metre indoor swimming pool, a sports hall including a CV area and conditioning room. Shrewsbury's superb facilities have attracted several significant cricket bookings including ECB national squads and Worcestershire CCC as well as local clubs and county age groups. Shrewsbury is able to host both residential and day camps.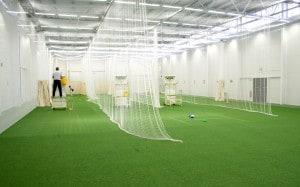 The Neville Cardus Indoor Cricket Centre at Shrewsbury School. The celebrated
cricket writer worked as an assistant cricket professional and later as the
Headmaster's secretary during the First World War
Shrewsbury regularly fields twelve teams across all age groups and also has a flourishing House programme to enable boys of all abilities to play. In 2015, when the school goes fully co-educational, cricket will be a major summer sport for girls as well as boys. In 2013, Gloucestershire all-rounder Joanna Cull became the first girl to represent Shrewsbury at cricket.
Every two years the Under-15's and 1st XI tour abroad and destinations have included Cape Town, Perth, UAE, Sri Lanka and Barbados. In December 2014 Shrewsbury School will be touring to the U.A.E and South Africa.
The 1st XI competes in the prestigious Silk Trophy Festival and were winners in 2013. They also have an outstanding record in the HMC Twenty 20 having made the finals day each year since 2010, winning the competition in 2011 and 2013. The Under-15 side have also had considerable success in recent years, winning the winning the Lord's Taverners Trophy in 2005 and reaching the final again in 2006. In 2009, they won the ESCA Twenty20 competition, were runners-up in 2012 and joint-winners in 2013. Shrewsbury also enters the "School Sport Magazine" Under-17 competition and has had much success as beaten finalists in 2012 and joint-winners in 2013.
Old Salopians who have played county cricket include N.E.J. Pocock (Hampshire), The Hon. T.M. Lamb? (Middlesex & Northamptonshire), I.J.F. Hutchinson (Middlesex) and S.W.K. Ellis