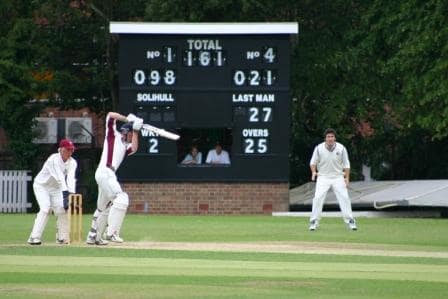 Solihull School was founded in 1560 and is now a leading co- educational, independent day school situated in the heart of the West Midlands. It boasts in excess of a 1000 pupils from the ages of 7 to the Sixth Form.
Cricket is the major Summer Term sport. The 2010 season will see the school playing 130 fixtures (not including cup fixtures) across the board from the Under-12 age group through to the 1st XI. Onsite the school has three large grass squares as well as an astroturf pitch which is utilised by the Junior School. Coupled with this, the school has an excellent practice area comprising three grass pitches and four astroturf pitches. During the winter, extensive use is made of the four-bay indoor practice area.
The comprehensive school block fixture list, with games played each weekend, comprises the likes of Warwick, King Edwards Birmingham, Bromsgrove, Loughborough and RGS Worcester. The MCC and Warwickshire Imps are also regular visitors.
Chris Mayer is the current Master i/c Cricket whilst David Hemp who played first class cricket for both Glamorgan (Captain 2006/2008) and Warwickshire is the current Cricket Professional.
Past players who have progressed to play county cricket include the likes of Richard Johnson, James Ord and Jamie Spires.
The school?s first Eleven has in recent years embarked on several overseas tours, the latest being to Barbados in 2009. In 2011 the school will be again visiting Barbados, competing in the Sir Garfield Sobers Cricket Festival.
Further information and directions can be found at [email protected]