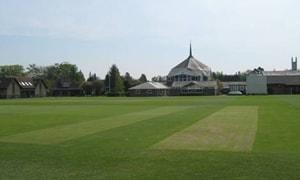 The Perse 1st XI are one of the strongest sides in the region at 1st XI level. In the past four years the 1st XI has lost only three matches and won a record-breaking 45 matches. The school currently fields two teams at all age-groups up to Under-15 and three senior sides. In 2009 four Old Perseans featured in the Oxford or Cambridge University squads and past cricketers include Mark Saggers (BBC), Russell Doel (ECB Development Manager for London and East) and many other cricketers who are able to talk at length about the game.
Directions
By road
From M11 – Exit the M11 at Junction 11 (north or southbound). Take the A1309 into Cambridge. After approximately 1.5 miles turn right at a main set of traffic lights into Long Road (A1134) – onto the Ring Road towards Addenbrooke?s Hospital . Continue to the next major crossroad. Turn left into Hills Road and then straight on for approximately 300 yards. The Perse School (Upper) is on your left-hand side.
From A11 ? exit (from north or south) on A1307 towards Cambridge and continue into Cambridge and straight over the roundabout with Addenbrooke?s Hospital on your left. Go straight over the set of traffic lights joining Hills Road to Long Road. The school in approximately 300 yards on the left.
Address: The Perse School , Hills Road , Cambridge , CB2 8QF (ground on site)
Further information can be found at www.perse.co.uk.