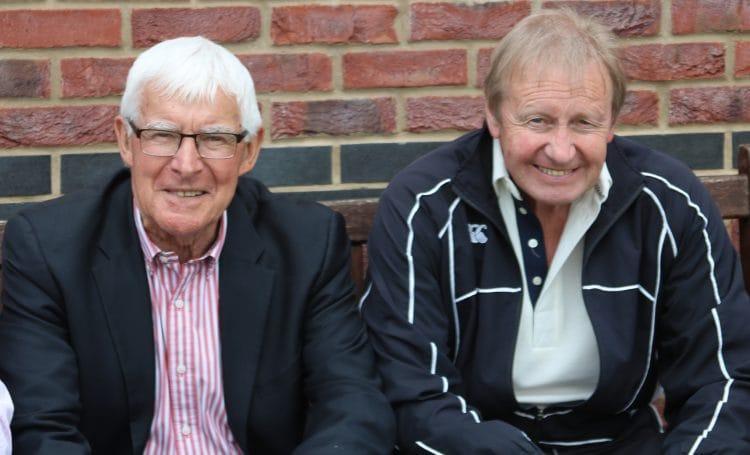 I was reminded by a recent photograph sent to me (above) that many pupils probably do not realise how lucky they are to be coached by some of the greats of the game. Above are David Steele and Frank Hayes, both coaches at Oakham, and below this paragraph is pictured Chris Tavar, with the editor of The Cricketer (on a day when it snowed!) who has served at Sevenoaks as man and boy, though in-between as Test and County cricketer. Messrs Steele and Tavar epitomise for more mature readers their brilliant defiance, in the late 70s and early 80s when Australian bowlers were at their most fearsome. Frank Hayes is one of that exclusive club of players who scored a century on their Test debut.
The most remarkable work has been going on during the winter to digitise every single Schools cricket section of Wisden since 1888 (1887 season), naturally with a licence from the publishers who hold the copyright. This means that this website is the only place where you can find records of all schoolboys who have ever appeared in Wisden (unless you happen to possess every single edition). It is also fully searchable. That this is possible is due to the excellent work by the professional firm Townsweb archiving, thirty years-worth of scanning by Brian Needham (formerly Master i/c at Oakham) and the loan of many older volumes of Wisden by Bill Furmedge who runs Wisdenworld (see link on the right-hand side of our pages). We are most grateful to all of them as it is a fascinating archive. Browse our Wisden archive
There is huge activity in the world of scoring and scoreboards. The ECB published their new free scoring app for iPads and iPhones on March 15th, and shortly afterwards CricHQ, who recently took over TCS, announced a new free TCS scoring app for laptops. Meanwhile, nxcricket (very modestly priced) remains the favoured choice of scoring app for many schools. It is hard to believe that electronic scoring is still in its relative infancy.
Hitherto, the free CricHQ scoring app has been able to do everything that TCS does except operate a scoreboard but this has now changed with the development of a new scoreboard system by Quickscore.Though an independent company, it can link directly to CricHQ. It is similar in type to the giant screens at Test matches where it can display the score or videos (or anything else). It can also be used, for example, as a rugby scoreboard or any video display.
As if that weren't enough, there is news of a self-build scorebox at a fraction of the price of commercial models. I quote from a member of the club who developed the idea:
I ran across your site today when trying to find information about the new play-cricket scoring app, as your site had a nice write-up. I wonder from having looked at your website, if you would be interested in our self-build scoreboard project, which is detailed at build your own scoreboard. The site contains free instructions, designs and software which allows clubs (and schools) to build their own electronic scoreboard, using off the shelf materials available from builder merchants, online auction sites and an electronics retailer.
This is a community project, and we make no money from it! We had great fun building the board, and just want people to know about it. As you will see from the build your own scoreboard – other projects we know about active builds at more than 25 clubs around the world. This includes two schools in South Africa, who seem to be treating it as an electronics, IT and woodworking project for the students!
I thought you might be interested featuring the project on your site somewhere, as I can see that you are set up to promote and support school cricket and this might be nicely be aligned with our project.
Kind regards
Ian – Westbury on Severn CC Gloucestershire"
Results:
Reading Blue Coat 125, *Brighton 129-3
*Oxford University MCCU 102-6 (25 overs), St Edward's 103-5
*St Edward's 128, Oxford University 129-6
*St Edward's 237-3 (50 overs), Gloucestershire Cricket Board 240-6
*St Edward's 216-6 (50 overs), Oxfordshire Cricket Board 128
*Malvern 277 (50 overs)(J Haynes 103), St Edward's 214-7
RGS High Wycombe 190-9 (50 overs), *Bradfield 193-7