It has long been a mystery how some schools manage to play something like 23 or even more ?normal? fixtures ? ie, excluding knockout competitions etc – while other equally keen schools can manage only seven. Last year I asked one of the former group for their formula and circulated it to all. It should become a template, given that the manic obsession with public exams ? or their movement to a sensible time like December – is unlikely to be resolved soon, if ever.
Overseas tours at Christmas and Easter can be one ? expensive – way of extending pupils? competitive cricket, but this particular school did not mention that (indeed, such tours don?t count as ?normal? fixtures for Wisden). Instead the formula consisted of up to six matches before the start of the summer term (they won all six, incidentally), then the usual Saturday fixture during the exam term, plus the odd midweek fixture such as MCC. Then once the exams finished, an admirable splurge of up to ten games in the post-exam period and maybe a festival after the end of term. The latter has become more difficult with the growth of academies who want to call on the best players, and often term dates do not marry up.
The majority of results you see below were played before term began. The first result I received this year was on Friday April 10th, ten days before many cricketing schools returned, though only four before the host school did in this case. If we want cricket to survive let alone thrive in our schools, then we have to abandon the notion of relying on just the term itself. Even in an already short term, many schools have not only a ten-day half-term but also two weekend exeats, thus removing perhaps four Saturdays from a term of maybe only ten weeks anyway (in independent schools). In recent years, Tonbridge and Bedford have played a two-day game on the first two days (Saturday and Sunday) of half-term, which also seems an admirable notion and deserves to be widely copied.
A further move, strongly urged by the ECB, is to play some cricket in September which is usually the best weather for cricket of all months. As a schoolmaster I remember the frustration in those years when rugby was difficult because the grounds were too hard and the grass too short (after watching the rain fall steadily throughout May). Anyway, most schools have to gear up their grounds and players for rugby or football, but there is already strong interest in attempting some kind of cricket, maybe on Sundays. This could take the form of a national Sixes competition, or maybe a revival of something like the old Southern Schools v The Rest. My own preference is for a regionalised knockout 50-over competition with eight teams comprising the best players from the season, including those who have just left. That would take up, say, the first three Sundays in September. There is some precedent for this: four years ago when play was rained off at Lord's, we played the Finals Day of the National Twenty20 competition at Arundel (on a glorious day), and it included boys who had left in July.
The season began with fine spring weather, albeit a slightly chilly wind. Some excellent games kicked us off. RGS Worcester entertained Nomads CC, who won the toss and decided to field (unusually for an adult side). For the host school, Elliott Bartlett played a good, steady innings of 102 which allowed James Ridge to make a hard hitting 54 off 34 balls in a stand of 73 for the fourth wicket, setting a 50-over target of 242 (for eight). Nomads at 151 for two looked in a good position but the introduction of the spinners put a brake on their progress. Wickets were taken regularly but the asking rate of eight an over was being scored which meant that 14 were required off the last 14 balls, 10 off 10, 9 off 9 and then the final wicket was taken. The school?s off-spinners did the damage, Suleyman Shah taking three for 39 and Amar Jawanda three for 38.
The distinguished wandering club Free Foresters fulfilled their original function of providing good opposition for schools with a cracking game at Harrow. After the school had set a reasonable but not too stern a challenge of 234 for nine from 50 overs, the club side were all out six runs short with two balls left.
A touring school from New Zealand, Christ Church from Canterbury, also provided some useful pre-season opposition, winning one of their games and losing three on results provided so far. Their captain, Bailen Thatcher, scored a brilliant 115 chasing Eton?s 245 for seven, but they fell 12 short after a match winning three for 20 from Eton?s off-spinner Tom Wilkinson on his debut.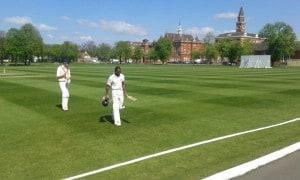 Akil Greenidge and Alex Rackow shared a 320-run partnership in a forbidding score for Dulwich of 344 for two (50 oves). This was the second highest partnership ever at the College beaten only by the 340 stand by C. V. Arnold (171) and R. K. Nunes (167 not out) v R. B. Firth?s XI in 1911. Hardly surprisingly, RGS Guildford struggled to get anywhere close.
Next Sunday sees the opening rounds of the National Twenty competition, which the vast majority of cricketing schools enter. As one Master i/c recently observed it?s a very good way of kick-starting the season. A pity that a few well-known cricketing schools are prevented from taking part by an SMT veto on Sunday cricket, even the first one of the term; or that regions could not, perhaps, be more flexible to make a one-off midweek fixture even at, say, 4pm a possibility. Details of the competition may be found here.
Courtesy of Damian Shirazi at Dulwich, we have revived our twitter account, which can be found here: https://twitter.com/schools_cricket
Results:
Shrewsbury pre-season Festival
St Edward?s Oxford 207-5 (50 overs), *Shrewsbury 208-7 (G Hargrave 100 not out)
*Shrewsbury 220-8 (50 overs), Worksop 126 (C Home 5-21)
Millfield 302-9 (50 overs) (T Lace 106, D Pennington 5-50), Worcestershire Academy 134
*Shrewsbury 186-9 (50 overs), Worcestershire Academy 190-1
Worksop 147 (50 overs), Millfield 148-4
*Shrewsbury 218-8 (50 overs) (O Westbury 106), Millfield 186-3 (rain)
Worcestershire Academy 217-8 (50 overs), Worksop 190-8 (rain)
*Harrow 234-9 (50 overs), Free Foresters 228
Christ College, Canterbury (NZ) 200-7 (50 overs), *Cranleigh 204-5
Bristol University 2nd XI 273-6 (50 overs) (R Staughan 126), *Radley 246
St Edward's Oxford 274-5 (50 overs) (A Woodland 104), *RGS Guildford 174
*Harrow 215-9 (50 overs), Middlesex Academy 210-9
*RGS Worcester 242-8 (50 overs) (E Bartlett 102), Nomads A 234
*St Edward's Oxford 232-7 (40 overs), Christ's College (NZ) 99
Christ's College (NZ) 278-6 (50 overs) (B Thatcher 136), *Radley 256-9
*King Edward VI Aston 146-2 (20 overs), Queen Mary?s GS, Walsall 98-9
*Shrewsbury 239-9 (40 overs), Myerscough 162
Brighton 131, *Cranleigh 132-1
Malvern 207, *St Edward's Oxford 128
Queen Mary?s GS, Walsall 158-9 (40 overs), *Newcastle-Under-Lyme 79
Shrewsbury 190-6 (20 overs), *Bloxham 62
RGS Worcester 263-6 (45 overs), *Bishop Vessey's GS 148
Hymers 265-2 (40 overs) (T Norman 107 not out, T Jones 106 not out), *Silcoates 99
Bristol GS 101 (50 overs) (E Eminson 6-20), *Taunton 105-7
*Shrewsbury 219-3 (40 overs) (O Westbury 108), Warwickshire Academy Under-17 189-9
*Eton 245-7 (50 overs), Christ?s College Canterbury NZ 233 (B Thatcher 115)
I Zingari 191, *Eton 192-3
Eton 289-5 (50 overs) (A Russell 101 not out), *Marlborough 211-8
*Dulwich 344-2 (50 overs) (A Greenidge 186, A Rackow 127 not out), RGS Guildford 160-9 (J Rao 5-28)
*Ardingly 133 (50 overs), Winchester 130
Clifton 247-4 (40 overs), *Pangbourne 178
Clifton 282-5 (40 overs) (T Probert 101), *Oratory 209-5
*Dauntsey's 235-9 (40 overs), Clayesmore 237-6
Berkhamsted 211-6 (45 overs), *Ardingly 195
Eastbourne 266-3 dec, *Ardingly 147
*Durham 123-9 (40 overs), Ashville 73
Merchiston Castle 71 (20 overs) *Durham 71-1
*Durham 109-4 (20 overs), Merchiston Castle 95-8
*Stowe 235-4 dec (62.0 overs), Oundle 171-4 (B Graves 106)
Bradfield e 238-8 dec (H Came 133 not out), *Stowe 204-6
Wellington (Somerset) 186-8 (50 overs), *Sherborne 187-6
*Taunton School 227-6 (40 overs), XL Club 161-8
National Twenty20 competition preliminary round
Chigwell 129-8, *Aldenham 130-1
*Mount Kelly 72-8, Clayesmore 73-2