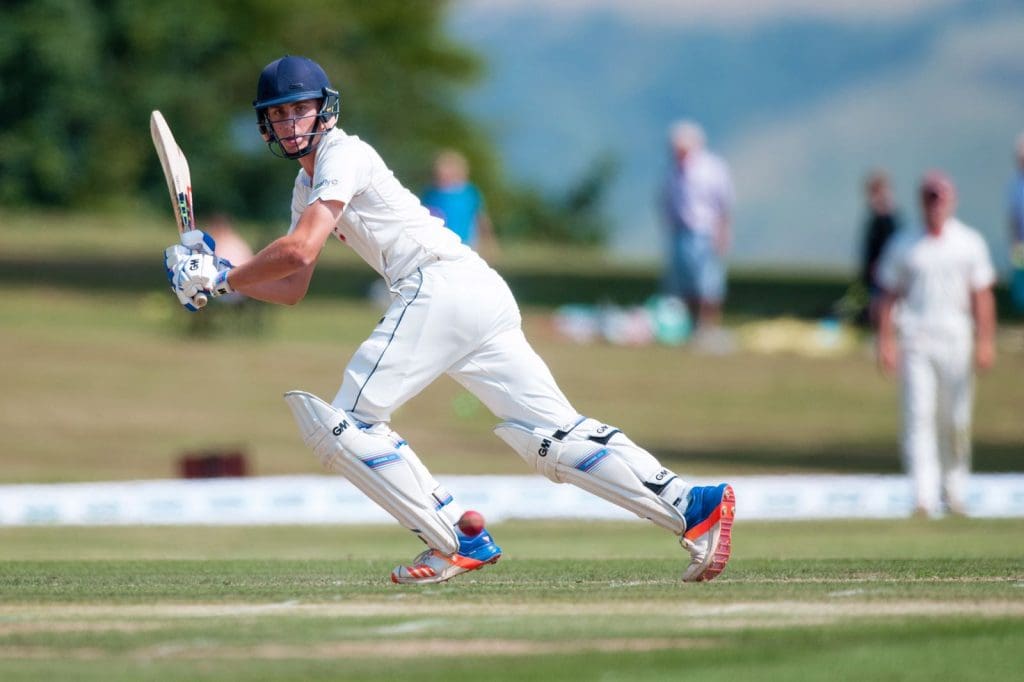 Will Jacks playing for the Young England Lions
A new season, another record. Indeed several records, maybe world records. Until about 2003 when 50-overs cricket came to dominate schools cricket overwhelmingly, team scores of 300+ or individual scores of 200+ were astonishingly rare, even when it was the norm to bowl about 110 overs in the day, because the side batting first had to declare in order to win. Both remain fairly rare. For example, last season's Wisden Schools Cricketer of the Year, A. J. (Alex) Woodland of St Edward's was the only player to score 1000+ runs in aggregate and one of only two to score a double hundred.
On the first Saturday of the 2017 season, Reading Blue Coat scored a more than healthy 330 (all out) but still managed to lose by 201 runs. This was due to the utterly astonishing 50-over total of 531 by St George's Weybridge, led by Will Jacks with 279. This was scored in 138 balls with 19 sixes and 29 fours.The combined totals of 861 overtook the record 50-over match score in 2010 of Solihull (408-5) v Nottingham High School (401). The team score of 531 for eight easily overcame last year's record set by Harrow(442) v Hampton, Solihull's 408 for five v Nottingham High School (as above), Caterham with 427 against Christ's Hospital in 2015 and Tiffin's 426-3 against Emanuel in 2004. The nearest huge total was by Wellingborough with 484 for five declared, but that was in a two-day game. Jacks's individual score now overtakes Chris Williamson of Solihull (263) in the match mentioned above. Will Jacks has been on the radar for a couple of years and indeed played for the young England Lions (England Under-19) recently touring India.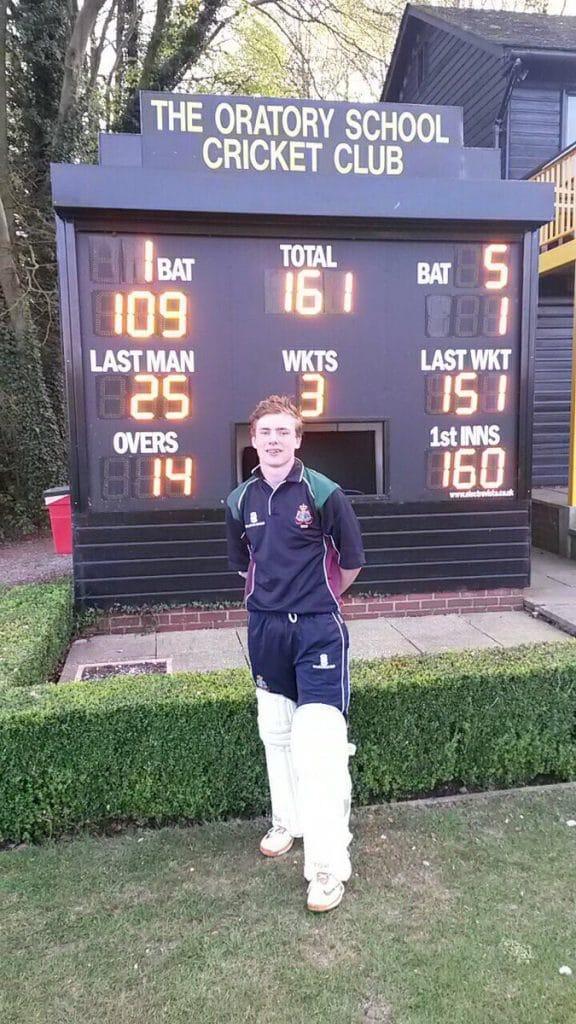 Teddie Casterton after his T20 hundred on Sunday
Talk about London buses. No sooner had I written the previous paragraph than up popped what would have been the highest score ever recorded in schools 50-over cricket. At RGS High Wycombe, Teddie Casterton made 267 not out. Playing an all-day declaration game (hooray!), Casterton won the toss and chose to bat against local rivals John Hampden GS. After a steady start he brought up his 50 off 42 balls and 100 from 84. He then accelerated, bringing up his 200 off 123 balls and finishing on 267 from 153 balls, with 32 fours and 13 sixes. RGS declared shortly after lunch at 1.45pm and 41.3 overs on 365-6. John Hampden then managed to bat through 62 overs to secure a draw with the last pair seeing out the final four overs. Casterton followed this up the next day with 109 not out in RGS's National Schools T20 group match with Radley, bringing up his 50 from 18 balls and his 100 off 47 with 14 fours and 4 sixes to chase down Radley's considerable 160 for four with 5.2 overs to spare.
Lovely and unusual to watch a schools game on the first Saturday of the season not huddled up against the cold but actually needing a good dab of sunscreen. Even better to watch a schools game where there was hardly any idiotic noise  ("make more noise, boys" or "let's get behind him, fellas", "well bowled" after a wide, clap, clap, clap; the vocabulary is unchanging). Better still that the over-rate was equally old-fashioned: the 50-over game starting at 11.30 finished in a very close encounter at 5.35pm, though the first side was all out with an over to spare and the winners had two overs to spare. It should be perfectly possible to play 110 overs between 11.30am and 7.00pm as long as schoolboys don't ape the faffing about they see on the TV. Including absurd drinks intervals at half-time in each innings ("rehydration") even on the coldest day.
Incidentally, why do schools have to ape the professional game with lunch between innings at about 2.15pm (if you're lucky) and no tea interval? The overwhelming majority of even 1st XI schools cricketers (98%) have absolutely no desire – or ability – to become professional cricketers. They should stick to civilised hours and not have a regime (eg strength and conditioning sessions) geared to making them into potential professionals. They hate it (as David Gower would have done).
What is the matter with marketing people? Not content with bullying us into filling in a 10-minute questionnaire every time we buy a loaf of bread, they now insist on changing the names of schools. The charming Monkton Combe has now become the unlovely Monkton Senior and a few years ago the distinguished Leeds Grammar School was appallingly renamed GSAL.
In a very close encounter, Malvern compiled 231-6 off 50 overs, with the bulk of their runs coming in the middle order from Mahaaz Ahmed (52) and Will Annetts (71), who were well supported at the end by Jamie Williams who made 22 not out. In reply, Wellington (Berks) lost a wicket in the first over but then rebuilt, with opener Jack Davies going on to make 119, with valuable contributions coming from Aman Sangha (30) and Tom Petrie (38). They'looked on course to win but scoreboard pressure and the loss of Davies swung the game in Malvern's favour, and they'won by five runs. A'thoroughly professional Malvern performance, generously acknowledged by the Wellington coach.
Results:
St George's 531-8 (50 overs)(W Jacks 279), *Reading Blue Coat 330
*RGS High Wycombe 365-6 dec (E Casterton 267 not out), John Hampden GS 229-9
Shrewsbury Under 16A 137-7 (50 overs), *Cheadle Hulme 140-3
South Gloucestershire and Stroud 143-9 (40 overs), *Clifton 145-8
Reigate GS 209-3 (35 overs), *Dulwich 211-6
Wiltshire Under-17s 108-9 (20 overs),*Marlborough 109-3
Dulwich 147-7 (35 overs), *Winchester 80
MCC 194-7 (35 overs), *Shrewsbury 197-3
*Latymer Upper 120-4 (20 overs), Ibstock Place 80-9
*Haberdashers' Aske's 167 (35 overs), Aldenham 142-7
Queen Elizabeth's Barnet 120-8 (35 overs), *Haberdashers' Aske's 121-1
*Bryanston 117, Dorset Under-17 94 (T Barber 5-25)
Cranleigh 219, *Harrow 180
*St Edward's 249-6 (50 overs), Magdalen College School 151
Hampton 245-6 dec, *Worth 129-0
Clayesmore 136-6 (35 Overs), *Dauntsey's 137-1
Eastbourne 99 (27.0 overs), *Cranleigh 101-0
*Whitgift 274-8 (50 overs), Brighton 152
RGS Guildford 256-7 (50 overs)(H Green 105 not out), *Lancing 191 (A Gonella 5-17)
Haberdashers' Aske's 170 (50 overs), *Bedford Modern 145 (N Rasakulasuriar 5-27)
MCC 202-6 (50 overs),*Bryanston 207-7
*Winchester 151 (50 overs), Marlborough 152-3
*Ashville 212-5 (40 overs), Hymers 213-3
*St Edward's 260-6 (50 overs), Rugby 142
Lancaster RGS 157 (50 overs), *Cheadle Hulme 159-3
*High School of Glasgow 154-5 (35 overs), Kelvinside Academy 58
*Brighton 108-9 (20 overs), Sussex University 112-7
Sedbergh 147 (20 overs),*St Peter's, York 81-8
*St Peter's, York 199, Sedbergh 201-2 (H Brook 117)
*Malvern 224-7 (50 overs) (D Holland 117 not out), Magdalen College School 190
Wellington (Berks) 151-5, *Bromsgrove 154-3
*Malvern 231-6 (50 overs), Wellington (Berks) 226-9 (J Davies 119)
*Sherborne 124 (50 overs), King's Taunton 128-2
Free Foresters 127, *Sherborne 128-2
St John's Leatherhead 247, *Reed's 250-6
Prior Park 117 (40 overs),*Monkton Senior 89
XL Club 198-4 (40 overs), *Monkton Senior 199-7 (B Wells 114 not out)
SGS College (Filton) 231-7 (40 overs), *Monkton Senior 160-5
Eastbourne 99,*Cranleigh 101-0
Dr Challoner's GS 196-5 (30 overs),*RGS High Wycombe 166-9
*Glasgow Academy 164-3 (20 overs), Lomond 56
*Trinity 156-6 (20 overs), Hampton 103
*Trinity 179-5 (20 overs), Langley Park 1st X1 126-7
Trinity 297-6 (50 overs) (H Neale-Smith 109, D Johnsen 109), *King's Canterbury 160
Cheltenham College 171 (50 overs),*Radley 172-3
Clayesmore 136-6 (35 overs),*Dauntsey's 137-1
*St Edward's 227-9 dec (H Ward 101 not out), Cryptics 210 (H Ward 6-65)
*Wellington College (Berks) 272-8 (50 overs), Free Foresters 236
MCC 253-6,*Hampton 254-4 ( C Campbell 103)
Harrow 253 (55 overs) (R Wijeratne 115), *Wellington (Berks) 254-6
Grange CC 204-6 (35 overs), *Loretto 147-5
Shrewsbury 91, *Birkenhead 52
Warwickshire CCC U17 310-4 (50 overs), *Shrewsbury 203-7
Winchester 151, Marlborough 152-3
Uppingham 216-5 (H Funnell 101 not out),*Stowe 218-3
Old Elthamians 224-9 (40 overs),*Eltham 221-4
*Norwich 305-2 (T Harris 101 not out), New Hall 250-3
East Haddon CC 124-5 (20 overs),*Wellingborough 126-2
*Worth 193-3 (35 overs), Sevenoaks 194-5
Bedford 152-2 (20 overs), Perse 128-7
Bedford 330-6, Felsted 175
Barns Green CC 174-9 (40 overs), *Christ's Hospital 123
Emeriti 236-4 dec, *Ampleforth 237-6
Merchant Taylors' (Crosby) 159- 8 Bolton 118
RGS High Wycombe 190-9 (50 overs), *Bradfield 193-7
*Oratory 181-7, Bradfield 184-1
Eton 234-7 (50 overs),*Magdalen College School 230-9
I Zingari 185,*Eton 132
MCC 302-5 dec,*Eton 264-5
Shrewsbury pre-season festival
*Shrewsbury 217-8 (50 overs), Worksop 221-4
Millfield 179, Worksop 180-8
Worksop 117, Worcestershire CCC Academy 118-4.
National Schools Twenty20 competition
South West preliminary play-off
Mount Kelly 148-3, *Clayesmore 95
East section group 2
Oakham 99-9, *Oundle 95
Stamford 101, Oakham 105-3
South East section group 1
Bede's 126, *Eastbourne 127-3
*Eastbourne 140-6, Brighton 102
Bede's 115-7, Aldridge Cricket Academy 94-8
Eastbourne 127-3, Bede's 126
Eastbourne win the group
South East section group 2
Cranleigh 175-6, *Reigate GS 90
Cranleigh 207-2, St Lawrence 62
Reigate GS 166-3, St Lawrence 125-9
Cranleigh win the group
South East section group 3
Claremont 107-3, Ashford 91'8
*Hurstpierpoint 161-4, Claremont 137-2
Hurstpierpoint win the group
North London section, group 1
UCS Hampstead 95, *Merchant Taylors' 98-1
Aldenham 141-7, Forest 144-6
*Merchant Taylors' 214-2, Forest 118
Merchant Taylors' win the group
South London section group 3
Epsom 124-7 Hampton 125-5
Trinity 179-5 Langley Park 126-8
Trinity 156-6 Hampton 103
Langley Park 105-5, Epsom 106-2
Trinity win the group
South Central section group 1
*Oratory 133-6, RGS High Wycombe 137-5
Radley 160-4, RGS High Wycombe 161-3 (E Casterton 109 not out)
Radley 179-4, Elizabeth Guernsey150-6
RGS High Wycombe win the group
South Central section group 3
Wellington (Berks) 198-6, Dauntsey's 93
Wellington (Berks) 93, Bradfield 94-1
Lord Wandsworth 91-9, *Bradfield 92-4
Dauntsey's 153-6, Lord Wandsworth 130-8
Bradfield win the group
South Central section group 4
Portsmouth GS, 174-5, *Winchester 130-8
Portsmouth GS 153-6, Marlborough 145-7
Marlborough 147-3, *Winchester 111-5
Portsmouth GS win the group