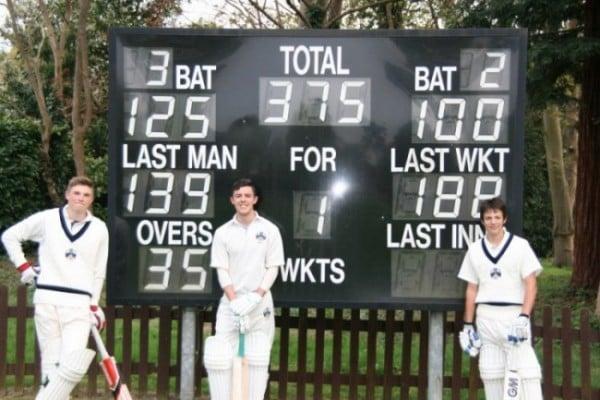 Click on the image to see a full-size version
In 2004 Tiffin, alma mater of Alec Stewart and many other fine cricketers, scored 425 for three, the highest score recorded in a schools 50-over match. Last week they were on the receiving end of an even more extraordinary batting performance and one which will surely find a top slot in the record books. Martin Williams, for 41 years Master in charge at Tiffin, described what happened last week as one of the most remarkable examples of batting he had ever seen.
Against some perfectly decent bowling, Reed?s scored 375 for 1 in only 35 overs, with three centurions. Sonny Cott, the captain, set things off with 139 in 85 balls (six sixes and 16 fours) with a young partner playing only his second game, Nathan Tilley in Year 10 (Under-15s), who reached exactly 100 not out in 91 balls (one six and 14 fours). That was merely the prelude ? an opening partnership of 188 in 148 balls. When Cott was out, Daniel Douthwaite, in an innings containing only one dot ball, struck 125 not out in 35 balls with 12 sixes and and 10 fours, his hundred coming up in 31 deliveries. He took 34 off the final over.
Douthwaite?s innngs was probably the fastest hundred ever in UK schools cricket , beating by two balls the feat achieved twice in 2014 ( by George Haley of Eltham and Ampleforth?s Joe Lush). However, Haley scored a double hundred and his second one came from only 22 balls. Last year in India a schoolboy took only 29 balls to reach the target.
In reply, Tiffin scored a valiant 168 for four, including a fine 93 by Vinay Samtani, which in normal circumstances would have been a very healthy score in 35 overs.
In a cracking 40-over game, with batting (and wicket-keeping) very much above average for any time, let alone the start of the season, SGS (Filton), a sixth-form academy with strong sporting aspirations and coached by Tim Hancock, opening batsman for Gloucs CCC in its cup-winning glory days, batted first and in their 40 overs scored 207 for eight. James Bracey did not repeat his feat of 177 not out from a few days earlier, but the batting was still very impressive. At the halfway point they were 98-1 and threatening a score of well over 200, but Clifton's medium-pacers restricted the flow of runs and took regular wickets in the second 20 overs. Miles Hackett was the pick of the Clifton bowlers taking three for 26. Clifton looked to be in trouble chasing with the score at 83 for four but a fifth wicket partnership of 111 between Fin Trenouth and Alex Binnington Savage nudged Clifton into a position to win the game, but only just. It took a brave couple of firmly struck sixes by fifth-former Trenouth to get Clifton over the hill and he finished undefeated on 80, with Binnington Savage scoring 52, to win with an over to spare. Schoolboys all too often make a pig?s ear of chasing, but this was brilliantly executed on a pitch that was not that easy to bat on and against some tight bowling.
Bromsgrove soon took the wind out of Clifton?s sails a few days later when they notched up 300 for eight in their 50 overs and then dismissed the home side?s two best batsmen with one run on the board. Amazing what you can achieve with swing bowling at a reasonable pace. For the visitors, Tom Banton scored a fine 161 after a relatively ordinary start. The weather reduced the ball to a bar of soap after about 25 overs of the second innngs and allowed Clifton?s middle order to score freely, even giving a hint of a possible but extremely unlikely victory, the batsmen scoring 82 in the last ten overs. However, eventually the umpires called time on the weather and without any D/L arrangements the game was left as a draw. The next day, another Bromsgrove batsman scored a big hundred in the National Schools Twenty20 competition. This time it was Chase Edwards with 162 in 62 balls, an extraordinary score for a T20 game, to defeat Newcastle-under-Lyme. He hit 14 sixes on a ground with big boundaries, with 29 from the penultimate over (with two no-balls) and 24 from the last. Unfortunately, the third school in their group had already withdrawn, which made for a rather limp first round.
In a thrilling game, which saw Wellington College (Berks) chase Harrow?s total of 259, both Anshuman Rath (Harrow) (137 not out) and Sam Curran (Wellington) (112) scored centuries; it was a fine advertisement for schoolboy cricket. Harrow won the toss and elected to bat on what looked a good pitch. Wellington took early wickets as the ball swung and, with Harrow at 19-2, they were on top. However, Anshuman Rath came to the crease at number three and began to build a couple of partnerships but Wellington continued to take wickets and missed several chances. Rath continued to bat brilliantly, despite losing wickets at the other end, and he finished with 137 off 155 balls, with Harrow scoring 259 for nine. In reply Wellington started positively and scored at a good rate but found themselves 68 for three. Now a partnership between Sam Curran and Christian Green saw Wellington move to 197-4 from 38 overs when Green departed for 67. Curran continued to play well but was also dismissed later on 112, with Wellington on 227-5. Wellington?s middle and lower order held its nerve to get over the line with a ball to spare.
Another extremely tense finish was at Marlborough where the visitors, Bradfield, notched up 221 for six, a fairly modest score for a 50-over game these days, especially on a ground with one relatively small boundary and a fast outfield. Marlborough began their chase with an excellent second wicket partnership of 106 between Elijah Samuel and Billy Mead. Marlborough continued to score freely until they needed only 56 runs from 15 overs with eight wickets in hand. However, wickets from Gus Atkinson (five for 45) and tight bowling from Oliver Birts (two for 19) created pressure. An excellent boundary-rope catch by Samuel Lines removed the dangerous Cameron Coulson and left Atkinson with 14 to defend from the final over. Marlborough were left needing six from the final ball, with nine down, but managed just a single.
It is difficult for bowlers to shine in the Twenty20 format with a maximum of four overs to bowl. So it was striking that slow left armer Ollie Birts, the Bradfield captain, took four wickets twice in the format during the first round on Sunday and denied himself a possible fifth by running out the last opposition player with a direct hit. In the two Twenty20 games, he took a combined total of 8 for 19 in his eight overs. Meanwhile, Winchester?s captain, Daniel Escott, started his season with a brilliant all-round performance, with 142 opening the batting and then taking four for 43 against Marlborough, leading his side to a 26-run victory.
The declaration game between Stowe against Uppingham was a tense affair from start to finish. Having lost the toss, Stowe were put in and lost three early wickets. Indeed, they were on the back foot for most of the innings, apart from a 40 run partnership between Adam King and Olly Clarke. A steady trickle of wickets meant they were never in a position to accelerate. A few batsmen got starts but no-one went on to play a match-defining innings. This meant Uppingham had fifty overs to score 200 on what was now a pretty good wicket. Their two openers, Lawrence Blakey and William Rogers, played really well to get the score to close to a hundred, but both got out close together (one to a brilliant run out by Jack Keeping) which gave Stowe a window of opportunity. Captain Tom Young and Henry Hoare bowled the majority of the overs in the last twenty, bowling straight and building pressure. Uppingham kept coming though, but wickets started to fall with Hoare picking up three with his off-spin. Going into the last five overs Uppingham needed 30 with five wickets in hand, but Hoare struck twice again in an over to secure his first five-for for the school. By the start of the last over all results were still possible with Uppingham needing ten and Stowe three wickets. Young took two wickets with his first two balls, but the number 11 safely negotiated the last four balls to secure the draw.
The National Twenty20 competition began on Sunday despite the threat of rain. The Northern schools mostly start tomorrow, Wednesday April 29th. To see the current state of the competition, click here. For this week, the sheet will also be updated on Friday.
Results:
*Eastbourne CC 130-9 (20 overs), Bede's 131-7
*Wellingborough 329-3 (40 overs) (G Groenland 126 not out, L Draper 100 not out), XL Club 99 (T Mitchell 5-16)
SGS College 337-5 (40 overs) (J Bracey 177 not out), *Queen?s Taunton 93-9
SGS College 207-7 (40 overs), *Clifton 208-5
KCS Wimbledon 186-8 (40 overs), *Eton 188-5
*Epsom 191-4 (20 overs), Sevenoaks 74-7
King's Taunton 186-8 (40 overs), *Eton 188-5
MCC 168-6 (40 overs), *Bryanston 162-9
XL Club 195-9 (40 overs), *Oakham 178-9
*Kirkham GS 114-7 (25 overs), AKS Lytham 108
*Lancing 98-5 (20 overs), Bede's 99-5 (Langdale cup)
Oxford Blues 73, *St Edward's 74-2
KCS Wimbledon 134-9 (30 overs), *City of London Freemen?s 118-5
Cheltenham 168 (50 overs), *St Peter?s, York 130
*St Peter?s, York 155-7 (40 overs), Cheltenham 156-5
Yorkshire Gentlemen 160-8 dec. (43 overs) *St Peter?s, York 161-3
*Haberdashers? Aske?s 154 (40 overs), Christ?s College (NZ) 155-2
Queen Elizabeth?s, Barnet 130 (40 overs), *Haberdashers? Aske?s 131-3
*St George's, Weybridge 171, Reed's 173-4
*Reed's 375-1 (35 overs)(S Cott 139, D Douthwaite 125 not out, N Tilley 100 not out), Tiffin 168-4
Shropshire Under-21 158-7 (40 overs), *Shrewsbury160-2
Wrekin 106-9 (20 overs), *RGS Worcester 110-3
*Forest 187-2 (20 overs), East Barnet 95 ( N Kiyani 5-14)
Durham 165-1 (20 overs), Gateshead College 83
*Reading Blue Coat 190, St George?s Weybridge 192-4
*Tonbridge 214-7 (50 overs), Cranleigh 215-4 (L Bedford 107 not out)
*Bede's 232-8 (40 overs), Lancing 110
Pangbourne 151-10 (40 overs), *Lord Wandsworth 105 (S McLeish 7-22)
Repton 246-7 dec, *Oakham 90-8
*Ashville 75 (40 overs), Hymers 78-1
*RGS Worcester 247-8 (50 overs), KES Birmingham 151
*Radley 150 (55 overs), Eton 152-3
*Winchester 234-8 (50 overs)(D Escott 142), Marlborough 209-7 (D Escott 4-43)
*Haberdashers' Aske's 254-6 (45 overs) (A Willis 138), Berkhamsted 158
Harrow 259-9 (55 overs) (A Rath 137 not out), *Wellington (Berks) 260-8 (S Curran 112)
*Wrekin 276-3 (40 overs), Queen Mary's GS, WalsalI 164
*Malvern 184-5 (20 overs), RGS Worcester 127
Wycliffe 78-7 (20 overs), *RGS Worcester 80-3
*Worth 252-5 (T Pullan 130), Sevenoaks 216-4 (C White 121 not out)
*Durham 165-1 (20 overs), Gateshead 83 (D Scott 5-8)
RGS Newcastle 103 (S Taylor-Gell 6-34), *Durham 106-3
*Worth 252-5 (T Pullan 130), Sevenoaks 216-4 (C White 121 not out)
*Dulwich 98 (T Anson 5-17), Brighton 101-2
*Stowe 200, Uppingham 192-9 (H Hoare 5-20)
*Christ?s Hospital 182-6 (40 overs), Barns Green CC 184-3
Seaford College 116 (40 overs), *Christ?s Hospital 118-4 (Martin Berrill Sports League)
*Bristol GS 196-8 (50 overs), King's Worcester 197-8 (R Panchal 5-34)
MCC 218-6 (50 overs), *Shrewsbury 208-8
*St Paul's 170-8, Merchant Taylors' 174-7
*Reeds 287-7 dec, Eltham 155-4
Clayesmore 221-5 (30 overs), *Milton Abbey 126-5
*Bradford GS 129, St Peter?s, York 130?8
*Woodhouse Grove 225-6 (40 overs), St Aidan's 206-7 (H Stanford 126)
*Woodhouse Grove 186 (50 overs), GSAL (Leeds) 98-2 (rain)
The Leys 162-5 (40 overs), *Wellingborough 84 (M Mniszko 5-17)
Ipswich 226 (45 overs) (C Rule 114, W Ponty 5-31), *Framlingham 74
Bradfield 238-8 dec (H Came 133 not out), *Stowe 204-6
*Bradfield 275-6 (50 overs)(H Came 117 not out), Berkshire Development XI 122
*Bradfield 92 (50 overs)(L Bethell 6-23), Abingdon 94-5 (G Atkinson 5-22)
Bradfield 221-6 (50 overs), *Marlborough 216-9 (G Atkinson 5-45)
*Bradfield 167-9 (50 overs), Oratory 109
Bromsgrove 300-8 (50 overs)(T Banton 161), *Clifton 175-6 (rain)
Taunton 166 (50 overs), *Blundells 168-2
*Stamford 158 (50 overs), Bedford Modern 159-1
*Colston's 151-9 (40 overs), Dauntsey's 109-0 (Dauntsey?s won under D/L)
*Solihull 198-7 (40 overs), Warwick 199-8
*King?s Worcester 212-4 (30 overs), Solihull 167-4
National Twenty20 preliminary play-off
*Forest 187-2, East Barnet 95 ( N Kiyani 5-14)
National Twenty20 group stage
Eastern A group 1
Worksop 105-8, *Repton 88
Trent College 98 , Nottingham HS 100-4
Worksop 205-5 (J Hayes 126), Nottingham HS 96
Worksop win the group
Eastern A group 2
Stamford 146-6, *Oakham 131-9
*Oakham 138-5, Leicester GS 129-6
Stamford 143-3, Leicester GS 128-9
Stamford win the group
Eastern A group 3
The Perse 112-6, The Leys 114-3
Greshams 101-9,The Leys 104-3
The Leys win the group
Eastern B group 4
Shenfield HS 169-4, St Joseph's 143-7
Ipswich 77, *Felsted 78-0
Shenfield HS 114, *Felsted 117-3
Felsted win the group
West Midlands and Wales group 2
Wrekin? 123-5, *Bablake 54
Wrekin 124-9, Denstone 113-7
Denstone 190-3, *Bablake 135-5
Wrekin win the group
West Midlands and Wales group 3
*Bromsgrove 257-6 (C Edwards 162), Newcastle-under-Lyme 91-7
Adams GS withdrew
Bromsgrove win the group
West Midlands and Wales group 4
Wycliffe 52-10, *Malvern 56-0
Wycliffe 78-7, RGS Worcester 80-3
*Malvern 184-5, RGS Worcester 127-10
Malvern win the group
West Midlands and Wales group 5
*Dean Close 109-7, Monmouth 110-3
Llandovery withdrew
Monmouth win the group
West Midlands and Wales group 6
Solihull 105-8, *Bloxham 107-5
Wolverhampton GS 149-8, Solihull 79
Wolverhampton GS 118-8, *Bloxham 88
Wolverhampton GS win the group
South East group 2 (rain)
Judd 98-5 (15 overs), Sutton Valence 99-2
Skinners and Sutton Valence (later) withdrew
Tonbridge win the group
South East group 4
Cranleigh 176-8, Hurstpierpoint 177-4
Eastbourne 160-7, Ardingly 127-8
Eastbourne 158-5, Hurstpierpoint 160-5
Hurstpierpoint win the group
North London group 1
Berkhamsted 169-6, Mill Hill 112
*Merchant Taylors' 130-7, Berkhamsted 123-5
Latymer withdrew
Merchant Taylors' win the group
North London group 2
*St Albans 172-7, Forest 115-5
Haileybury 156-7, Aldenham 125-8
*St Albans 151-5, Haileybury 118-8
St Albans win the group
South London group 1
*Reed's 275-5 (G Mawhood 101), Wilson's 106-9
John Fisher 113-8, Hampton 119-3
*Reed's 171-8, Hampton 129-6
John Fisher 181-2 (A Dombrandt 117 not out), Wilson's 105
Reed's win the group
South London group 3
Sevenoaks 34-7, Whitgift 38-0
*Eltham 80-0, Ibstock Place 55-8
*Eltham 72-9, Whitgift 73-1
Whitgift win the group
South Central group 1
Shiplake 65, *Bradfield 67-1
Shiplake 92-9, Dauntsey's 93-0
*Bradfield 189-8, Dauntsey's 92
Bradfield win the group
South Central group 2
St Edward?s Oxford 152-7, Lord Wandsworth 99
Dr Challoner?s withdrew
St Edward?s Oxford win the group
South Central group 3
Oratory 123, Radley 115
Radley 37, Wellington 38-1
Oratory 131 / Wellington 132-3
Wellington win the group
South Central group 4
Portsmouth GS 196-8, *Winchester 118-6
Abingdon 158-4, Pangbourne 73
Portsmouth GS 121-7, Abingdon 99
Portsmouth GS win the group