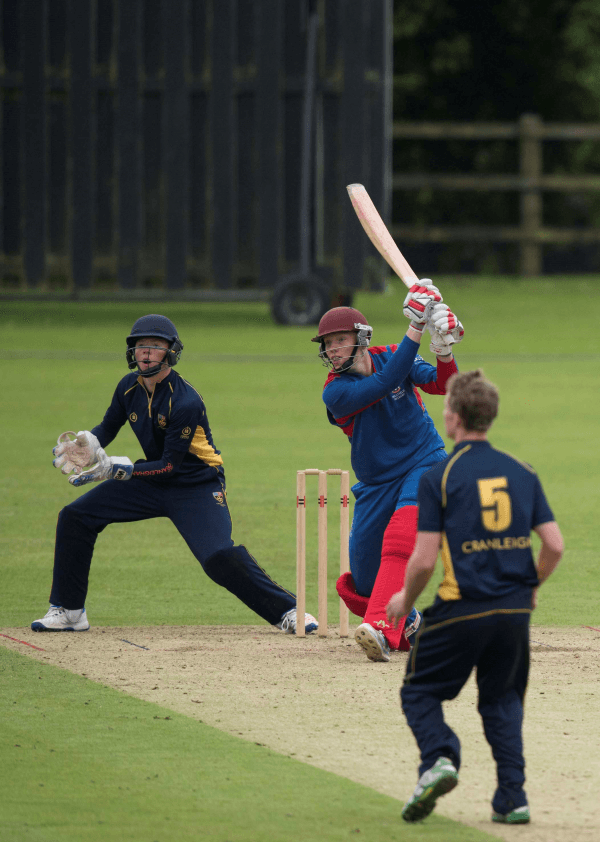 Fin Trenouth batting for Millfield in the National Schools T20 finals last week
Picture by Patrick Eagar
Fin Trenouth is probably the best 14-year-old wicket-keeper I have ever seen, and that was two years ago. He was playing for Clifton at the time, where he was coached by Paul Romaines, before moving to Millfield for the sixth form. He also scored a brilliant forceful century against Sherborne last year in the face of considerable hostility. He might have been playing for his new school against Tonbridge but he is probably glad that Somerset took precedence and he captains their Under-17 side. Last week he was playing in a three-day game against Hampshire Under-17s at Basingstoke. He hit a really quite astonishing 332 not out in 307 balls, with 13 sixes and 33 fours. If we put this into context, one other player scored 84 and the side was bowled out for 477. He had not kept wicket in the Hampshire first innings, which is probably just as well as it might have tired him out for this heroic effort. To say that he is a promising player would be the understatement of the year. Remember the name.
Johnny Bairstow was there to watch his Old Boys? side play their annual two-day game against St Peter?s York. Something even he had not achieved at school was to score a century in the third form (Year 9); indeed, I am not aware of anybody who has ever done so although eagle-eyed readers will no doubt correct me. However, this was the achievement of Christopher Wood who scored 109 not out in the first innings. He tops both bowling and batting averages for the season. Another player to watch, clearly. Another interesting feature of the game was that three brothers played for the school ? Sam Lodge (Year 13), Ben Lodge (Year 10) and Matthew Lodge (Year 9). Scores below.
Ratcliffe ? where Luke Wright of Sussex and England is an old boy ? enjoyed two recent interesting games. Against Rydal Penrhos, Ratcliffe won the toss and chose to bat. In his final game for the school, captain Sam Nightingale, after an early reprieve, then scored a school record 161 not out from 123 balls in a total of 320 for 1 in 40 overs. Rydal battled hard but could not keep up with the run rate and wickets fell at regular intervals as the innings closed on 165. The next day a Bolton development XI posted 215 in their 40 overs. At the halfway stage Ratcliffe were relatively comfortable at 80-1. The run rate began to creep up, however, and the loss of the two set batsmen left newcomers at the crease needing seven off the final over. Three were scored off the first ball but then four dots followed, with a scrambled two off the final ball meaning Ratcliffe were one run short of a tie and two short of victory.
With most independent boarding schools finishing on about July 1st, the other results are mainly from either day schools or from after-term festivals. This is therefore probably my last column of the season, though I shall publish results from elsewhere (eg the Sobers tournament in Barbados) if I receive them.
Results:
BOWS [Brighton, Oakham, Wellington, Sedbergh] festival at Wellington (Berks)
Brighton 112, Oakham 51
Oakham 147, Sedbergh 148-9
*Wellington 302-8 (50 overs), Oakham 151
Brighton 180, Sedbergh 184-5
*Wellington 271-7 (50 overs)(J Davies 116), Brighton 215
*Wellington 227-9 (50 overs), Sedbergh 228-9
Sedbergh win the festival
SILK trophy festival at Eton
Oundle 170, Shrewsbury School 161
St Albans, Pretoria 199-6 (50 overs), *Eton 200-4
St Albans, Pretoria 115, Shrewsbury 119-6
Oundle 115,*Eton 116-1
*Eton 314-7 (50 overs), Shrewsbury 159
Eton win the Silk Trophy
Free Foresters 225,*St Peter's, York 175-9
Old Peterites 155 & 193, *St Peter's York 219-4 dec (C Wood 109 not out) & 97
*Old Dunelmians 116. Durham 120-3
St Peter's, York 196-9 (45 overs), *GSAL (Leeds) 174
*Ratcliffe 320-1 (S Nightingale 161 not out) (40 overs), Rydal Penrhos 165
A Bolton XI 215 (40 overs), *Ratcliffe 214-7
*Ratcliffe 248-7 (40 overs), Silcoates 219
Cranleigh 180 & 185-8 dec, Charterhouse 137 & 76
Ashville 149 (H Boggie 5-32),*Woodhouse Grove 153-3
Sutton Valence 143 (20 overs),*Sevenoaks 116-7
Judd 143-7, *Sevenoaks 146-5
*RGS Worcester 156-9 (50 overs), Wolverhampton GS 143
Haberdashers? Aske?s 252-7 (40 overs),*Exeter School 256-8
Haberdashers? Aske?s 258 (40 overs), *Exeter CC 247-9
Haberdashers? Aske?s 158, *Devon Dumplings CC 159-5
*Devon Under-16s 242-7 (50 overs), Haberdashers? Aske?s 220
RGS tournament at RGS Colchester
RGS Worcester 196-7, RGS High Wycombe 200-3
RGS Lancaster 113, RGS High Wycombe 114-3
*RGS Colchester 139, RGS High Wycombe 140-6
RGS Guildford 299-5 (50 overs), RGS High Wycombe 239-8 (K Kankate 102)
RGS High Wycombe 130 (G Pearce 6-27), RGS Newcastle 133-3
RGS Newcastle win the tournament