Tuesday July 2nd 2019
The schools cricket season went out with a bang, a brief spell of glorious sunshine producing some thrilling finishes and remarkable performances. With such a cornucopia of matches to report, it is hard to know where to start. The culmination of the season in all sorts of ways was yet another glorious National Schools Twenty20 Finals Day on Sunday at Arundel, eventually won by Malvern. This will have a special column all to itself on Friday. It will also include the thrilling regional final where Merchant Taylors' played Tonbridge, and the sides finished on level scores. Merchant Taylors' won through to Arundel because they had lost eight wickets to Tonbridge's nine.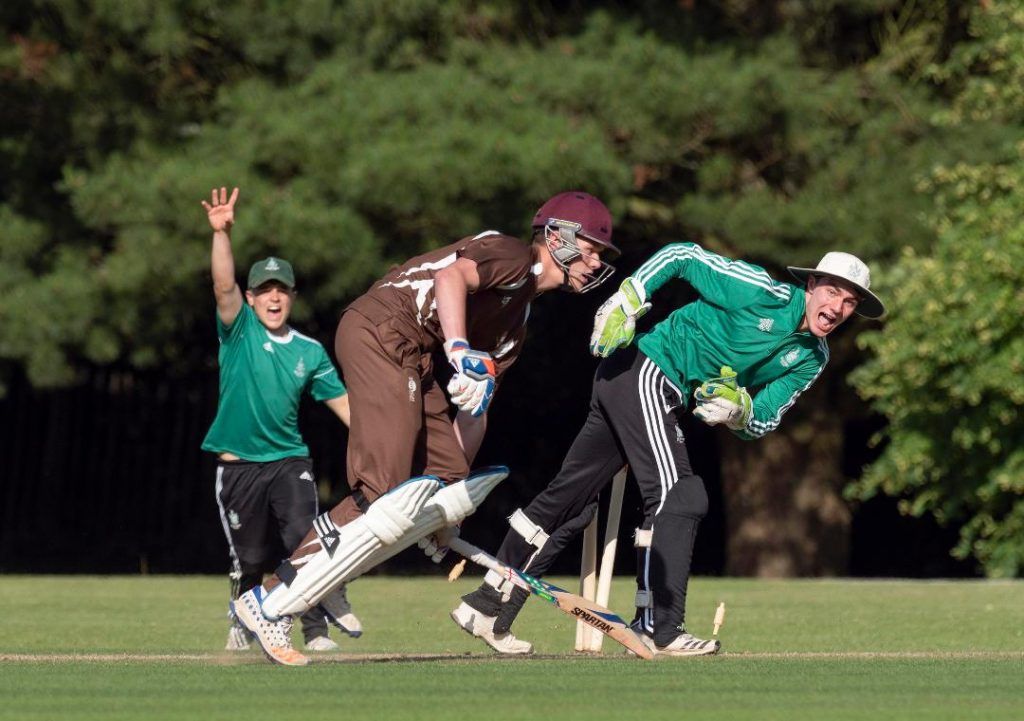 Picture by Patrick Eagar – click to show fullscreen

I should add that the term ended either last week or ends this Friday only for most (not all) independent schools, while other schools continue for another couple of weeks or so. This week also sees various schools festivals which I shall be featuring next week.
****
In a thriller at Colfe's the home side posted a total of 177 for nine against some tight Eltham bowling. The latter in reply lost regular wickets but were held together but Archie Langley with 47. Once he had gone, 60 were required from the last 12 overs with six down. Needing 11 in the final over, bowled by opening bowler Arvind Thiramunan, Ollie Greenhead hit the first ball for four and three others were scraped together leaving four from three. James Bush swung at the next two but missed, only for the latter to be called wide. Three from the last ball led to a thick edge to third man and Bush was run out going for a second to tie the scores, leaving the visitors one short.
Even tighter was the match when Denstone hosted a Derbyshire Academy XI, The school had found it hard going in their 45 overs and managed only 178 for nine, feeling it well below par. A direct hit run-out fairly early in the reply lifted their spirits and gradually helped them to create pressure, despite brilliant running by the Academy's Nafis Shaikh. The last over needed 11 to win with Shaikh on 50 but not facing. Various mishaps including two dot balls, a wide, a nick through the slips (vacant?) and a run-out meant the Academy needed two from the last ball, from which they scampered only one. A tie.
Third thriller of the week occurred at Marlborough in their John Harvey cup match against formidable St Edward's (Oxford). All seemed lost for the home side chasing the decent 236 for seven set by St Edward's as with nine down there was a long hill to climb. But climb they did, as the last-wicket Marlborough pair Jack Cleverly and Archie Del Mar put on an unbeaten 21 to win the match, the former with some chutzpah hitting a six when only four were needed from the last three balls.
And finally in this section of close finishes, Alex Ayers (101) and Jack Grant (100) put on 191 for the first wicket for Dauntsey's as they set a stiff challenge of 248 to win in 45 overs. In reply, King Edward's (Southampton) were up with the rate as Charlie Harden (98) and Jhovan Dariwal (94) put on 167 for the fourth wicket. But Alex Ayers then removed his 'keepers gloves and took two for 18 in four overs to secure a 16th win of the season for Dauntsey's. King Edward's finished a tantalising nine short with seven down.
End of term frequently sees matches against Old Boys. Ratcliffe's must have been pretty pleased to declare at 268 for six, led by Ben Shaw's 106 not out. Such confidence proved somewhat misplaced as the boys overtook their score in just under 34 overs without losing a wicket. Toby Snell, the school's captain, hit an astonishing 176 not out from 120 balls including six sixes, 21 fours and a strike rate of 146.7.
Wooodhouse Grove, winners of the National School's Twenty20 in 2014, had bowled out their Old Boys for 148, but then themselves collapsed to 41 for five and seemed doomed at 87 for eight. At which point 16-year-old Josh Stephenson, who had never before scored fifty, put together an innings of 76 not out with three sixes and 11 fours as the school scraped home to win by one wicket in a very tense finale.
Josh de Caires at St Albans has blossomed into a formidable cricketer. Against MCC, the visitors were restricted by some fine new ball bowling from Brendon Warren to a modest declaration of 182 for seven which happened to be after 50 overs. The school had a slow start and found themselves needing nine an over. MCC in the best spirit of declaration cricket hurried through their overs, indeed rushing through the "final" 20 with still eight minutes to play but with St Albans still needing 25 to win. MCC again with true spirit bowled a further two overs, during which De Caires cleverly farmed the strike and hit a six with two balls to spare to win the game, steering the entire innings with 138 not out. Mark Ilott, the school's coach, describes it as one of the best innings by a schoolboy he has ever seen.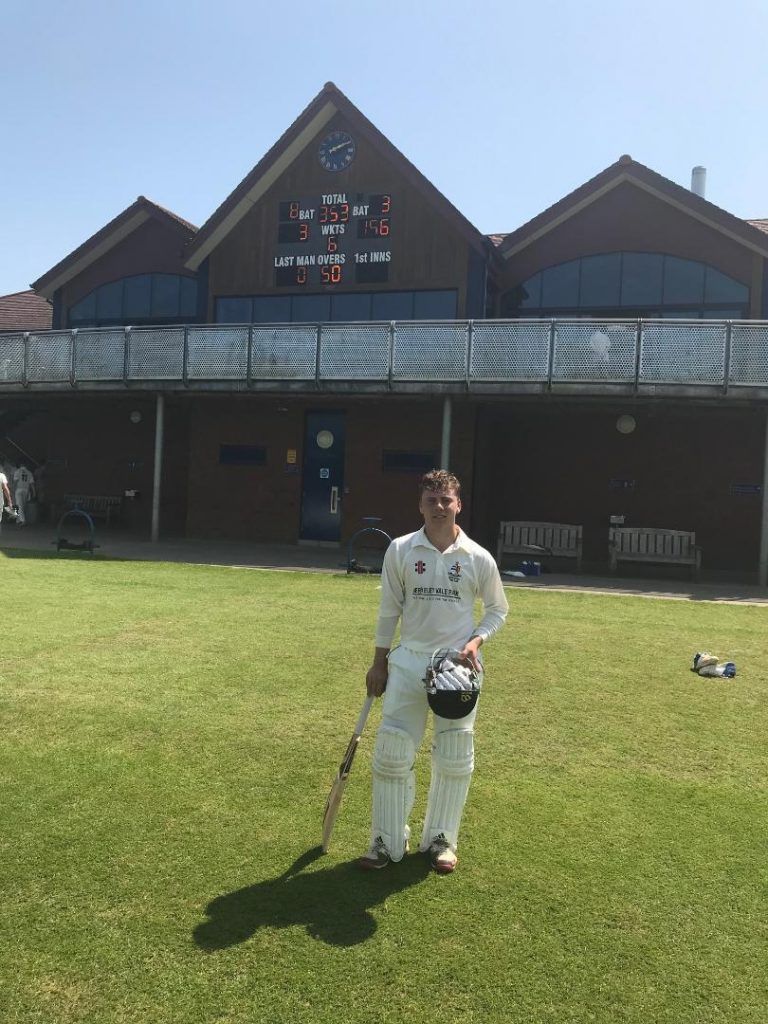 Of other individual achievements, Thomas Quinlan (pictured above) ended a remarkable week for Bristol Grammar School, setting a new school record of 196 not out against Monmouth leading to an astonishing 50-over total of 353 for six; this followed his scores of 82, 80 and 45 during the preceding week. Incredibly his record score was not enough to beat Monmouth, who also enjoyed the fabulous batting conditions, thanks to an opening stand of 220 by Nathan Lee (127) and Harry Friend (140 not out).
The previous weekend Ed Taylor (pictured above), in an Under-12 match at Thomas's School (South West London), bowled an inspired spell, taking five wickets in five balls and finishing with six in nine. His final figures were six for three.
Results:
*Emanuel 135-8 (20 overs), Wallington GS 119-7
*Denstone 225-9, King's Worcester 142-10
Stowe 276-7 v Wellingborough (rain)
Plymouth 104,*Dauntsey's 105-5
MCC 47-2 v *St Peter's York (rain)
Harrow 147,*St Edward's School 148-6
XL Club 266-8 dec,*Latymer Upper 151-5
Reading Blue Coat 215-9 dec,*Christ's Hospital 184-9
MCC 182-7 dec, St Albans 184-4 (J De Caires 138 not out)
XL Club 168-9 dec,*Eltham 170-5
MCC 239-6 dec,*Eltham 143
*Colfe's 177-9 (40 overs), Eltham 176-9
MCC 266-5 dec, Latymer Upper 115-7
*Sedbergh 180-3 (40 overs), Grey High School (RSA) 168-6
*Sedbergh 294-4 (45 overs) (G Hill 137 not out), Bolton GS 129
*Clifton 246-4 (35 overs) (O Meadows 109), South Glos and
Stroud College 164-7
*Denstone 178-9 (45 overs), A Derbyshire CCC Academy XI 178-6
Old Ratcliffians 268-6 dec (B Shaw 106 not out),*Ratcliffe 269-0 (T Snell 176 not out)
Loughborough 220-5 (40 overs),*Ratcliffe 179
Denstone 261-4, *Trent 93 (J Redman 6-9)
Rugby 248 (J Bethell 107) & 153-7,*Marlborough 330 (F Kottler 148)
*St Edward's 236-7 (50 overs), Marlborough 239-9
*St Peter's York 167, Woodhouse Grove 169-2
Old Grovians 148,*Woodhouse Grove 149-9
*Merchant Taylors' 2nd XI 193-7 (50 overs), Haberdashers' Aske's 194-2
* Dauntsey's 247-2 (45 overs)(A Ayers 101, J Grant 100), King Edward's, Southampton 238-7
*Eltham 107-8 (20 overs), Judd 108-4
Caterham 223-6 (40 overs) (T Williamson 103 not out),*Eltham 200-7
*Bristol GS 181 (50 overs), RGS Worcester 185-4
*Bristol GS 212-6 (30 overs), Thomas More College (RSA) 172-9
Bedouins 243-9 (40 overs),*Bristol GS 244-6 (M Brewer 106)
*Bristol GS 353-6 (50 overs)(T Quinlan 196 not out), Monmouth 354-2 (N Lee 127, H Friend 140 not out)
*Clifton 289-9 (50 overs) (O Meadows 130), RGS Worcester
75 (H Ascherl 5-9)
St Peter's, York 115,*Bradford GS 116-3
MCC 214-5 dec,*Christ's Hospital 105
Yorkshire Cricket College 230-7 (40 overs) (M Law 155 not out),*St Peter's, York 231-8
Denstone 178-9, Derbyshire Academy 178-6
Warwickshire Under-17 95-8,*Denstone 96-4
*Denstone 150-6, Warwickshire Under-17 131-5
*Emanuel 136 (40 overs), Reigate GS 139-5
*Emanuel 181-0 (20 overs), Ibstock Place 59-9
Clifton 157, *St Edward's 158-8
National Schools Twenty20 competition cumulative
To see details of the 2019 competition, click here
North East section group 1
Newcastle School for Boys 86, RGS Newcastle 88-2
Durham School 160-4, Barnard Castle 132-8
Durham 95, RGS Newcastle 96-2
RGS Newcastle win the group
North East section group 2
Pocklington 95, Queen Ethelburga's 96-3
Worksop 149-6 Queen Ethelburga's 113-7
Worksop 134-8, Pocklington 93
Worksop win the group
North East section group 3
Preliminary round
Silcoates 71, GSAL (Leeds) 73-0
Main round
*Queen Elizabeth GS Wakefield 116-9, Ashville 88-7
*QEGS Wakefield 99-4, St Peter's, York 100-5
St Peter's York win the group
North East section group 4
Birkdale 151-8, Bradford GS 120-7
Woodhouse Grove 122-8, Birkdale 126-4
Ampleforth withdrew
Birkdale win the group
North East section semi-finals and final
St Peter's York 219-1, Birkdale: 115
Worksop 170-5, RGS Newcastle 74
St Peter's York 160-7, Worksop 147-7
St Peter's York win the North East section
North West section group 1
Cheadle Hulme 178-5, Wilmslow HS 121-8
King's Macclesfield 174-6; Wilmslow HS 116-8
King's Macclesfield 120 4, Cheadle Hulme 100-5 (15 over a side game)
King's Macclesfield win the group
North West section group 2
Myerscough 167-2; Stockport GS 93-6
Giggleswick 86-8, Stockport GS 87-2
Giggleswick 114-9, Myerscough 115-8
Myerscough win the group
North West section group 3
King's Chester 89-7, Birkenhead 92-4
Grange 181-7, Altrincham GS 118-8 (Grange win on DLS)
Birkenhead 159-4, Grange 96-6
Birkenhead win the group
North West section group 4
Kirkham 81, RGS Lancaster 82-1
Rossall withdrew
RGS Lancaster 152-2, AKS Lytham 21
RGS Lancaster win the group
North West quarter-finals
Sedbergh 146, RGS Lancaster 118–7
Birkenhead 151–3, Bolton 118–6
King's Macclesfield 121-6, Manchester GS 122–1
Merchant Taylors' Crosby 161–5, Manchester Myerscough 140-?
North West section semi-finals
Manchester GS 179–2, Merchant Taylors' Crosby 119–9
*Sedbergh 176-4, Birkenhead 158-5
North West section final
Manchester GS 121-8, *Sedbergh 123-5
North region final (Friday 21st June)
Sedbergh 153-7, St Peter's York 105-7
Sedbergh represent the North at Arundel
East section group 1
*Trent 130-6, Repton 134-2
Others not reported
Repton win the group
East section group 2
*Uppingham 133-5, Loughborough GS 125-5
Stamford 156-7, Oakham 157-5
Oakham 176-4,*Uppingham 89-7
Oakham win the group
East section group 3
Wellingborough 89-6,*Rugby 59-0 (Rugby win on DLS)
Rugby 154-6, Bedford 148-7
Others in this group not reported
Rugby win the group
East section group 4
Perse 88, New Hall 92-5
Shenfield 148,*Felsted 150-2
*Felsted 126-4, New Hall 132-5
New Hall win the group
East section group 5
The Leys 140-5, Oundle 135-4
The Leys 143-4, Culford 107
Others not reported
The Leys win the group
East section group 6
Langley vs Norwich (Norwich win bowl out 3-0)
*Gresham's 193-4, Wymondham 107-7
*Norwich 118, Gresham's 121-4
Gresham's win the group
East section group 7
Framlingham 125, Royal Hospital School 126-6
Others not reported
Ipswich win the group
East section play-offs
New Hall 102-7, The Leys 103-2
Oakham 138-6, Repton 125
East section semi-finals
*Ipswich 106, The Leys 108-2
Rugby 81,*Oakham 84-1
East section final
Oakham 113-6, *The Leys 114-8
West Midlands and Wales section group 1
*Shrewsbury 174-3, Newcastle Under Lyme 103 -8
Newcastle Under Lyme 45, Ellesmere 46-2
*Shrewsbury 167-5, Ellesmere 58
Shrewsbury win the group
West Midlands and Wales section group 2
KES Stratford 85-8, *Bromsgrove 86 3
Malvern 166-7, Wrekin 75
Malvern 176-4 (J Haynes 126), *Bromsgrove 132-9
Malvern win the group
West Midlands and Wales section group 3
*Queen Mary's GS Walsall 188-3 (20 overs), Alcester GS 58
Warwick 141-4, RGS Worcester 120-9
Warwick 109-6, King's Worcester 111-5
Queen Mary's GS withdrew
Kings' Worcester win the group
West Midlands and Wales section group 4
Monmouth 156-3 (20 overs), Dean Close 96
Llandaff Cathedral School 57, Wycliffe 58-0
Monmouth 143-3, Wycliffe 145-3
Wycliffe win the group
West Midlands and Wales semi-final
Malvern 91-9, Shrewsbury 83
King's Worcester 134–5,*Wycliffe 74
West Midlands & Wales section final
*Malvern 134-2 (10 overs), King's Worcester 84-8 (reduced because of rain)
East and West Midlannds & Wales region final
*The Leys v Malvern (Friday June 21st)
South East section group 1
*St Lawrence 188-2, Kent College 116-8
*St Lawrence 164-2, Simon Langton GS 103-9
St Edmund's Canterbury withdrew, as did Kent College after the first match
St Lawrence win the group
South East section group 2
*Cranleigh 129-9 , RGS Guildford 129-9 (match tied – RGS win on count back)
Charterhouse 130-9, St John's Leatherhead 131-5
St John's Leatherhead 143-8, RGS Guildford 143-8 (match tied – St John-s win on count back)
St John's win the group
South East section group 3
Seaford 95-9,*Bede's 96-0
Ashford 128, Eastbourne 132-2
Eastbourne 150-6,*Bede's 153-4
Bede's win the group
South East section group 4
*Tonbridge 233-2, King's Rochester 75-6
(Hurst beat Skinners)
*Tonbridge 182-4, Hurstpierpoint 149-7
Tonbridge win the group
South East section semi-finals and final
*St Lawrence 101-9, St John's Leatherhead 102-2
*Tonbridge 176-6, Bede's 141-9
*Tonbridge 115-8, St John's Leatherhead 107-7
Tonbridge win the South East section
North London section group 1
*St Albans 148-7, Aldenham 107-6
Haileybury 119-8, Haberdashers' Aske's 120-2
Haberdashers' Aske's 151-8, *St Albans 153-8
St Albans win the group
North London section group 2
*Merchant Taylors' 132-6, Forest 93-8
Berkhamsted 164-9, UCS 114-6
*Merchant Taylors' 171-9, Berkhamsted 103-9
Merchant Taylors' win the group
South London section group 1
*Dulwich 216-2 (J Crowfoot 112 not out), Emanuel 140-4
Emanuel 140-8, KCS Wimbledon 142-5
*Dulwich 191-5, KCS Wimbledon 127
Tiffin withdrew
Dulwich win the group
South London section group 2
Trinity 193-2, Eltham 121-9
Colfe's 67-8, Trinity 68-2
Colfe's 156-2, Wilson's 106-7
Trinity win the group
South London section group 3
Caterham 100-6 Whitgift 101-1
Caterham 91, Langley 92-3
Whitgift 125, Langley 112-5
Whitgift win the group
South London section semi-finals
Dulwich 136, Langley Park 137-5
Whitgift 138-9, Trinity 114-8
South London section final
*Whitgift 144-7, Langley Park 99-6
London section final
Merchant Taylors' Northwood 135-8, Whitgift 128-9
South East region final
*Tonbridge 125-9, Merchant Taylors' Northwood 125-8
Merchant Taylors' win the South East regional final, having lost eight wickets to Tonbridge's nine
South West section group 1
*Colston's 99-8, Clifton 100-3
Bristol GS 121-9, *Clifton 122-3
*Bristol GS 181-4, Colston's 124-5
Clifton win the group with Bristol GS runners-up

South West section group 2
King's Taunton 232-7, SGS (Filton) 62
SGS (Filton) 133-7 (20 overs),*Clayesmore 125 8
King's Taunton win the group with SGS runners-up
South West section group 3
Mount Kelly 105-8, Truro College 106-6
(others in this group not reported)
Plymouth win the group with Truro College runners-up
South West section group 4
Sherborne 89-6, Millfield 90-1
Sherborne 130-9, *Taunton 118-5
Taunton beat Millfield 3-0 on a bowl-out
Millfield win the group with Taunton runners-up

South West section group play-offs
Truro 52-9, Millfield 53-1
Plymouth 136, Taunton 138-5
*Clifton 130-9, South Glos & Stroud College 87-9
Bristol GS 100-8, King's Taunton 101-0
South West section semi-final
Taunton 93-8, *Millfield 98-4
*King's Taunton 129-9, Clifton 102-9
South West section final
King's Taunton 90-9, *Millfield 91-2
South Central section group 1
Winchester 185-4, Portsmouth GS 177-7
Winchester 116-5, *St Edward's 116-8
Reading Blue Coat 121, *St Edward's Oxford 122-1
Winchester win the group
South Central section group 2
Dauntsey's 145-3, Elizabeth College, Guernsey 108-8
Abingdon 167-3, Lord Wandsworth 97-7
Dauntsey's 130-5, Abingdon 109-8
Lord Wandsworth 184-2, Elizabeth College, Guernsey 174-7 (N Le Tissier 111)
Dauntsey's win the group
South Central section group 3
Magdalen College School 216-3, RGS High Wycombe 113
*Radley 173-5, Shiplake 139-7
Magdalen College School 114-8,*Radley 112-6
Magdalen College School win the group
South Central section group 4
*Bradfield 157-7, John Hampden 126-4
*Bradfield 107-6, Wellington 108-3
The Oratory withdrew
Wellington win the group
South Central section semi-finals
Magdalen College School 135-6, *Wellington 136-2
Winchester 149-3,*Dauntsey's 127-1 (Dauntsey's won under DLS)
South Central section final
Wellington 63-9 (16 overs), Dauntsey's 66-0 (played at The Oratory)
South West and South Central region final
Millfield 205-5,*Dauntsey's 82-8
Finals Day at Arundel Sunday June 30th
Millfield 121-9, Sedbergh 122-2
Malvern 195-5, Merchant Taylors' Northwood 138
Malvern 155-6, Sedbergh 142
Malvern win the 2019 National Schools Twenty20 competition