Apologies but my column was delayed because the internet was off almost all day yesterday except for a few minutes here and there. Seems to be engineers working at the exchnge either because of recent thunderstorms or, more excitingly, because they are upgrading our network to fibre optic.
******************************************************************************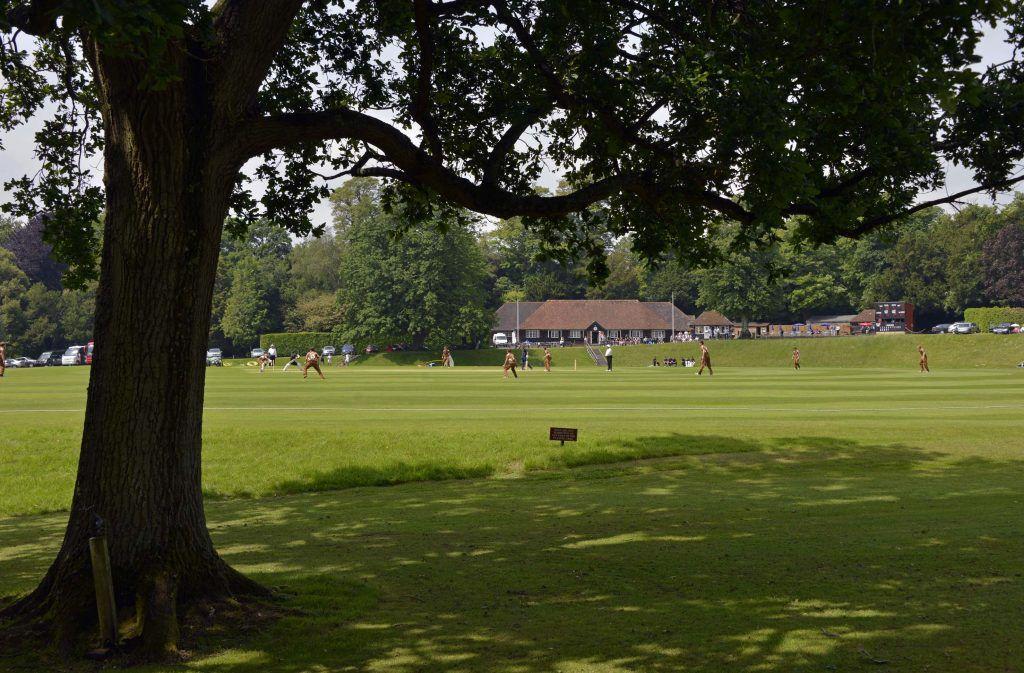 Click on any thumbnail to see a larger version. All photographs by Patrick Eagar.

For more photographs of the day by Patrick Eagar click here
Yet another glorious day at Arundel, that most beautiful and welcoming of grounds, for the finals of the National Schools Twenty20 competition. The ninth year of the competition in its present format saw a slight reversal of the traditional pattern: bowling dominated batting for the early part of the day and this was particularly because the two eventual finalists, Millfield and Charterhouse, both had in their armoury a pair of fast bowlers who were, in schoolboy terms, distinctly rapid. For once, the spinners did not dominate nor even slow down the scoring rate.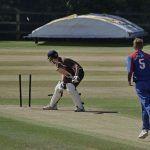 In the first semi-final Millfield won the toss and asked Sedbergh, last year's winners, to bat. Of
course, by definition the composition of teams changes fairly dramatically from year to year. In a reversal of last year, where Sedbergh put all within range to the sword, here they faltered under the barrage of Millfield's heavy artillery and found themselves 26 for four from which it was difficult to recover. However, recover they did, thanks to a fine 31 from number six Leo Johnson, only ended by a suicidal run and a spectacular direct hit from long range by Tom Bevan. After that, the innings continued to falter and 107 all out was never a serous challenge. Julius Sumerauer's speedy bowling earned him five for 14 from his four overs. Millfield lost an early wicket to a run-out but after that the result was inevitable: a comfortable win for Millfield by six wickets.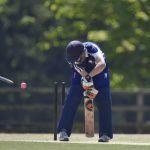 The second semi-final was an altogether more closely-run affair. Bedford were also inserted and after three early wickets by the impressive Prince Singh of Charterhouse, they recovered thanks to a fine 61 by opener Harry Gouldstone. Nevertheless their total of 124 seemed less than par on a glorious day, good pitch and very fast outfield. However, an early wicket gave some hope (one of two nifty stumpings by Gouldstone) but Charterhouse rallied with a fine partnership of 87 between opener Ross Richardson (35) and George Barlow (52 from 37 balls. A small rash of wickets then fell, reviving Bedford's hopes, and they also slowed the momentum. Charterhouse duly won by five wickets, but with only two balls to spare.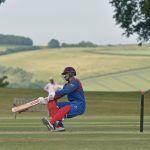 The final saw bat really dominate ball for the first time on the day. Millfield again inserted the opposition and, after an early stutter, Charterhouse began to build a decent total of 166 for six, with good contributions from Bevan (48). Prince (25) and Patel. Their total seemed fairly formidable until the Millfield batsmen appeared and put the bowling to the sword. Sam Young (29), Charlie Clist (44) and Marcus Critchley (34 not out) were all impressively powerful but they were eclipsed by an explosive 53 not out in 29 balls from captain Tom Bevan who duly collected the trophy from David Graveney having won with nearly four overs to spare.
As I wrote last week, there has been a wealth of cricket in schools after exams. Not entirely surprisingly several of the most interesting have been against MCC. Perhaps I may quote verbatim a report by Howard Holdsworth, now retiring after 27 years of running the cricket at Christ's Hospital
:
"The MCC game was everything good cricket should be – fine batting, probing bowling, excellent fielding. The game was beautifully judged by the MCC skipper, George Hobden (Old Blue and brother of the prematurely deceased Matthew Hobden) made a very good declaration (at 241 for four) after 45 overs, leaving the school 55. We won in the final over. A marvellous end to my 27 years in charge." The school owes him a great debt of gratitude, as it also does to Chris Tavaré, the distinguished Test cricketer who is now retiring having been a boy at Sevenoaks and then a schoolmaster at his old school after retiring from playing.
More fine captaincy was displayed at RGS Worcester as new MCC match manager Oliver Uffindall put together a strong XI – but more importantly a team of "good blokes who know how to play the game properly". The RGS bowlers made inroads into the MCC batting with Sam Ford's accurate seamers and Ben Sutton's probing left-arm spin causing a few furrowed brows in the MCC dressing-room. However, it helped that the MCC had numbers 7 & 8 who are top premier league batters and number 9 was an ex-RGS captain who scored five centuries while at school! A declaration at 207-7 left RGS with just slightly more overs to face than that by the MCC. A number of the RGS top order got going but couldn't convert to a big score. The MCC captain made judicious bowling changes that subtly kept RGS interested and it came down to five needed off the final over of the last hour. Captain Uffindall bowled his off-spin and with two runs needed a loud appeal for LBW was answered in the affirmative by the Umpire – even though it was clear the batsman had got an inside edge onto his pad. The Captain immediately withdrew his appeal and the next ball was pushed through the covers for two! "If there was ever a lesson on the spirit of cricket, this was it" (in the words of the Master i/c Mike Wilkinson).
Batting first against Queen Mary's Grammar School, King Edward VI Camp Hill posted a formidable 172 for six in 20 overs mainly thanks to Saleh Khan who fell agonisingly short of a hundred with 96 from only 57 balls (13 fours and four sixes). He shared a 121 opening partnership with Cullen (29) as Camp Hill took advantage of some poor Queen Mary's fielding and wayward bowling. Joe Millerchip was the pick of the bowlers with 3-29. In reply, Matthew Curtiss scored a brisk 27 to keep up with the rate. The loss of three wickets quickly brought captain Rohit Suglani to the crease. Recognising the need to keep up the scoring rate, he dispatched the bowling to record a match-winning knock of 83 not out from only 44 balls, with seven fours and six sixes. Queen Mary's Grammar School reached their target with an over to spare. A fine win.
If Khan was unlucky to miss out on a century, spare a thought for Harry Contreras of St Peter's York who was stranded on 99 not out because of a rash of extras as he approached the target.
Norwich enjoyed two thrillers in succession – one against MCC and the other against touring Paarl. In the first, a strong MCC side struggled a little against tight bowling but picked up speed to declare at 234 for six. In reply Norwich kept wickets in hand, with Alfie Cooper scoring 43 and Oscar Binny a fine 88, leaving 44 to get in the final ten overs. Wickets began to fall, leaving Norwich needing six from the last over with eight down, and then one from one. Stealing what he thought was the winning run, Dan Hastings scampered down the wicket only to be run out by a direct hit by the bowler: a draw on level scores.
Against Paarl, touring from South Africa, Norwich batted first but lost wickets to post a modest 134 all out, but Harry Williams and Dan Hastings bowled superbly to reduce Paarl to 30 for five after 10 overs (out of 40). A 50-run partnership then got Paarl back into the game, and it remained in the balance as the hosts kept taking wickets and the visitors runs. The ninth wicket was taken with Paarl still requiring 22 runs but their last two batsmen chipped away at the score to get them ever closer until Alfie Cooper bowled the perfect googly to take the final wicket and complete a thrilling win by five runs.
Results:
*Dauntsey's 276-4 (50 overs) (A Ayers 100), Plymouth 183
Wellingborough 133,*Stowe 134-2
*St Peter's,York 196 (35 overs), Xavier (Aus) 197-9
Colston Bassett CC 261-4 (40 overs),*Ratcliffe 262-3 (J Nightingale 109)
Wiltshire Queries 116-9 (35 overs),*Monkton 117-8
MCC 282-4 (70 overs) (Haley 100), *KES Birmingham 270
Paarl (RSA) 158-6 (30 overs), *Oakham 162-4 (29 overs)
*MCC 234-6 dec, Norwich 234-9 (J Spelman 5-49),
Menlopark (RSA) 144,*Stowe 146-6 (T Olsen 5-33)
*Bromsgrove 261-3 (50 overs) (G Hatfield 126 not out), Stowe 237-9 (A King 107)
*St Peter's, York 190-9 (40 overs), St Laurence (Aus) 98
King Edward Camp Hill Boys 172-6 (20 overs),*Queen Mary's GS 174-7
*Clifton 180, Westminster (Aus) 162
MCC 207-7 dec,*RGS Worcester 208-9
*Norwich 134, Paarl Boys HS (RSA) 129
Durham CCC Under-17 177-7 (40 overs),*Durham 178-2
Reading Blue Coat 171,*Christ's Hospital 174-4
MCC 241-4 dec,*Christ's Hospital 242-8
*Hampton 162-8 (40 overs), Bede's 166-2
*Oakham 149, Jon Wills Invitation X1 155-3
MCC 183-9 (55 overs),*King's Worcester 186-7
*Dauntsey's 220-3 dec. (R Patel 105), XL Club 171-8
*St Peter's, York 260-7 (40 overs), Yorkshire Cricket College 204
Loughborough 142 (40 overs),*Ratcliffe 143-5
*Stowe 121-9 (20 overs), Harrow 88
Buckingham Under-17 68,*Stowe 69-1
*King's Canterbury 146-8 (20 overs), Sevenoaks 150-3
Bradford GS 228-4 (40 overs)(W Luxton 136 not out),*St Peter's, York 230-1
(H Contreras 99 not out)
*RGS Worcester 337-8 (45.5 overs), Wolverhampton GS 186
MCC 242-6 (Cope 115),*Sevenoaks 243-4 (H ? 129 not out)
Merchant Taylors' 240-6 dec (A Wijesuriya 102 not out).*Haberdashers' Aske's 155-8
Yorkshire Under-17 Development XI 315-4 (50 overs), (L Kilby 100 not out), Woodhouse Grove 206-6
Huddersfield New College 173-9 (40 overs),*Woodhouse Grove 176-5
*Woodhouse Grove 204-7 (40 overs), Old Grovians 207-4
*Wellington (Berks) 159 (50 overs), Aitchison College (Pak) 163-5
Rondebosch (RSA) 258-6 (L Botha 121) (50 overs),*Wellington (Berks) 141
Old Ratcliffians 151,*Ratcliffe 153-6
Newcastle School for Boys 240-9 (50 overs),*Durham 244-3 (C Fyfe 154 not out)
MCC 234-6 dec,*Norwich 234-9 (J Spelman 5-49)
*Eltham 219-9 dec, XL Club 124 (C Fuller 5-50)
MCC 199-7 dec,*Eltham 205-2 (S Smith 109 not out)
*Eltham 211-9 (50 overs), Dulwich 158
*Caterham 237-9 (50 overs), Eltham 238-5 (N Murlowski 157 not out)
Reading Blue Coat Festival
Forest 120-6 (20 overs), John Hampden GS 122-0
Dr Challoner's GS 190-7 (20 overs), John Hampden GS 165-6
Aylesbury GS 156-6 (20 overs), John Hampden GS 159-6
**********************************************************************
National Schools Twenty20 competition – cumulative
Click on this link (best viewed on a laptop, not iPad or similar) to see the National Schools T20 spreadsheet
North East section group 1
Newcastle School for Boys 111, RGS Newcastle 112-4
Hymers 103-6, *QEGS Wakefield 104-1
Hymers 164-3, Silcoates 138-9
Birkdale 118-4,*QEGS Wakefield 119-1
QEGS Wakefield win the group
North East section group 3
Worksop 163-9, Ampleforth 66
Woodhouse Grove 166, Ashville 153
Woodhouse Grove 71-9, Worksop 77-3
Woodhouse Grove 165, Ampleforth 147
Worksop win the group
North East section group 4
Pocklington 129-4,*St Peter's, York 132-5
Pocklington 103, Bradford GS 104-1
*St Peter's, York 155-6, Bradford GS 97-9
St Peter's win the group.
North East section semi-final
*St Peter's, York 203-3, QEGS Wakefield 148-4
North East section final
Worksop 138-6, St Peter's 139-2
St Peter's now play Sedbergh for a place on Finals Day
North West section group 1
Altrincham GS 114–5, Kings', Chester 113
Altrincham GS 96–9, Birkenhead 100 – 7
The Grange School withdrew
Birkenhead win the group
North West section group 2
Hutton GS, Audenshaw HS and St. Ambrose all withdrew
Kings' School, Macclesfield win the group (by default)
North West section group 3
AKS Lytham 86, Myerscough 90–2
Kirkham 59, RGS Lancaster 60–2
AKS Lytham 143–8, Kirkham 146–6
Myerscough 126, RGS Lancaster 73–7
Myerscough win the group
North West section group 4
Cheadle Hulme 174–3, Wilmslow HS 125 – 6
Stockport GS 137-6, Wilmslow HS 94
Stockport GS 130-7, Cheadle Hulme 133
Cheadle Hulme win the group
North West section quarter-finals
Manchester GS 172–7, Kings' Macclesfield 173-7
Bolton 74-9, Myerscough 78-2
Birkenhead 107-8, Sedbergh 118-8
*Cheadle Hulme 162-4, Merchant Taylors' (Crosby) 163-8
North West section semi-finals
Merchant Taylors' 136–4; King's, Macclesfield 139-6
Myerscough 138-6, Sedbergh 139-2
North West section final
Sedbergh 100, King's Macclesfield 83-7
Sedbergh now play St Peter's York for a place on Finals Day

North region final
St Peters York 124-5, Sedbergh 128-1
Sedbergh now represent the North on Finals Day at Arundel
East section group 1
Nottingham HS 124-6, Trent 125-1
Loughborough GS 79-8, Repton 80-3
Trent 139-4, Repton 141-4
Repton win the group
East section group 2
*Oakham 133-6 (20 overs), Oundle 121-9 (H Tyler 5-14)
Leics GS 68, Stamford 69-1
Stamford 137-7 (20 overs),*Oakham 123-8
Stamford win the group
East section group 3
Stowe 117-5, Uppingham 63
Rugby 142-9, Wellingborough 107-5
Stowe 104-6, Rugby 95-7
Stowe win the group
East section group 4
Kimbolton 113-6, Bedford 114-2
The Leys 153-3, The Perse 104-9
Bedford 118-7, The Leys 112-5
Bedford win the group
East section group 5
Gresham's 110, Norwich 111-1
Framlingham 134-7, Culford 110-7
Framlingham 118-6, Norwich 122-5
Norwich win the group
East section group 6
St Joseph's 99, Felsted 110-3
Shenfield 163-3, New Hall 88
Shenfield 122-9, Felsted 126-5
Felsted win the group
East section quarter-finals
Stamford 203-6, *Repton 160-4
Trent 150, Norwich 151-4
The Leys 122-6, Stowe 123-4
Felsted 133-6, Bedford 137-4
East section semi-finals
Stowe 121-7, Stamford 122-1
Norwich 50, Bedford 56-1
Stamford now play Bedford in the East section final
East section final
*Stamford 215-3, Bedford 216-3
Bedford now play Malvern for a place on Finals Day
West Midlands and Wales section group 1
Newcastle-under-Lyme 101-6, Ellesmere 105-6
*Shrewsbury 105-8, Ellesmere 96-7
Queen Mary's withdrew
Shrewsbury win the group
West Midlands and Wales section group 2
*Wrekin 112-4, Bablake 69
Bromsgrove 155-5, Wolverhampton GS 34
*Wrekin 75, Bromsgrove 76-4
Bromsgrove win the group
West Midlands and Wales section group 3
Cathedral School, Llandaff 118-9, Dean Close 120-1
West Midlands and Wales section group 3
Monmouth 121-4, Wycliffe 100-5
Dean Close win the group
West Midlands and Wales section, group 4
King's Worcester 125-6,*RGS Worcester 123-8
Malvern 181-2, Warwick 85
King's Worcester 66, Malvern 67-1
Malvern win the group
West Midlands and Wales quarter-finals
Shrewsbury 182-3, Wrekin 82-8
Malvern 191-1, Ellesmere 124–9
*Dean Close 101-6, King's Worcester 105-1
Monmouth withdrew, so Bromsgrove win
West Midlands and Wales semi-finals
*Malvern 153-3, King's Worcester 104
Shrewsbury 127-9 Bromsgrove 74
West Midlands and Wales final
*Malvern 140-8, Shrewsbury 139-7
Malvern now play Bedford for a place on Finals Day
East and West Midlands region final
Malvern 135-7, Bedford 137-4
Bedford now represent the region on Finals Day at Arundel
South East section group 1
St Lawrence 192-5, *Ashford 128-5
Simon Langton GS 197-3 (E Fox 103 not out), *Kent College 115
South East section group 2 (reduced to 5-over matches)
Charterhouse 43-2, Reigate GS 28-1
Reigate GS 25-5, Cranleigh 29-0
Charterhouse 44-2, Cranleigh 30-4
Kingston GS withdrew
Charterhouse win the group
South East section group 3
*Bede's 159-5, Brighton College 59
*Bede's 144-5, Hurstpierpoint 114-9
Hurstpierpoint 144, Aldridge 96
Bede's win the group
South East section group 4
*Tonbridge 166–4, Skinners 100–9
Eastbourne 102–9, *Tonbridge 103–5
Claremont 131-4 Skinners 98
Tonbridge win the group
South East section play-offs
Charterhouse 164-7, Simon Langton 107-9
Tonbridge 160-5, Charterhouse 162-3
Charterhouse win the South East section and now play the London winners
North London section group 1
NewVic 122-7,*Aldenham 66
*St Albans 160-4, NewVic 113-9
St Albans win the group
North London section group 2
UCS 112, Highgate 92
UCS 65, Merchant Taylors' 68-0
Moulton withdrew
Merchant Taylors' win the group
North London section final
*St Albans 139-3, Merchant Taylors' Northwood 140-4
Merchant Taylors' win North London
South London section group 1
Whitgift 207-2, Emanuel 71-5
Emanuel 92-8, Epsom 96-2
Whitgift 179-2, Epsom 81-9
Whitgift win the group
South London section group 2
Hampton 143-7, Langley 116
Hampton 188-5, Dulwich 125-7
Hampton win the group
South London section group 3
Wilson's 106-2, KCS Wimbledon 107-1
KCS Wimbledon 93, Eltham 94-2
Eltham win the group
South London section group 4
Lingfield 99-9, Caterham 100-3.
Trinity 96, Reed's 97-0
Caterham 96-7, Reed's 97-5
*Trinity 152-4, Caterham 129
Reed's win the group.
South London section semi-finals
*Whitgift 230-6, Hampton 120-5
*Eltham 171-4, Reed's 153-5
South London section final
*Whitgift 133-8, Eltham 100-8
London final
Merchant Taylors' 146-8, Whitgift 134-6
Merchant Taylors' now play Charterhouse for a place at Lord's
South East and London region final
Merchant Taylors' Northwood 95-9, Charterhouse 96-8
Charterhouse now represent the region on Finals Day at Arundel
South West section group 1
Downside 98-6 (20 overs),*Clifton 101-2
*Clifton 124-5, Colston's 42-2 (9 overs); Clifton win on D/L
Colston's 120-9, Bristol GS 110-5
Colston's 163-4, Downside 75
Clifton win the group
South West section group 2
Stroud and South Glos 127-6, QEH 99-7
Taunton 102-6, Stroud and South Glos 103-5
Stroud and South Glos win the group
South West section group 3
Blundell's 70, Plymouth 73-4
Plymouth 85-8 Millfield 86-0
Millfield win the group
South West section group 4
Sherborne 107, King's Taunton 108-1
Mount Kelly 67-7, King's Taunton 68-1
Mount Kelly 153-5, Sherborne 105-9
King's Taunton win the group
South West section play-offs
Colston's 168-7,*Stroud and South Glos 172-2
*Clifton 189-4 (R Clarke 123 not out),Taunton 152-4
*Millfield 232-2, Mount Kelly 102-7
South West section semi-finals
Clifton 122-5, *King's Taunton 115
Stroud and South Glos withdrew, so Millfield win by default
South West section final
Clifton 107-6, *Millfield 108-4
Millfield now play Bradfield for a place on Finals Day
South Central section group 1
St Edward's 175-6,*Dauntsey's 140-3
St Edward's 203-5 (H Ward 101), Elizabeth (Guernsey) 149-7
Elizabeth (Guernsey) 112-8,*Dauntsey's 116-9
St Edward's win the group
South Central section group 2
Abingdon 106 (20 overs),*Wellington (Berks) 107-3
Reading Blue Coat withdrew
Wellington win the group
South Central section group 3
Marlborough 124-4, Portsmouth GS 125-4
Magdalen College School 245-2, Portsmouth GS 103
*Marlborough 105-8, Magdalen College School 108-6
Magdalen College School win the group
South Central section group 4
RGS High Wycombe 107-8, Lord Wandsworth 109-2
RGS High Wycombe 109-7, Shiplake 110-0
*Radley 181-6, Shiplake 92
Lord Wandsworth 72, Radley 75-2
Radley win the group
South Central section group 5
*Bradfield 140-4, Winchester 68
*Bradfield 166-7), John Hampden GS 90-5
The Oratory withdrew
Bradfield win the group
South Central section play-off and semi-final
*Bradfield 161-4, St Edward's 135-9
Bradfield 149-5, Magdalen College School 95
Bradfield now play Radley in the final of this section
South Central final
Radley 119 (20 overs), Bradfield 121-4
Bradfield now play Millfield for a place on finals day

South West and South Central region final
Millfield 186-4, Bradfield 136
Millfield now represent the region on Finals Day at Arundel
FINALS DAY AT ARUNDEL
First seni-final: Sedbergh 107, Millfield 110-4
Second semi-final: Bedford 124-8, Charterhouse 128-5
Final: Charterhouse 166-6, Millfield 169-3
Millfield win the National Schools trophy 2018