Rain was widespread in what was for many independent boarding schools the last week of term, hampering attempts to pack in as much cricket as possible in the very short period indeed after the exams this year (see last week).
It also threatened Finals Day of the National Schools Twenty20 competition at Arundel but the day nevertheless started on time at this most delightful of grounds and was played before what became quite a substantial crowd of spectators, though many of them remained huddled in their cars.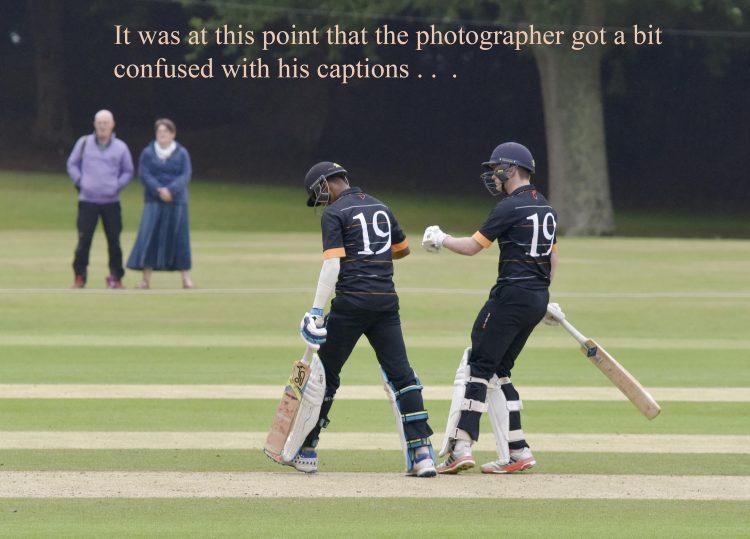 Shrewsbury may have rued their decision to bat first because the pitch still had some residual dampness and led to several apparently soft dismissals, the first of them third ball of the day when Daniel Humes holed out to mid-on, followed later by two wickets from leading edges against balls which seemed to hold up slightly on the pitch. In short, Shrewsbury?s 100 all out seemed unusually modest and quite inadequate against Millfield. However, when Millfield were 12 for three (including the formidable Fin Trenouth for 0 (see link), there were hints of a surprise win, but these were dampened as Thomas Bevan began to take command to steer Millfield home with 55. Bradley Currie bowled sharp left-arm over to take three wickets for six, and Trenouth showed his class as a wicket-keeper with two smart stumpings, one of them standing up to the decidedly brisk Currie. Though Millfield won by five wickets (101-5), the pitch still seemed to be not the easiest to bat on.
This impression was quickly dispelled ten minutes later when Sedbergh also chose to bat against Merchant Taylors? (Northwood). It seemed like a different game altogether as they raced to 67 for one after 5.5 overs, Max Silvester setting the tone with 44 from 19 balls (five 4s, three 6s); this was merely the platform for later fireworks. At the halfway stage they were 84 for three, but after Greg Cameron got things going with 50 off an almost sedate 44, both were eclipsed by Chris Sanders batting at five who scored 84 breath-taking runs from only 41 balls with six 4s and seven 6s to bring Sedbergh to 221 for five in their 20 overs. As in last year?s final when Millfield made a similar score, Merchant Taylors? faced an almost insurmountable hurdle. However, they fell victim to the curse of the commentator when he announced that at the halfway stage they were on exactly the same score as Sedbergh (84, though for four rather than three). This heralded a sudden rash of a three wickets, after which, despite a valiant 44 by Aaran Amin and 33 not out from Tom Steene, the challenge faded. Inevitably in the circumstances the batsmen were forced into ever more desperate shots to raise the run-rate and mostly perished in the attempt, ending at 137 all out.
The final was delayed by light rain during the tea interval and when it mercifully started (allaying fears of a replay in September) nobody present thought that Sedbergh could repeat their astonishing total against Millfield. How wrong we all were. Choosing to bat first again, they were actually just ahead of their previous score at the halfway point. This time their innings centred round a brilliant performance by Max Silvester with the first-ever century on Finals Day ? 111 in 61 balls, ended only by a brilliant run-out. In all he hit eight 4s and ten 6s, four of the latter in a single over. With Millfield chasing a formidable 200 for five, once again this led to much the same conclusion with wickets eventually given away in desperation to try to raise the run-rate. Once again the Millfield top order failed, with both Bevan and Trenouth (and Charles Clist) back in the pavilion at an amazing five for three in the second over. There was something of a fightback by Danny Chesham and Alex Eckland, but Duckworth/Lewis was hardly needed in case of further rain as Millfield battled vainly to get anywhere near what it might have shown. Only a final fizzle of fireworks from Currie with 29 made the score a respectable 138. The damage had been done by James Park-Johnson (four for 29) and Kyme Tahirkheli (three for 26).
As always it was a wonderful day?s cricket made very special by the generous hosting of Johnny Barclay and James Rufey (and all their staff and helpers) at Arundel. Sedbergh were far and away the outstanding team on the day and very worthy winners of the trophy, much deserved after five appearances on this day in eight years, but never before having reached the actual final; this time, as the Millfield coach rightly observed, they hardly put a foot wrong all day. Photographs by Patrick Eagar will be available on this website (Competitions/ National Schools T20) shortly.
Meanwhile, in the West Country, Monkton were crowned winners of the inaugural Bath Schools? Twenty20 competition, sponsored by Bath CC, defeating King Edward?s School in a tight final. Monkton batted first, reaching a strong total of 147 with wicket-keeper-batsman Ben Wells scoring 64 from 50 balls. King Edward?s looked comfortable in response through Benedict Gundry and Charlie Reed but fell well short with 116 after a strong fielding display led by Will Arney's two run-outs in as many overs. Daniel Call and Arthur Parashar made sure of a win, taking five quick wickets between them. Many thanks go to James Brown, Master i/c at Kingswood for masterminding and organising this year?s tournament.
Not far away, at Dauntsey?s, Will Thomas scored two hundreds during the week, taking his total for the season to a nicely symmetrical 888 at an average of 88.8 so far.
Michael Atherton downed his notepad and microphone to don the pads once again for MCC at St Albans. After serenely moving to 32, a young 15-year-old bowler managed to beat the outside edge of his bat, dragging the great man forward to be neatly stumped by the wicket-keeper. The bowler was, of course, his son Joshua.
I am delighted to be corrected in a point I made last week about bite-sized exams (meaning ever more of them in number). Apparently by next year most A level subjects will revert to being of two or three hours? duration. Not only that, but AS levels will not count towards the final A level score. Could things be getting better?
Results:
National T20 Finals day at Arundel (see below for full list of results)
Semi-finals
Shrewsbury 100, Millfield 101-5
Sedbergh 221-5, Merchant Taylors? Northwood 137
Final
Sedbergh 200-5, Millfield 138
Other results:
MCC 175-5 dec, *Clayesmore 149
Manchester GS 183-6 (30 overs) (S Perry 104 not out),*Cheadle Hulme 152
*King?s Canterbury 192-3 (20 overs), Sevenoaks 162-7
*Sevenoaks 179-3 (20 overs), Judd 41 (S Brar 5-5)
XL Club 272-7 dec (C Graham 126),*Dauntsey?s 182-1 (W Thomas 100 not out)
Ibstock Place 151-3 (20 overs), Kingston GS152-7
Emanuel 132-7 (20 overs), Ibstock Place 132-3
Ibstock Place 32-4 (rain0 v Kingston GS
Parents XI 119-3 (16 overs), Ibstock Place 119-7
Staff XI 109-7 (16 overs), Ibstock Place 110-3
*Monkton 147-6 (20 overs), KES Bath 116 (Bath Schools' T20 final)
Harrow 109, *Stowe 72
*Stowe 169-5 (20 overs), Peponi (Nairobi) 35
*Ratcliffe 120-5 (rain) v School Masters XI
Fraser Bird XI 231-4 dec (K Mannikam 100),*Haberdashers' Aske's 235-5 (J Urban 119)
MCC 206-7 dec, *Christ?s Hospital 207-3 (W Freeman 103)
MCC 274-6 dec, *RGS High Wycombe 275-5 (E Casterton 141, Y Rastogi 122 not out)
*Berkhamsted 157-5 (20 overs), RGS High Wycombe 161-4 (E Casterton 105 not out)
RGS High Wycombe 110, KCS Wimbledon 111-8
*RGS Worcester 173-7 (50 overs), Gentlemen of Worcester 174-4
Durham 159, Myerscough 160-6.
Durham 197-3 (J Bushnell 100 not out), The Perse 116 (D Scott 5-12)
Ivanhoe GS (Aus) 160-9 (40 overs),*Monkton 161-2 (B Wells 126 not out)
Old Monktonians 221-9 (35 overs),*Monkton 194-7
Colston Bassett CC 179-9 (40 overs),*Ratcliffe 182-9
Magdalen College School 381-9 dec (O Price 167 not out),*Stowe 176-1 (rain)
Pembroke (Aus) 217 (50 overs), *Dauntsey's 212-2
Bristol GS 174-6 (35 overs),*King's Gloucester 81
*Clayesmore 153 (T Sithole 40-6) & 182-6 dec, Oswestry 143 (B Thompson 57-8) & 56
*Eltham 276-4 (50 overs)(N Murlowski 100 not out), Caterham 56
*Haberdashers' Aske's 186-8 (40 overs), Wellingborough 190-4
Old Ratcliffians 122 (A King 7-17),*Ratcliffe 123-8
Monmouth 237-4 (40 overs), *Bristol GS 171
*Wells Cathedral School 142-8 (30 overs), Bryanston 147-1
MCC 169-8,*Sevenoaks 82-9
*St Peter?s, York 122-7 (20 overs), RGS Newcastle 118
Bradford GS 75 (20 overs) *St Peter?s,York 77-3
Bradford GS 176-9, *St Peter?s,York 177-1
Prince Alfred's 187-9 (50 overs),*RGS Worcester 168
*RGS Worcester 230-8 (45 overs),Wolverhampton GS 145
*Bristol GS 144 (40 overs), SGS Filton 145-3
Old Cranleighans 81,*Cranleigh 83-4
*Cranleigh 272-9 (50 overs), St Kentigern (NZ) 222-9
Ibstock Place 154-6 (20 overs), A Hampton XI 131
National Schools Twenty20 competition (cumulative)
Click to see the current state of the National T20.
North East section group 1
*Silcoates 61-8, Worksop 62-0
Birkdale 108-9, *QEGS 112-4
*Silcoates 126-7, Birkdale 131-2
Worksop 152-6,*QEGS 146-6
Worksop win the group
North East section group 2
Pocklington 166-6, *Hymers 123-9
Woodhouse Grove 114, Pocklington 114-8
(Pocklington win by losing fewer wickets)
Woodhouse Grove 125-7, Hymers 70
Pocklington win the group
North East section group 3
Ashville 145-6, *Bradford GS 150-1
St Peter's York 185-5, Ashville 67
St Peter's York 179-5, *Bradford GS 71
St Peter's School York win the group
North East section group 4
Barnard Castle 90, RGS Newcastle 91-6
Durham 138-7, RGs 141-5
RGS Newcastle now play St Peter's York
North East section semi-finals and final
Pocklington 83-9, Worksop 85-3
St Peter's York 156-6, RGS Newcastle 89
St Peter's York 103, Worksop 100
North West section group 1
Merchant Taylors' (Crosby) 140-7, King's Chester 142-3
King's Macclesfield 173-8, Grange 88
Grange 143-6, Merchant Taylors' 148-0
Kng's, Chester 120-8, King's, Macclesfield 104-7
King's, Chester win the group
North West section group 2
Birkenhead School 290-2, Wilmslow HS 48
Birkenhead School 237-2, Liverpool 50
Birkenhead win the group
North West section group 3
Bolton 203-1, *AKS Lytham 121-8
*AKS Lytham 244 -4, Kirkham 220 – 6
Altrincham GS 91, Bolton 95-1
Bolton win the group
North West section group 4
Manchester GS 185-4, Stockport GS 111-5
Audenshaw 72, Cheadle Hulme 73-0
Audenshaw 160-7, Stockport 129-8
Cheadle Hulme 84, Manchester GS 86-5
Manchester GS win the group
North West section group 5
Sedbergh 235-3, Myerscough 114-9
Sedbergh 195-5, Lancaster RGS 97
Sedbergh win the group
North West play-offs
Birkenhead 158-5, Manchester GS 151-6
Birkenhead 136, King's Chester 135-7
Sedbergh 179-4, Bolton 110-8
Birkenhead now play Sedbergh?
North West final
Sedbergh 190-5, Birkenhead 124-4
North region final
St Peter?s York 91, Sedbergh 92-2
Sedbergh now play in Finals Day at Arundel Thursday June 29th
East section group1
*Trent 186-3, Nottingham HS 107-8
Trent 197-4 Repton 87
Trent win the group
East section group 2
Oakham 99-9, *Oundle 95
Stamford 101, Oakham 105-3
Oakham win the group
East section group 3
Stowe 146-8, Rugby 150-1
Stowe 131-6, Leicester GS 134-2
Rugby 168-7, Leicester GS 120
Rugby win the group
East section group 4
*Kimbolton 125-6, Wellingborough 129-2
*Bedford 174-4, Wellingborough 106-7
Bedford win the group
East section group 5
The Perse 92, *The Leys 95-1
Felsted 160-4, The Perse 154-8
*The Leys 188-5, Felsted 141
The Leys win the group
East section group 6
Gresham's 69-8, Norwich 70-4
Gresham's 138-3, Framlingham 141-2
Norwich 175-5, Framlingham 152-7
Norwich win the group
East section group 7
Shenfield 174-6, Brentwood 113-6
Ipswich 171-8, Brentwood 123-8
Shenfield 100-2, Ipswich 96-8
Shenfield win the group
East section quarter-finals
*Shenfield 156-7, Leicester GS 136-5
*The Leys 140-3, Norwich 94
Bedford 145-5, Rugby 137-8
East section semi-final
The Leys 121-9, Oakham 110
*Bedford 155-7, Shenfield 129-7
East section final
Bedford 106-7, *The Leys 107-5
The Leys now play Shrewsbury in the regional final
West Midlands and Wales section group 1
Wyclffe 37, Dean Close 38-0
Monmouth 155, Llandaff Cathedral 133-6
Dean Close 113-5, Monmouth 114-4
Monmouth win the group
Dean Close runners-up
West Midlands and Wales section group 2
Malvern 149-5, RGS Worcester 150-4
Bablake 94-6, RGS Worcester 98-2
Malvern 188-4, Bablake 75
RGS Worcester win the group
Malvern runners-up
West Midlands and Wales section group 3
Wolverhampton GS 126-6, Wrekin 114-8
Bromsgrove 166-4, Wolverhampton GS 133-4
Wrekin 107, Bromsgrove 109-1
Bromsgrove win the group
Wolverhampton GS runners-up
West Midlands and Wales section group 4
Shrewsbury 176-3, Oswestry 67-6
Ellesmere 109 (Owens 5-12), Newcastle Under Lyme 113-1
Shrewsbury 157-7, Newcastle Under Lyme 55-8
Shrewsbury win the group
Newcastle Under Lyme runners-up
West Midlands and Wales section quarter-finals
*Shrewsbury 145-6, Woverhampton GS 87-9
*Bromsgrove 149-6, Newcastle Under Lyme 142-7
*Monmouth 108-2, Malvern 109-5
RGS Worcester 98, Dean Close 100-7
West Midlands and Wales section semi-final
*Dean Close 96, Newcastle under Lyme 101-4
West Midlands and Wales section final
*Shrewsbury 198-2 (20 overs), Newcastle under Lyme 123
East and West Midlands and Wales regional final
*Shrewsbury 118-5, The Leys 117
Shrewsbury now play in Finals Day at Arundel
South East section group 1
Bede's 126, *Eastbourne 127-3
*Eastbourne 140-6, Brighton 102
Bede's 115-7, Aldridge Cricket Academy 94-8
Eastbourne 127-3, Bede's 126
Eastbourne win the group
South East section group 2
Cranleigh 175-6, *Reigate GS 90
Cranleigh 207-2, St Lawrence 62
Reigate GS 166-3, St Lawrence 125-9
Cranleigh win the group
South East section group 3
Claremont 107-3, Ashford 91-8
*Hurstpierpoint 161-4, Claremont 137-2
Hurstpierpoint win the group
South East section group 4
Tonbridge 242-6, Kent College 52
*Tonbridge 235-4 (J O'Riordan 121), Simon Langton 100
Tonbridge win the group
South East section semi-finals
*Tonbridge 163-8, Eastbourne 119-7
Hurstpierpoint 118-9, Cranleigh 121-3
South East section final
*Tonbridge 128-7, Cranleigh 123-6
Tonbridge now play the winners of the London section for a place on finals day at Arundel

North London section group 1
UCS Hampstead 95,*Merchant Taylors' 98-1
Aldenham 141-7, Forest 144-6
*Merchant Taylors' 214-2, Forest 118
Merchant Taylors' win the group
North London section group 2
*St Albans 183-2, Bancroft's 163-7
St Albans win the group
North London section final
*Merchant Taylors' 150-6, St Albans 132-7
Merchant Taylors' win the North London section and now play the winners of South London
South London section group 1
St Benedict's 82-8, Whitgift 85-1
Whitgift 192-5, Reed's 163-6
Whitgift win the group
South London section group 2
Dulwich 178-8, Caterham 131-6
Caterham 142 -6, Eltham 135- 8
Eltham 130-6, Dulwich 134-2
Dulwich win the group
South London section group 3
Epsom 124-7 Hampton 125-5
Trinity 179-5 Langley Park 126-8
Trinity 156-6 Hampton 103
Langley Park 105-5, Epsom 106-2
Trinity win the group
South London section group 4
*Wilson's 73-7, KCS Wimbledon 74-3
*KCS Wimbledon 167-5, Kingston GS 142-7
John Fishers withdrew
KCS Wimbledon win the group
South London section semi-finals
Whitgift 173-0, Dulwich 151-7
KCS Wimbledon 140-6, Trinity Croydon 141-7
South London section final
Trinity 84-8, *Whitgift 85-6
London section final
Whitgift 106-8, *Merchant Taylors' Northwood 109-6
South East and London region final
Tonbridge 124-9, *Merchant Taylors? Northwood 126-6
Merchant Taylors' now play in Finals Day at Arundel
South West section group 1
Clifton 156-8, *Downside 74
Downside 127-8, Colston's 128-4
Colston's 104-8, *Clifton 105-1
Clifton win the group
Colston's runners-up
South West section group 2
Bristol GS 108, SGS (Filton) 109-4
Bristol GS 112-9, Taunton 116-5
*SGS (Filton) 140-7, Taunton 136 (M Omar 5-17)
SGS (Filton) win the group
Taunton runners-up
South West section group 3
Mount Kelly 148-3,*Clayesmore 95
Mount Kelly 178-5, Blundell's 182-5
Blundell's 84-9, King's Taunton 85-1
King's Taunton win the group
Blundell's runners-up
South West section group 4
South Dartmoor 81-9, Sherborne 83-2
*Sherborne 149-6 (20 overs), Millfield 150-7
Millfield win the group
Sherborne runners-up
South West section quarter-finals
Taunton 90-6, Clifton 91-3
*King's Taunton 240-3 (T Banton 155), Sherborne 107-8 (J. Clark 5-10)
Millfield 188-5, Blundells 52
Colston's beat SGS (Filton) on a bowl-out
King's now play Colston's and Clifton play Millfield
South West section semi-final
*Clifton 105-9, Millfield 107-6
*King's Taunton 102, Millfield 103-6
Millfield now play St Edward's Oxford for a place on Finals Day
South Central section group 1
*Oratory 133-6, RGS High Wycombe 137-5
Radley 160-4, RGS High Wycombe 161-3 (E Casterton 109 not out)
Radley 179-4, Elizabeth Guernsey150-6
RGS High Wycombe win the group
South Central section group 2
St Edward's 154-4, Abingdon 107-9
Magdalen College School 211-5, Reading Blue Coat 70
*St Edward's 128-5, Magdalen College School 106
St Edward's win the group
South Central section group 3
Wellington (Berks) 198-6, Dauntsey's 93
Wellington (Berks) 93, Bradfield 94-1
Lord Wandsworth 91-9,*Bradfield 92-4
Dauntsey's 153-6, Lord Wandsworth 130-8
Bradfield win the group
South Central section group 4
Portsmouth GS, 174-5,*Winchester 130-8
Portsmouth GS 153-6, Marlborough 145-7
Marlborough 147-3,*Winchester 111-5
Portsmouth GS win the group
South Central section semi-finals
*St Edward's 177-7, Portsmouth GS 111
RGS High Wycombe 103-4 (20 overs), *Bradfield 106-4
South Central final
*St Edward's 122-5, Bradfield 120-6
South West and South Central region final
Millfield 199-4,*St Edward's 132-5
Millfield now play in Finals Day at Arundel