All photographs are by the distinguished cricket photographer Patrick Eagar. A full range of his photographs will be available on this website in a few days' time.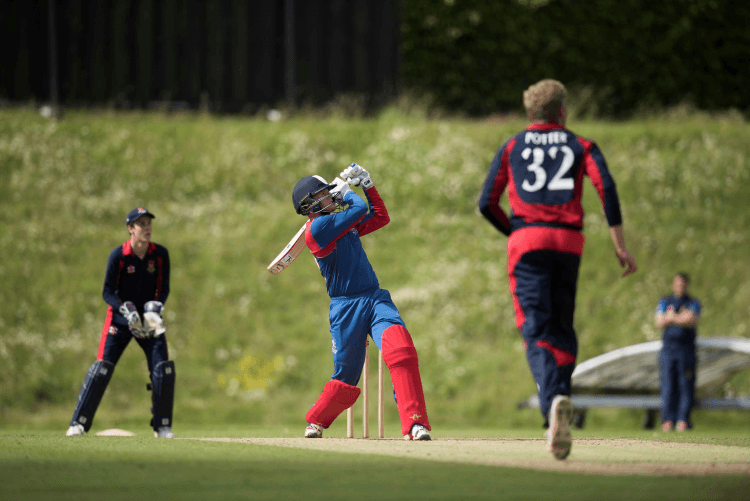 Millfield's Joshua McCoy, who scored 93, hits Felsted's Edward Potter for six in the final. He hit eight sixes in all.
?Flaming June it wasn?t, unless one were using the adjective as a euphemism for something saltier. With a week to go before Finals day of the National Twenty20 competition at Arundel, it looked quite possible that the event might have to be postponed until September. This had happened once before when the event at Lord?s was rained off and we moved to Arundel in September. We have been there ever since not just because it is a lovely English ground but there is a real warmth of welcome from everyone, from the groundsman to the caterers, the secretary James Rufey and the director Johnny Barclay (former captain of Sussex and President of MCC).
As reported last week, all the regional finals were eventually played over the weekend before but on the morning of the game it was again gently raining. The ground was damp but playable and very fortunately the rain, though threatening for much of the morning, held off all day.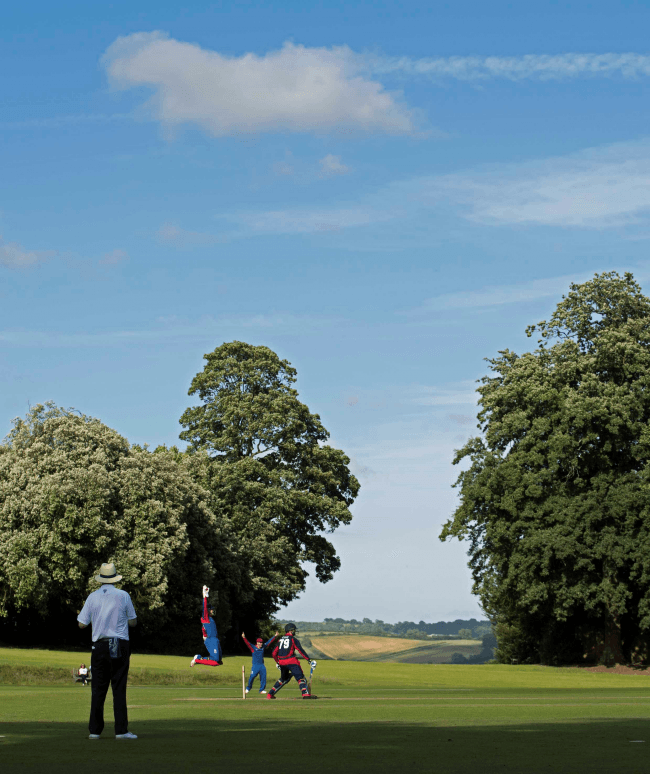 Joshua King of Felsted?is caught behind by Millfield's James Seward off Thomas Bevan?for 0 in the final
Cranleigh having enjoyed much success during the term faced Millfield in the first semi-final. They struggled to get the ball away early on and maybe that frustration led to their losing three early wickets including their fine batsman and captain Oliver Pope for 0. However, Lewis Bedford was still there and when he was joined by Angus Dahl they took the score from 24 for three to 70 before Dahl was trapped lbw. Bedford skilfully continued to guide Cranleigh towards respectability but was then dismissed in the 18th over for 45 from 48 balls. A late flurry from Edward Cooper and Sam Dickson took the total to 123 for nine, which seemed nowhere near enough. Still less so as the Millfield openers Thomas Lace and Joshua McCoy followed by George Bartlett were looking very aggressive. However, Cranleigh managed to dismiss both openers with only 37 on the board and then they began to gain more control despite the continued threat of Bartlett. When 71 for three became 81 for five there seemed the chance of an upset but then James Seward and Samuel Young saw Millfield home but only by three wickets and in the final over. A fine recovery by Cranleigh. Millfield?s Thomas Bevan was the outstanding bowler in the match with four for 11 from his four overs.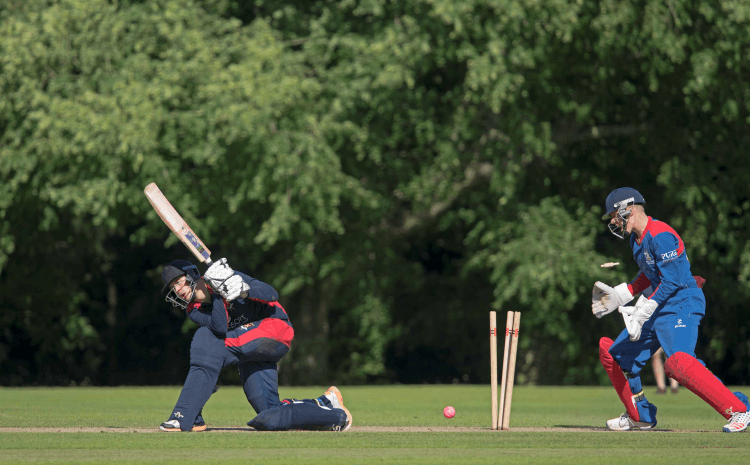 ?Ashleigh Cox of Felsted is bowled by Millfield's George Bartlett for two in the final
Sedbergh?s start, with a strong team used to success in similar competitions, was in marked contrast to Cranleigh?s as they set about Felsted?s bowling with great gusto. In the six-over powerplay they reached 61 for one, suggesting a total somewhere close to 200. Alas, that strong start could not be maintained. Once Harry Brook and Max Silvester were dismissed soon afterwards the momentum was lost. Indeed, the innings began stuttering and, despite a late flurry by Chris Sanders and Kyme Tahirkheli, they were all out for 133 which, once again, seemed nowhere near enough to defeat a strong Felsted side. And so it proved. Felsted by contrast began with a relatively steady start, not losing a wicket until there were 81 runs on the board in the tenth over. Ashley Cox with 38 was the first to go, followed shortly afterwards by his brother Jordan with 44. One had the feeling that perhaps Sedbergh might have tried their two spinners somewhat earlier as the openers were having no problem with the medium pace. After this Felsted moved with some serenity to a comfortable win by seven wickets. Wickets were evenly shared but perhaps Oliver Hills was the key contributor for Felsted in taking two wickets, both bowled, after the opening explosive batting and then running out the third soon afterwards.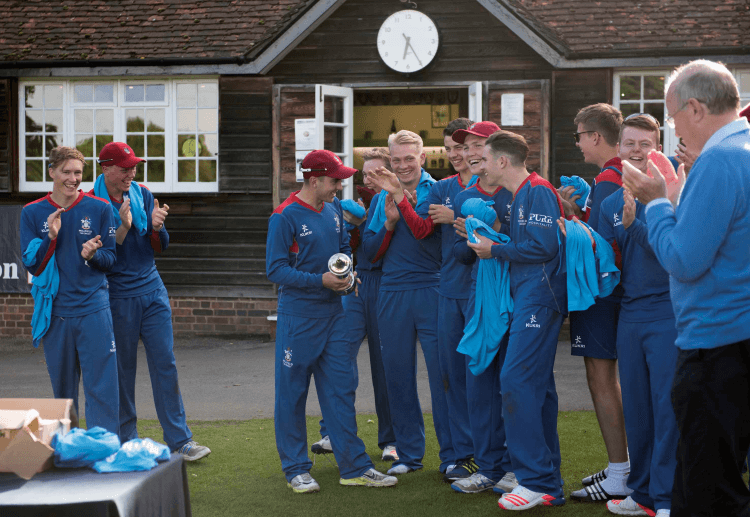 The?winners Millfield celebrate with the trophy
In the final, Millfield changed their tactics on winning the toss again and decided to bat first, hoping to build a large total. My, how that worked. I doubt whether such consistently clean striking of the ball has ever been seen on this ground except perhaps in some charitable event, not a major competition final. Such confidence. Such elan. Thomas Lace, Millfield?s captain and excellent batsman, had his second failure of the day but after that early hiccup it was Millfield all the way. Joshua McCoy with 93 from 50 balls including eight sixes and six fours was breathtaking, but number three George Bartlett was almost equally impressive with 79 from 48, slightly less aerial with two sixes and nine fours. Fin Trenouth chipped in with three sixes in a cameo of 24 as Millfield raced towards an unbeatable score of 224 for 4. There were thirteen sixes in all, many of them struck way beyond the boundary, and no sense of slogging at all. We had already seen that Felsted were a strong side but facing that absolutely huge total it was always going to be a struggle even to know how to approach it. Steady start and preserve wickets for a final onslaught? Give it a blast as Sedbergh had done and go on from there? The answer was, sensibly, a bit of both. Though losing Samuel Holland in the first over, they nevertheless batted sensibly but strongly to be at 48 in the fourth over when the next wicket fell. They were almost up with the Duckworth/Lewis target for some time, with fine batting from Jordan Cox (31 from 15), Yvan Grant (43 from 24) and William Buttleman (28 from 21) but as the innings progressed the batsmen began to feel that desperate measures were required to keep up with the required rate and started to play shots they would not normally have done. Nevertheless they still finished at a more than creditable 158 all out. All-rounder of the day was George Bartlett with his powerful batting and impressive opening bowling for Millfield, taking five for 17 in the final.
A great day?s cricket and we even had sunshine for most of the final. Sadly we had fewer spectators than usual (the huge grassy bank/ car-park is usually filled with local supporters of the ground armed with picnics) because the scene at the start of the day had been so dismal. Huge thanks again to the folk at Arundel who make it all such a delight.
To see full scorecards of all matches on Finals Day including all sorts of automatic analysis provided by the CricHQ scoring system, click here.
In other news, as they say at 10.12pm, Oakham enjoyed a tie with Holcott Arcadians who both scored 246 for six. Wellingborough?s captain Ben Wall passed 2000 runs aggregate for the 1st XI.
However, the most interesting game I heard about apart from the tie for which I have no details was when Wells Cathedral School entertained Bryanston. Wells lost wickets steadily, setting a target of 127 all out in 30 overs that looked very achievable on the typically excellent wicket at the Cathedral School. Bryanston started well and slightly above the required run rate until Wells captain Lee Boot came on and frustrated the batsmen, going for only eight runs from his six overs. At the other end Rhodri Moss bowled well and a series of catches near and far meant that Bryanston fell behind. Needing a run a ball for the last few overs Bryanston came close, needing a four off the last ball to win, but with all the field set on the boundary only a single could be scored. They thus finished two short with eight down.
Woodhouse Grove enjoyed a comprehensive 10 wicket victory against the Old Grovians. Chasing a challenging total of 243 for nine, Grove captain Bailey Worcester and fellow opening batsman Jibrael Malik put together an impressive opening stand of 248 in only 32 overs. Both batsman scored 120 not out with Worcester striking two sixes and 19 fours whilst Malik crashed 10 sixes and 8 fours. This was Woodhouse Grove's twelfth win of the season.
Results:
Old Wellingburians 122-5 (20 overs), *Wellingborough 124-2
MCC 41-5 (Rain), *Christ?s Hospital
Wellsway 113-8 (35 overs), Christ?s Hospital 115-3
Durham 262-6 (L Henderson117),*Ampleforth 254-6 (A Fawcett 116 not out)
*Durham 208-5, Perse 50
*Wycliffe 164-7 (40 overs), Dauntsey's 168-6 (Monkhouse Intersport League)
Holcott Arcadians 246-6 (40 overs), Oakham 246-6 (40 overs)
Harrow 133-10 (40.1 overs), Cranleigh 134-0
Bristol GS 127 (39.5 overs), *RGS Worcester 128-8
Bristol GS 127 (39.5 overs), *RGS Worcester 128-8
Oakham 51-4, *Wellingborough
Brighton 172-8 Old Brightonians 114-2
MCC 130-5 dec,*Dauntsey's 131-6
Scotch College 181, *Eton 139-3
Harrow 163, *Eton 113-8 (rain)
Caterham 107-8 (20 overs), *Sevenoaks 108-6
Radley 111 (J Curtis 5-20), *St Edward's 114-4
*Christ?s Hospital 132, Gordonstoun 109
*St Peter?s, York 195-9 dec, MCC 160
Plymouth 121-6 (20 overs), *Bryanston 122-2
*Wellington (Berks) 253-4 (50 overs) (J Davies 114), Charterhouse 146-7
Portsmouth GS 135, *Bryanston 138-3
*Wells Cathedral School 127 (30 overs), Bryanston 125-8 (R Moss 5-21)
St Peter's, York 180-7 (40 overs) *Trent 181-5
*St Peter's, York 220-9 (45 overs) Denstone 81
Colston Bassett CC 96 ? 3 v *Ratcliffe (rain)
*Ratcliffe 175?6 (20 overs), School Masters 128?9
St Kevin?s (Australia) 275?3 (40 overs),*Ratcliffe 183
Old Ratcliffians 100 (T Smith 5?53),*Ratcliffe 103 – 2
MCC 249-7 dec,*RGS Worcester 154-8
*Haberdashers' Aske's 111 (A Amin 5-11) & 69 (D Patel 5-23), Merchant Taylors' Northwood 230-9 dec (A Thomas 102, N Rasakulasuriar 5-66)
Forty Club 166-6 v *Woodhouse Grove (rain)
Old Grovians 243-9 (50 overs), *Woodhouse Grove 248-0 (B Worcester 120 not out, J Malik 120 not out)
Old Culfordians 172-8 (30 overs), Culford 174-4
Sutton Valence 143-10 (20 overs), *Sevenoaks 116-7
Judd 143-7 (20 overs), *Sevenoaks 146-5
*RGS Worcester 156-9 (50 overs), Wolverhampton GS 143
Results from this week's festival and other matches will be published next week
National Schools Twenty20 (cumulative)
To see the state of the competition overall, click here.
North East section group 1
Durham 145, RGS Newcastle 100-9
Durham 144-5, Barnard Castle 93-8
Durham win the group and now play Worksop
North East section group 2
Silcoates 88-6, QEGS 92-5
Silcoates 85-6, Bradford 86-1
QEGS 106-6, Bradford 94-8
QEGS Wakefield win the group and now play Woodhouse Grove
North East section group 3
Worksop College 136-8 St Peter's, York 58
Hymers College 141 Worksop College 142-0
Hymers College 118-8 St Peter's, York 119-3
Worksop win the group and now play Durham
North East section group 4
Woodhouse Grove 188-4, Birkdale 59
Ashville 164-7, Pocklington 144-8
Woodhouse Grove 201-3, Ashville 173-5
Woodhouse Grove win the group and now play QEGS Wakefield
North East section semi-finals
QEGS Wakefield 88, Woodhouse Grove 89-5
Woodhouse Grove play Durham or Worksop in the North East section?final
North East section finals day
Durham 78-3, Worksop 79-3
Woodhouse Grove 127-6, Worksop 101
Woodhouse Grove win the North East final and now play the North West winner
North West section group 4
*Manchester GS 201-1 (S Perry 139 not out), Stockport GS 80
Cheadle Hulme 95-7, *Manchester GS 99-3
Manchester GS win the group
North West section group 5
Lancaster RGS 118-7, *Sedbergh 120-3
Myerscough 110-9, *Sedbergh 112-1
*Sedbergh 168-4, Birkenhead 55
Sedbergh win the group
North West section play-off
Merchant Taylor?s Crosby 64, Bolton 65?7
North West section semi-finals
Bolton School 104?9, Manchester GS 105?2
Sedbergh 168-4, Birkenhead 55
Manchester GS play Sedbergh in the North West section final
North West section final
Manchester GS 125-5, Sedbergh 126-4
Sedbergh now play Woodhouse Grove in the regional final for a place on Finals day at Arundel
East section group 1
Repton 135-6, *Oakham 136-5
*Oakham 222-4, Trent 166-8 (20 overs)
Leicester GS 90, Repton 93-4
Oakham win the group
East section group 2
Perse 128-5, Leys 132-5
Greshams 134-8, Leys 113
Perse 154, Greshams 47
The Perse win the group
East section group 3
Felsted 148-7, Shenfield 93 9
Felsted 170-5, Ipswich 91-8
Felsted 188-5, St Joseph?s 96-8
Felsted win the group
East section group 4
Stamford 165?6, Rugby169?5
Oundle 117, Rugby 121-3
Rugby win the group and now play Bedford in the East section semi-finals
East section group 5
Bedford 169-5, *Wellingborough 133-6
Wellingborough 187-3, *Kimbolton 110-5
*Bedford 137-3, Stowe 108
Bedford win the group and now play Rugby in the East section semi-finals
East section play-offs
Felsted 181-5, Perse 120-8
*Felsted 162-4, Oakham 126
Bedford 138-8, Rugby 130-7
Felsted play Bedford in the East section final
East section final
*Bedford 152-6, Felsted 155-3
Felsted now play?Shrewsbury for a place on finals day

West Midlands section group 1
Denstone 98-9, Bablake 99-2
Bablake 134-4, Warwick 138-2
Bloxham withdrew
Warwick wins the group; Bablake runners-up
West Midlands section group 2
*RGS Worcester 197-1, Wycliffe 96-4
Monmouth 130-6, Dean Close 131-8
Monmouth 154-7, Wycliffe 153-8
*RGS Worcester 154-5, Dean Close 112
RGS Worcester win the group; Dean Close runners-up
West Midlands section group 3
Bromsgrove 200-6, Queen Mary?s GS Walsall 40
Malvern 138-8, Wrekin 139-5
Queen Mary?s GS Walsall 111-9, Malvern 114-3
Bromsgrove 155-7, Wrekin 110
Bromsgrove win the group; Wrekin runners-up
West Midlands section group 4
*Shrewsbury 138-4, Wolverhampton GS 76-6
Newcastle under Lyme 50, Ellesmere 53-3
*Shrewsbury 117-8, Ellesmere 62-8
Wolverhampton GS 110, Newcastle under Lyme 102
Shrewsbury win the group; Ellesmere runners-up
West Midlands section play-offs
Shewsbury 187-3, Bablake 71-10
Warwick 175-2 Dean Close 108-6
RGS Worcester 139-9, Wrekin 110-7
Bromsgrove 114, Ellesmere 115-3
Shrewsbury, Warwick, RGS Worcester and Ellesmere reach the West Midlands section semi-finals
West Midlands section semi-finals
RGS Worcester 92-6,*Shrewsbury 95-5
Ellesmere 137-8,*Warwick 103
Shrewsbury now play Ellesmere in the West Midlands section final
West Midlands section final
*Shrewsbury 132-8, Ellesmere 83-9
Shrewsbury now play Felsted for a place on finals day

South East section group 1
Bede's 125-8, Aldridge 116-7
Ardingly 162, Brighton 89
Ardingly, *Bede's 103-2
Bede?s win the group
South East section group 2
Eastbourne 132-8, *Cranleigh 133-4
Lancing 106, Hurstpierpoint 111-2
Hurstpierpoint 112-8, *Cranleigh 116-2
Cranleigh win the group
South East section group 4
Kent College 99-8, Epsom 103-4
Simon Langton withdrew; Tonbridge had a bye
Tonbridge 190-3, Epsom 109-6
Tonbridge win the group
South East?section semi-final and final
*Tonbridge 218-5, Bede?s 160-9
Dukje of York?s RMS withdrew
*Tonbridge 120-9, Cranleigh 121-9 (T Pettman 5-24)
Cranleigh win the South East section
South London section semi-finals
Eltham 98-8, RGS Guildford 99-3
Whitgift 171-4, Hampton 124-7
Whitgift play RGS Guildford in the South London section final
South London section final
RGS Guildford 107-9, Whitgift 111-6
Whitgift now play Merchant Taylors? Northwood in the London section final
North London section group 1
Forest 83-9, *St Albans 84-1
St Albans win the group
North London section group 2
*Mill Hill 79, Berkhamsted 77-8
Mill Hill win the group
North London section group 3
*Merchant Taylors' 214-4, Aldenham 104
Merchant Taylors' win the group
North London section semi-finals
Merchant Taylors' 165-8, Berkhamsted 151-4
St Albans had a walkover after Mill Hill withdrew
North London section finals
Merchant Taylors' 165-8, St Albans 147
Merchant Taylors? win the North London section
South London section group 1
RGS Guildford 169-5, Trinity 171-4 18.3 overs
KCS Wimbledon 142-9, RGS Guildford 144-5
KCS Wimbledon 121-7, Trinity 110
RGS Guildford win the group on NRR
South London group 2
Whitgift 198-3, Wilson?s 64-6
St George?s 114, Reed?s 115-?
Whitgift 199-5, Reed?s 57
Whitgift win the group
South London section group 3
*Dulwich 194-4, John Fisher 90
St Benedict's 89, Hampton 95-1
Hampton 155-7 *Dulwich 136-6
John Fisher 126-5, St Benedict's 128-2
Hampton 141-7, John Fisher 109-4
St Benedict?s 117-8, *Dulwich 121-5
Hampton win the group
South London section group 4
Eltham 166-3, Ibstock 59
Langley Park 94, Chigwell 95-5
Eltham 153-2, Chigwell 113
Eltham win the group
South London section semi-finals
*Whitgift 171-4, Hampton 124-7
*Eltham 98-8, RGS Guildford 99 for 3
Whitgift play RGS Guildford in the South London section final
South London section final
RGS Guildford 107-9, *Whitgift 111-6
Whitgift now play Merchant Taylors' Northwood in the London section final
London section finals
*Whitgift 162-6, Merchant Taylors' Northwood 138-7
Whitgidt now play Cranleigh for a place on finals day
South West section group 1
King Edward?s Bath 146-7, *Beechen Cliff 147-4
*Bristol GS 136-3, Beechen Cliff 138-4
*Bristol GS 136-4, King Edward?s Bath 137-3
King Edward?s S Bath conceded to Clifton
*Clifton 116-4, Beechen Cliff 113
Clifton win the group and now play King?s Taunton in the semi-final
South West section group 2
Taunton 190-5, *Downside 99-5
*Taunton 118-7, Kingswood 119-2
SGS (Filton) 168-4, *Taunton 108-9
SGS (Filton) 90-8, *Kingswood 84-6
Downside 108, *Kingswood 112-0
SGS (Filton) win the group and now play Millfield in the semi-final
South West section group 3
*Clayesmore 109, Plymouth 110-5
Millfield 235-4 (T Lace 110), *Sherborne 109-7
Millfield win the group and now play SGS (Filton) in the semi-final
South West section group 4
Blundell?s 78-8, King?s Taunton 79-3
Wellington (Somerset) 174-5, Blundell?s 68-8
King?s Taunton 205-5, Wellington (Somerset) 65
Queen?s Taunton withdrew
King?s Taunton win the group and now play Clifton in the semi-final
South West?section semi-finals
*Clifton 136-7. King?s Taunton 116-8
SGS (Filton) 96-7, Millfield 99-1
Clifton now play Millfield in the?South West section?final
South West section final
Clifton 78, *Millfield 79-1
Millfield now play Wellington (Berks) for a place on finals day
South Central section group 1
*Winchester 133-9, Abingdon 99
Elizabeth College Guernsey withdrew
Winchester win the group
South Central section group 2
Lord Wandsworth 80 (20 overs), *Bradfield 84-0
Lord Wandsworth 132-9 (20 overs), Radley 118-8
*Bradfield 146-5 (20 overs), Radley 104-8
Bradfield win the group
South Central section group 3
*St Edward?s 104-7, Wellington (Berks) 107-1
Ryde withdrew
Wellington win the group
South Central section group 4
*Oratory 79-9, Portsmouth 80-3
*Oratory 126-8, Marlborough 127-3
Portsmouth 152-4, Marlborough 156-6
Marlborough win the group
South Central section play-offs
Winchester 95-9, *Wellington (Berks) 96-2
Bradfield 91-9, Marlborough 95-4
Wellington play Marlborough in the South Central section final
South Central section final
*Wellington (Berks) 167-5, Marlborough 151-6
Wellington now play Millfield for a place on finals day
Regional Finals
North
Woodhouse Grove 112-9, Sedbergh 113-3
East and West Midlands
*Shrewsbury 116-8, Felsted 117-2
South (including London)
Whitgift 110-9, *Cranleigh 112-3
South West and South Central
Wellington (Berks) 104-8, *Millfield 109-2
Sedbergh, Felsted, Cranleigh and Millfield proceed to finals day at Arundel Friday July 1st 10am start
Finals Day at Arundel Friday July 1st

Semi-finals:
Cranleigh 123-9, Millfield 126-7
Sedbergh 133, Felsted 137-3
Final:
Millfield 224-4, Felsted 158
Millfield win the 2016 National Schools Twenty20 competition