?All photos by Sarah Ansell. Click on any image to see a larger version.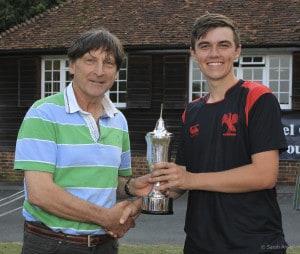 Free at last! Schools finished the season with cricket weeks and festivals, not all of them after the end of term. Most (but not all) cricketing schools ended their term in obedience to the examination boards? timetable (regardless of all other age-groups). There was also experimentation, as indeed there is with the very welcome news that some schools who do not play rugby or football on their outfields are proposing to play some games in September. Seasoned cricketers know that it almost invariably provides the best cricket weather of the year, dew and earlier dusk notwithstanding. This will be followed with keen interest by ECB and this column.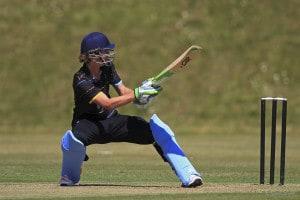 At Eastbourne (the progenitor of end-of-term festivals in 1968), Taunton?s captain Henry Gater (92) and Sam Whitefield (43) put on 115 for the first wicket in 23 overs. Dulwich turned to their spinners Cam Dennis (3-49), Janaum Rao (3-39) who tightened the screws before lunch, taking five wickets inside 15 overs for 48 runs, leaving Taunton 163 for five at the interval. Afterwards another spinner Tom Thornton (4-34) used good drift to work through the tail and Taunton ended on a modest 192. After an early wicket, the Barbadian Akil Greenidge flailed the ball around the ground but wickets fell at the other end. Leg-spinner Seb Horler and off-spinner Dom Drew began to create pressure which brought a couple of run-outs. At 109 for seven in the 26th over, Dulwich were in trouble, but Greenidge farmed the bowling effectively and the tail put up resistance. A 44-run ninth-wicket partnership put Dulwich close to victory. After a further wicket, 24 were needed from this last pair and then nine from the last two overs. Greenidge hit the first ball over midwicket for six, but with three needed he got a leading edge and was dismissed for a brilliant 123 but his team lost by three runs.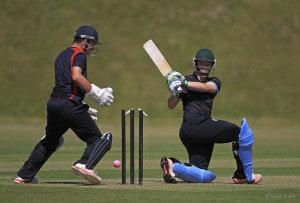 There was much intriguing cricket at the King?s Bruton Festival. All games were played as 100 over matches (ie declaration) with a maximum of 53 overs for the side batting first. On the first day Christ?s Hospital?s young team were in good fettle at 39 for one after 13 overs. There followed in over 14 an astonishing burst of hostile bowling from Satbir Mann who took four wickets in four balls with fast yorkers. In the other match St Peter?s were indebted to Will Huffer who carried his bat through 50 overs for 97 not out. After a relatively sedate second day Rory Cadbury, the King?s Bruton off-spinner also took four wickets in four balls to reduce City of London Freemen?s to 80-7, but some sensible lower-order batting allowed them to post a challenging total. See below for full scores. It was an excellent festival away from the restrictions of limited-over cricket where captains had to think differently and spinners in particular were able to further their art by completing lengthy spells.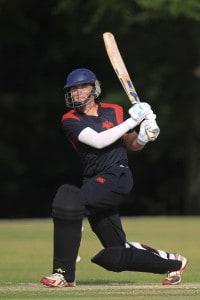 At the BOWS festival (Brighton, Oakham, Wellington, Sedbergh), the batsman of the tournament was Lyndon James of Oakham, and bowler of the tournament, also from Oakham, Edward Tattersall, but the Player of the Tournament was fine all-rounder Sam Curran of Wellington who missed the third day to play for Surrey (alongside his brother) in the 20-over bash. The most exciting match of the festival was when Oakham played Sedbergh. The latter, chasing 308 for five (Hamish Merriman 106), faced the last over on 300-6. After a good partnership of 79, they lost captain Stephen Croft run out by the bowler off the first ball for 88, then Wade Williams was caught behind, and Sedbergh then scored only five runs off the next four balls, thus falling three short at a still very commendable 305 for eight. Wellington were too strong for the other three teams, who each had one victory from three matches, and therefore won the festival.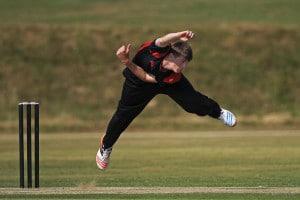 And so to the season?s closer (for most cricketing schools, anyway) the National SchoolsTwenty20 finals day at Arundel. Sam Curran had the opportunity to lead Wellington to victory on yet another glorious day at one of the finest grounds in England, with a large crowd not just of supporters but mainly local cricket-lovers. Striking the ball wonderfully cleanly, he looked as if he would lead his team to 200 or so when they were 63 for one after five overs. Unfortunately, hubris was his undoing when quite unnecessarily he attempted a daring switch hit and lost his middle stump for 43 from a mere 18 balls. Wellington were still on for 200 after ten overs with the score at 99 for two, but after this the innings began to fade away somewhat with a succession of wickets yet the total reached a still quite impressive 166 for eight. This was overcome, albeit with some tension, by an outstanding Hurstpierpoint side with five Sussex Academy players, for whom George Garton (41 from 24 balls) struck the ball as cleanly as Curran had done, ably supported by Dominic Keats with 55. A cracking game of cricket.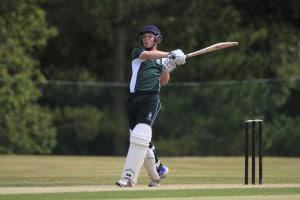 Sedbergh and Malvern on the day couldn?t quite match the firepower of the first semi-finalists: Sedbergh?s 138 for nine was never quite enough and Malvern overhauled this with some ease, especially as Zen Malik struck a scintillating 92, the highest score of the day. Their running between the wickets was exemplary; many teams could learn from it. If the ball wasn?t there to hit cleanly, they dropped on it and ran.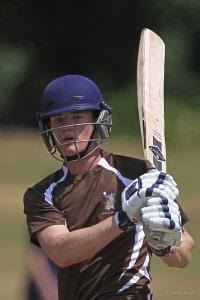 In the final, however, Malvern too could manage only 134 for nine, with Malik out cheaply and despite a fine 67 from Benjamin Twohig, and this was comfortably overhauled by the worthy winners on the day, Hurstpierpoint, losing only two wickets. They were led there with a captain?s innings of 67 from 48 balls not out by Joseph Ludlow and 42 from Dominic Keats. It was good see another new name on the trophy (ie not Millfield or Shrewsbury), Woodhouse Grove having triumphed in 2014.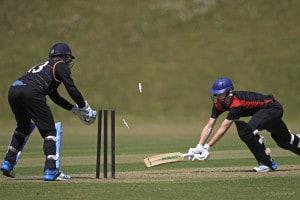 For full scorecards of all matches in the last 16, courtesy of CricHQ , the free scoring system, click here.
The week?s most startling performance was by Bedford Modern School?s Robert Bassin, Year 9, who took all ten wickets in the Under-14 County Cup semi-final against Sharnbrook Upper School, bowling fast. His analysis was 5.5 overs, 3 maidens, 10 wickets for 9 runs.
Elsewhere, Trent's Matt Kimmett scored 219 runs in three games at the St Peter?s York Under-15 festival.
This column always has a soft spot for those who fall just short of a major landmark. In this case it was Benedict Graves, Oundle?s captain, who in the Silk Festival game against Eton finished on 99 not out as the overs expired. On 95 he required six off two balls but the umpires mis-counted the deliveries and took players off with one ball remaining. They went back on after the scorers confirmed that only five balls had been bowled. He then hit a four off the last ball. He was awarded the All-rounder of the festival with 157 runs and seven wickets. For a full report on the Silk festival by Rob Morris, click here.
Results:
SGS Filton 313-6 (40 overs) (J Bracey 142, B Slade 112),*Bristol GS 199-5
*Bryanston 122-6 (20 overs), Plymouth 123-6
*Cranleigh 145-6 (20 overs), Old Cranleighan 82
MCC 244, *Dauntsey?s 247-8 (M Romer-Lee 123 not out)
Fraser Bird XI 280-4 (C T 108),*Haberdashers' Aske's 254-6 (I Harris 101 not out)
Clifton 208-6 dec & 250-7 dec,*Rugby 200-8 dec & 255-7
Trinity GS (Aus) 171-6 (36 overs) (E Brandon-Jones 103),*Bryanston 172-5
Wellingborough 204,*Stowe 206-4
Kentworth (Aus) 137,*Stowe 139-1
Warwick 116,*Stowe 117-2
Merchant Taylors 126-9 (20 overs),*Stowe 128-7
Menlo Park (RSA)116 (20 overs),*Stowe 117-4
MCC 270-7 dec, *St Edward's 191
Cryptics 238-8 dec, *St Edward?s 231-8 (A Edekar 126)
*Denstone 189-8 (50 overs), St Edward's 141
Melbourne GS (Aus) 231, *Eton 235-8
St Kentigern 249 (50 overs), *Eton 251-5
Old Peterites 211-9 (40 overs) St Peter's, York 160-9 (rain)
A. J. Palmer's XII (sic) 195, *Dauntsey's 195-10 (12 a side game)
*Merchant Taylors' 117 (S Lakhani 5-38) & 156-4, Haberdashers' Aske's 243-6 dec
*RGS Worcester 228 (S Timmins 5-65), Wolverhampton GS 229-7
*Reed's 32-3 dec (O. Kolk 181 not out), John Fisher 288 (B. Medlycott 6-80)
MCC 274-7 dec,*Reed's 275-4 (H Alderson 127)
*Reed's 257, Victoria, Jersey 128
Stock Exchange CC 259 (O Kolk 5-63), *Reed's 262-4 (G Mawhood 100 not out)
*Haberdashers' Aske's 301-4 (40 overs), Trinity (Aus) 145-9
RGS schools festival at RGS High Wycombe (50 overs)
RGS Worcester 266, RGS Lancaster 262-9 (T Willliamson 115)
RGS Newcastle 164-9, RGS Worcester 165-9
RGS Worcester 237-8, *RGS High Wycombe 203
RGS Colchester 149, *RGS Worcester 152-6
RGS Guildford 247-7, RGS Worcester 205
RGS Guildford win the festival
Silk Festival (at Shrewsbury (50 overs)
*Shrewsbury 233-7, Oundle 127
Eton 201-9, Hilton (RSA) 131
Hilton (RSA) 257-9 (A Curtis 122), *Shrewsbury 173
Oundle 218-7, Eton 220-7
Eton 238-9, *Shrewsbury 239-4
Hilton (RSA) 244-9, Oundle 230
Shrewsbury win the festival
King?s Bruton festival (100 over games, ie declaration but with a maximum of 53)
St Peter's, York 239, *King?s, Bruton 151
City of London Freemen?s 149, St Peter?s, York 150-2
St Peter's, York 242-6 dec, Christ's Hospital 190
Christ?s Hospital 46 (S Mann 6-8), City of London Freemen?s 50-1
Christ?s Hospital 218, King?s Bruton 196
City of London Freemen?s 223, King?s Bruton 155
St Peter?s York 242-6 dec (A Burgess 5-72), Christ?s Hospital 190 (H Stothard 5-56)
St Peter?s win the festival
Eastbourne festival (50 overs)
Taunton 192, Dulwich 190 (A Greenidge 123)
*Eastbourne 238-8,Taunton 128 (R Packham 5-14)
*Eastbourne 304-7, Ampleforth 184
*Eastbourne 151, Dulwich 86
Taunton 284 (H Gater 133), Ampleforth 196
Ampleforth 162, Dulwich 163-2
BOWS festival (50 overs)
Sedbergh 216, Wellington 217-2
Brighton 193, *Oakham 171
*Oakham 308-5 (H Merriman 106), Sedbergh 305-8
Wellington 328, Brighton 80
Brighton 184, Sedbergh 185-5
*Oakham 218, Wellington 219-5
Wellington win the festival
St Peter?s York Under-15 festival (45 overs)
*St Peter's 125, Oundle 126-2
Cheltenham 174, Trent 175-9 (J Soames 7-26)
Trent 220 (M Kimmett 118), *St Peter's 221-5
Oundle 189, Cheltenham 190-9
Cheltenham 175-6, *St Peter's 125
Oundle 223-7, Trent 184-8
Dauntsey?s Festival (Day 1):
Repton 281-4 (40 overs)(J.Morgan 118 not out), West Buckland 61
First Class Cricket Academy 119 (40 overs), Dauntsey?s 122-1