Arundel is the perfect setting for cricket and they were once again most genial and generous hosts for the National Schools Twenty20 finals day on Friday. It was good to learn that this event is one of the most popular in the calendar for their hundreds of members (as one could see from the large crowd of spectators). On a glorious day, Woodhouse Grove from Yorkshire took on Tonbridge in the first semi-final. Winning the toss and wisely batting, Woodhouse Grove displayed exemplary running interspersed with impressive strokeplay. After ten years of the format (not that 20 overs cricket itself is anything new), it is good to see that everybody from national teams down to the humblest club has come to realise that playing good cricket rather than slogging is the key to success even in this very short form of the game. More than that, spinners are always the key, as once again it proved on the day.
click on the image to see a larger version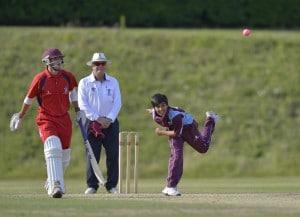 The Grove?s captain, Dylan Budge, led the way with 61 but his opening partner Patrick Dixon was also impressive for his 28 and gave them a handsome opening partnership of 76, leading to a pretty good total of 145 for five, Marcus O?Riordan with three of the wickets (plus a run-out) being the only bowler to make any impression . Tonbridge in reply looked good while O?Riordan (32) was at the crease but once he was out at 51 for three, Zac Crawley was the only batsman to reach double figures and they were all out for 90.
click on the image to see a larger version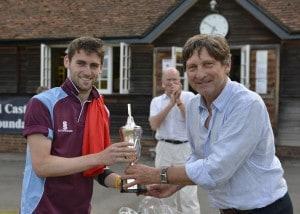 In the second semi-final, the formidable Millfield side, frequent winners of this competition, faced Bedford. Batting first, Millfield were soon in trouble at 16 for three and then 33 for four and a major upset looked quite likely. The game was turned round by a very impressive fifth wicket partnership of 61 between George Hankins whose courageous 69 not out in only 55 balls was one of the finest of day, especially in the circumstances, well supported by Tom Lace with 37. Now that crisis had been averted, Millfield pressed on to record 145 for five, strangely exactly the same score as in the first semi-final. Bedford responded vigorously and when the second wicket fell at 64 with nearly 12 overs to score 82 and the field well spread, it seemed as if they were well on course. However, instead of picking up easy ones and twos with so many gaps, Bedford strangely opted for attempted big hitting with the inevitable loss of quick wickets, to be dismissed for only 107. Tom Bevan took five for 22.
In the final we saw the highly impressive Budge (81 ? caught on the long-off boundary on the last ball of the innings) and Dixon (stumped on 54) put on 107 in 13.2 overs, again with the same mixture of good running and fine strokeplay. This was followed by a wonderful cameo by George Styles who with a six and three fours, 22 in only 12 balls, gave the innings further impetus to reach 178 for four, a demandng target. Millfield once again found themselves in some trouble early at 44 for four and then 70 for five, with their rescuers in the previous game, Hankins and Lace, going cheaply. However, John Stratton played a captain?s innings and his 52 gave Millfield hope until he was well stumped (by the Grove?s reserve wicket-keeper Styles), after which the target became clearly out of reach and they finished at 131 for nine. A feature of the Grove?s bowling was their two slow left-armers, Larry Edward and 14-year-old Ali Hasan Ahmed. The former took four for 11 in the final, the latter three for 18 in the first. Jibrael Malik took four for 18 aganst Tonbridge with his right-arm medium pace.Woodhouse Grove's 2014 season ended with 18 victories from 18 completed matches (10 regular school fixtures and 10 T20 games). A very fine side and worthy winners of the National Twenty20 competition. For full scorecards of all matches click here
click on the image to see a larger version
To see the first group of pictures, showing mainly Woodhouse Grove, click here. The remainder will be available shortly.
Shrewsbury retained the Silk trophy (Oundle, Eton, Shrewsbury and this year?s visitors Rondebosch) but only with a very tight game against Eton, having impressively defeated the very strong South African side. Eton started slowly against accurate bowling and could have been in trouble when their captain James Gnodde was removed by the prolific Henry Blofield. However, the pace picked up and at 124 for three by the 33rd over, they looked set for a big total. But suddenly some astute bowling changes ripped out the middle order and tail to reduce Eton to 141 all out. In reply, Shrewsbury seemed well set at 87 for three but they too suffered a middle order collapse to find themselves 102 for seven and Eton scenting an improbable victory. Amid much appealing, a dropped catch and some hairy running, not mention a close eye on their net run rate, Shrewsbury edged cautiously to their target, the pressure being released only by a waist high full toss which was despatched for six, leading to a three-wicket win with 14 balls to spare. For a fuller report by Rob Morris, click here.
North London rivals Haberdashers? Aske?s and Merchant Taylors? had never played any two-day match before but when they did it was a cracker. Merchant Taylors? declared at 274 for six, Andrew Thomas making 116 of them, bowled out Haberdashers? for 141 and enforced the follow-on. The home side fared rather better second time round (as so often happens) and boldly declared at 234 for two, leaving the visitors ten overs to score 102. Which they did for the loss of five wickets and one ball to spare.
On May 6th this year I reported on the astonishing feat of George Haley of Eltham in scoring a double hundred in a Twenty20 match. Though not scoring a double hundred, Joe Lush equalled his speed of scoring over Haley's first hundred by reaching 100 in only 33 balls. He also almost matched another astonishing feat by Kyle Cunningham of Bedford Modern last year reported on June 25th 2013, with five sixes from the first five balls of the 14th over.
Results:
Radley 115, *St Edward's Oxford 117-4
Plymouth 108 (D Clutterbuck 5-29), *Clayesmore 109-1
MCC 235-6 dec, *Dauntsey's 236-7
Oundle 212-6 (50 overs), *Eton 214-6
Rugby 154, *Clifton 155-1 (T Smith 105 not out)
*Eton 141 (50 overs), Shrewsbury 142-7
Doug Yeabsley's XI 266-8 dec, *Haberdashers' Aske's 175
*Dauntsey?s 217 (50 overs), Penleigh and Essenden GS (Aus) 120
Woodhouse Grove 172, *Warwick 127 (Ali Ahmed 5-18)
Woodhouse Grove 154-4 (20 overs), *Warwick 111
St Kevin?s (Aus) 173-4 (20 overs), *King Edward's Bath 105-7
Merchant Taylors' 274-6 dec (A Thomas 116) and 103-5, *Haberdashers' Aske's 141 and 234-2 dec
Headmasters XI 202-8 (30 overs), *King Edward's Bath 206-9
*Malvern 306-3 dec (F Wynn 149), Rugby 113 (B Twohig 5-24)
Free Foresters 174, *Malvern 176-0
MCC 274-6 dec, *King Edward's Bath 199
Ampleforth 247-9, Durham 222
*Merchant Taylor's, Liverpool 111, Durham 113-1
*Bromsgrove 273-6 (50 overs)(M Lamb 113), Durham 250-9 (J Bushnell 100)
Durham 183, *Perse 73
Old Dunelmians 148-9 (20 overs), *Durham 147-8
Fraser Bird XI 256-7 dec (S Burger 100), *Haberdashers' Aske's 222
XL club 211-9 dec, *King Edward's Bath 214-6
Prince Alfred College (Aus) 187-8 dec, *Wellingborough 188-4
Old Cranleighans 208, *Cranleigh 209-7
Cranleigh 180 & 222-6 dec, Charterhouse 143 & 141-6
Prior Park 99 (40 overs), *Dauntsey's 100-1 (Peak Sports League)
The Peak Sports league title is shared between the holders Dauntsey's, Kingswood and Beechen Cliff
BOWS (Brighton, Oakham, Wellington & Sedbergh) 50-over festival at Sedbergh
Oakham 166-6 (50 overs), Wellington (Berks) 167-1
*Sedbergh 129, Oakham 130-2
Brighton 116, Oakham 117-7
Brighton 200-9. *Sedbergh 201-6.
Brighton 157, Wellington (Berks)160-1
*Sedbergh 204-9, Wellington (Berks) 206-1
Wellington win the festival
Silk trophy 50 over festival at Ounlle
*Oundle 73 (H Blofield 5-6), Shrewsbury 77-2
Eton 168/9, Rondebosch 169-2
*Oundle 211-6 , Eton 214-6
Shrewsbury 196-7, Rondebosch 115 (H Blofield 5-33)
*Oundle 110 , Rondebosch 112/1
Eton 141 (H Blofield 4-19), Shrewsbury 142 -7
Shrewsbury retain the Silk Trophy
King?s Bruton festival
*King?s Bruton 233, St Peter?s, York 152-8
Christ?s Hospital 162, City of London Freemen?s 120
City of London Freemen?s 119, St Peter?s, York 120-2
*King?s Bruton 89, Christ?s Hospital 90-3
City of London Freemen?s 223-5 dec, *King?s Bruton 151
St Peter?s, York 243-9 dec, Christ?s Hospital 99 (B Williams 5-28)
St Peter?s, York win the Festival
Haberdashers? Aske?s Devon tour
*Exeter 216-8 (40 overs), Haberdashers? Aske?s 217-5
Haberdashers? Aske?s 200-9 (40 overs), *Exeter CC 201-5
*Devon Dumplings CC 175-9 (40 overs), Haberdashers? Aske?s 176-3
*Devon Under-16s 244-6 (50 overs), Haberdashers? Aske?s 248-0 (W Wright 114 not out, T Colverd 112 not out)