Tuesday June 16th 2009
Review by Douglas Henderson

It was a privilege to watch Joss Buttler of King?s, Taunton, probably the best current schoolboy player (on the authority of David Graveney, no less), but once he had, on a very benign pitch at Clifton and against perfectly decent bowling, smashed a century not merely before lunch but by 1pm, the game was doomed to be rather boring. Clifton did impressively manage to restrict the visitors to 286 for six and responded with 187, but it showed the limitations of the overs game as a spectacle.
There must be something in the air at Taunton, not to mention three fine cricketing schools, because another young player, Tom Abell of Taunton School, 15 only in March, has been making a name for himself with three centuries in his last four innings against strong opponents.
St Lucian Dalton Polius scored his second century of the season in only his fifth innings for Woodhouse Grove against Durham in a new fixture between the two schools. Polius made 123 including eleven fours and six sixes in Woodhouse Grove?s 288 for nine declared. Durham?s reply ended at 183 for six in a drawn game.
Another new fixture was between Eton and Sutton Valence. The visitors wilted in the heat and conceded 55 in the last six overs as Eton reached 275 for nine in their 55 overs. In reply, Sutton Valence lost a wicket immediately and then another at 31, but Chris Vernon (135) and Alastair Neale (52) put on 132 for the fourth wicket. Harry Gilpin at number seven hit 42 from 19 balls and with a four off the last ball Sutton Valence tied the game.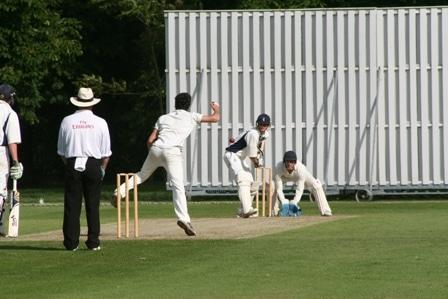 Chris Vernon scoring 135 against Eton
Dauntsey?s Under-14 batsman Jack Mynott has been in a rich vein of form. In a period of just over a month he has scored three centuries and a total of over 500 runs for only once dismissed. His scores included 130 not out against Kingswood, 60 not out against Prior Park, 135 not out against Clayesmore, and 156 not out against Kingdown in the Lords Taverners? Trophy county semi-final.
Results (*denotes the home side)
(any corrections may be sent to [email protected])
*Oratory 191 (45 overs), Bedford Modern 125 (E Briock 7-32)

*Wellingborough 184 (J Oakley 6-48), Stamford 187-1
*High School of Glasgow 109-8 (20 overs), Glasgow Academy 44
*Lord Wandsworth 195 (40 overs), Hampton 196-9
Taunton 300-4 (50 overs)(T Abell 101), *Queen's, Taunton 146
Bishop's Stortford HS 98, *Haberdashers' Aske's 100-3
*George Watson's 219-5 (35 overs), High School of Glasgow 16-1 (rain)
Woodhouse Grove 288-9 dec (D Polius 123), Durham185-6
*Whitgift 70 (20 overs), King?s, Canterbury 71-1
King?s, Bruton 240-9 (50 overs), *Dauntsey?s 243-4
West Buckland 176-3 (20 overs),*Exeter 123 (J Popplewell 5-16)
Kingswood 242-7 (40 overs), *Prior Park 195
Eastbourne 56 (A Patel 5-12),*Tonbridge 62?1
Lord Wandsworth 230-9 dec.,*Christ?s Hospital 163
Old Blues 254-5 dec, *Christ?s Hospital 203-9
Forest 126, *Perse 128-1
*King Edward?s, Birmingham 150 (M Cox 5-21), Bromsgrove 153-1
Solihull 235-7 (50 overs), *RGS, Worcester 231-9
*Millfield 274-9 (50 overs), Worcestershire CCC Academy 264-8 (L Kervezee 101)
*Radley 209, Abingdon 210-7
*Eton 275-9 (55 overs), Sutton Valence 275-7 (C Vernon 135)
Caterham 148 (40 overs), *City of London Freemen?s 150-5
King?s, Taunton 286?6 (50 overs)(J Buttler 124),*Clifton 187
Trinity 82. *Reigate GS 85-3
*King?s, Taunton 344-8 (40 overs)(M Lenygon 135), XL Club 156
National 20s (last 16): Millfield 178-4 (20 overs), *King?s, Taunton 139-9
Durham Pilgrims 170-6 dec, *Durham 172-2
*Felsted 171 (J Oughtred 5-46), Oundle 172-1
Kirkham GS 133, Lancaster RGS 134-6