It is not unheard of, but hardly common, for a side to score over three hundred with two centurions, and then lose. That is what happened when Malvern met Millfield ten days ago. On the fast Millfield ground, Malvern rattled up 302 for three in their fifty overs, with Alex Milton scoring 128 and Freddy Martin 115 not out. Millfield were more than a match for this, overtaking their score for the loss of five wickets, O Ebsworth-Burland scoring 139 of them. Milton scored another century this last Saturday, with 115 against Clifton, and he has now scored four centuries in succession in school matches. A rare failure in the National Schools Twenty20 on Friday meant that his side were never in the hunt even against Denstone?s fairly modest 116 for eight, and the latter?s impressive side put hosts Malvern out of the competition.
Bristol Grammar School at home won the toss and batted on a good wicket. Harry Thompson (141) and Under-15 Tom Rowland (65) put on 149 for the third wicket, Thompson showing more patience than is his wont. He was experiencing that characteristic lull in the 90s though, and when Rowland holed out he was on 94. At that point he decided he had had enough of this patience game, hitting a six for his century and then he opened up. He put on 49 in 3.5 overs for the fourth wicket during which time his partner faced two balls without scoring, to reach a total of 296 for five in their fifty overs. Taunton were positive in reply, going steadily at over five an over throughout, with several batsman getting starts without managing to convert into a big score. Rishi Panchal chipped away with his off-spin taking five relatively expensive wickets and Taunton were dismissed for a more than respectable 253.
Stowe, at home, won the toss, batted first and declared after 51 overs, with the captain George Jackson scoring 145 (his second successive century), at 249-6. In reply, Oakham had the relative luxury of 53.1 overs to overtake them with 252-6, the opposing captain Joe Kendall scoring 105. Clever declaration really, rather than over-generous, as it needed the visitors to go from 202 for six to 252 for six, thus 50 in only seven overs to win the game, with numbers six and eight at the crease (Sam Williams 71 not out off 51 balls and Nick Davies 14 from 22). Good cricket.
Lancing have a fine leg-spinner (and batsman with a century against the XL club last week) in Mason Crane. Against Worth he took eight for 43 and so far this season, in only 64.5 overs, he has taken 33 wickets at an astonishing average of 6.36. Another fine bowling performance was recorded by Glenalmond?s Fergus Barne. He was on a hat-trick twice, achieving the second time and the medium-pacer finished with seven for 23 against the High School of Glasgow.
Woodhouse Grove enjoyed only their second success in 20 attempts against the MCC when they chased down MCC?s 241-3 declared. The score was achieved in 47 overs with one ball to spare. An impressive opening partnership of 115 from Jibrael Malik (45) and Patrick Dixon (54) proved crucial with captain Dylan Budge clinching victory with an impressive 70 not out including eight fours and two sixes.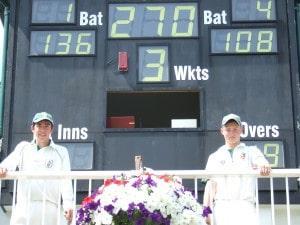 At RGS Worcester against a strong Old Boys? side, Dan Goodyear, captain in his fifth year in the XI, scored 136 and Jack Taylor 108 not out in a partnership of 247 for the third wicket, and a total of 270 for three in 50 overs. The Old Boys were scoring at six an over for the last ten and needed eight from the last. They finished one short with a run out going for the second run on the last ball of the game, finishing one short.
Results:
Malvern 302-3 (50 overs)(A Milton 128, F Martin 115 not out), *Millfield 303-5 (O Ebsworth-Burland 139)
*Winchester 113, Eton 115-2
*Durham 198-9 (J Bushnell 100 not out), Bradford GS 55
Hampton 177-9 (50 overs), *Eton 178-1
*Harrow 251-9 (55 overs), Malvern 252-3 (A Milton 106 not out)
*Lancing 210-4 dec (M Crane 101), XL Club 77
MCC 270-6 dec, *Wellington (Berks) 271-7
*Bristol GS 296-5 (50 overs) (H Thompson 141), Taunton 253 (R Panchal 5-69)
Trent 128, *Oakham 132-1
MCC 186,*Durham 90
Bede's 179-6 (20 overs), *Lancing 161-7 (Langdale cup final)
*Stowe 249-6 dec (G Jackson 145), Oakham 252-6 (J Kendall 105)
*Haberdashers' Aske's 256-4 (50 overs), Magdalen College School, Oxford 185
*Lancing 217-6 (50 overs), Worth 84 (M Crane 8-43)
*St Edward?s Oxford 297-7 (50 overs), Cheltenham 218
*St Joseph's 240-7, Ipswich 241-4
Taunton 171 (50 overs), *Sherborne 173-5
*King Edward VI, Southampton 119-8 (35 overs), Hampshire Collegiate School 123-3
MCC 231-8 dec (T Fay 5-48), *King Edward VI, Southampton 171-6
Malvern 286-5 (50 overs) (A Milton 115), *Clifton 220-5
Lord Wandsworth 132-9 (40 overs), *St John's, Leatherhead 135-2
*Haileybury 119 (35.5 overs), Uppingham 115
*Uppingham 97, Rugby 98-3
MCC 234-5 dec, *Uppingham 233-9
Emeriti CC 259-5 dec (R Drinkwater 103), *Ratcliffe 131-5
Charterhouse 141, *Wellington (Berks) 142-6
*Bedford 337-7 (50) (C Thurston 125, P McDuell 109), Shrewsbury 166.
*Bristol GS 241-7 (40 overs), Queen Elizabeth?s Hospital 90
RGS Guildford 162-8 (50 overs), *Cranleigh 165-4
*King's Taunton 336-6 (50 overs) (N Brand 130), Monmouth 223-8 (J Lawlor
112)
XL Club 194-1 dec, *High School of Glasgow 103-5
*Strathallan 223-6, High School of Glasgow 110
*High School of Dundee 77 (I Wheel 6-19), High School of Glasgow 79-8
High School of Glasgow 105-9 dec (F Barne 7-23 (inc hat trick)), *Glenalmond 108-5
Sussex Martlets 255.4 dec, *Christ?s Hospital 183
*Christ?s Hospital 230-8 (50 overs), City of London Freemen?s 110
Old Blues 221-7 dec, *Christ?s Hospital 195-9
Berkhamsted 370-5 dec & 186-0 dec, Haileybury 169 & 111
*Bradfield 223-7 (50 overs), Marlborough 198
*Bradfield Waifs 150 (H Charles 5-40), Bradfield 152-3
MCC 241-3 dec, *Woodhouse Grove 242-6
*Woodhouse Grove 268-4 (50 overs), Lancaster RGS 229-9
*Wellingborough 251-6 dec, Kimbolton 171-5
St Peter?s York 206-7 (50 overs), Hymers 180 (T Norman 101 not out)
Trinity GS (Aus) 174-8 (50 overs), *Bedford Modern 175-6
Caterham 210-7 (30 overs), *Alleyn?s 97 (J Foggin 6-21)
*King's, Worcester 198-9 (50 overs), RGS Worcester 180
*RGS Worcester 270-3 (50 overs)(D Goodyear 136, J Taylor 108 not out), Old Elizabethans 269-7
Portsmouth GS 144 (55 overs)(H Mayes 5- 34), *Hampton 147-3
National Schools Twenty20 competition
North regional final
Woodhouse Grove 218-2, Bolton 86
Woodhouse Grove represent the North on finals day
West Midlands and Wales area final
Denstone 116-8, *Malvern 92-9
Denstone now play Bedford (East winners) for a place on finals day
East and West Midlands & Wales regional final
*Bedford 231-3, Denstone 152
Bedford represent the East and West Midlands & Wales on finals day
North London v South London final
Whitgift 163-5 (D Sibley 107), *Merchant Taylors? 125
Whitgift now play Tonbridge (South East winners) for a place on finals day
South West area final
SGS College 116-7, *Millfield 117-5
Millfield now play St Edward's for a place on finals day
South and West region final
*Millfield 151-4, St Edward?s Oxford 141-8
Millfield represent the West and South Central region on finals day