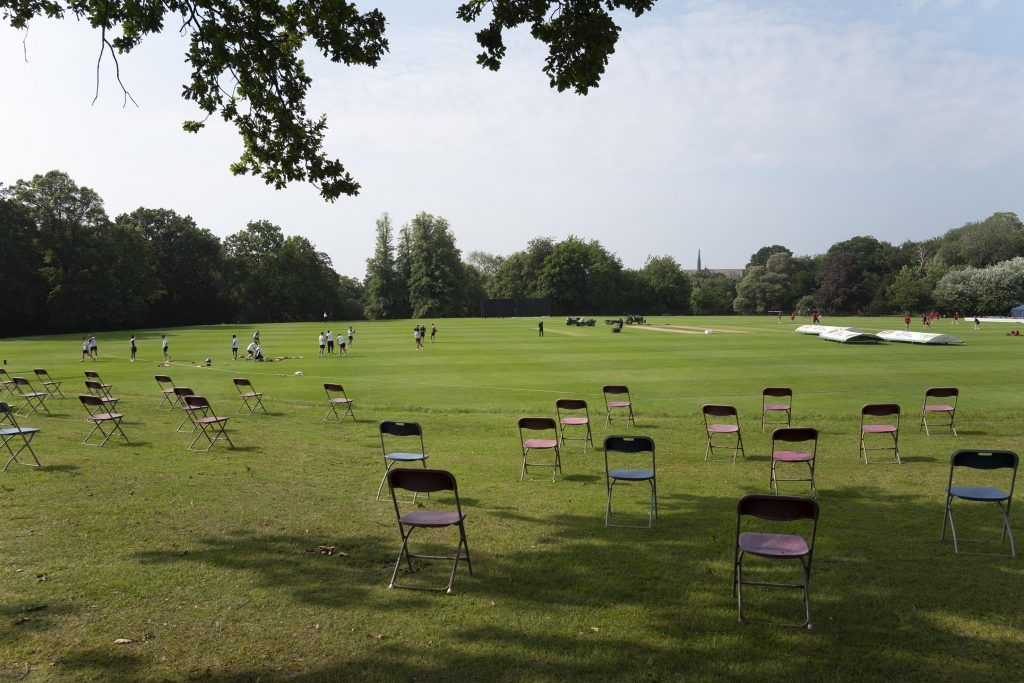 Arundel in the time of Covid – before start of play. Later this area had large numbers of spectators
All images are by Patrick Eagar. Click on the thumbnails to see the full image
As with Dr Johnson's sexist remark about female preachers, it was a miracle that the event took place at all, for two reasons. With under two weeks to go, three regions in the competition still had something like five matches to play to produce a competitor at Arundel. The second was that the weather held up and the much-forecast rain did not arrive at all until the final was almost complete.
To take these in order, the process to produce four finalists involved several masters i/c arranging fixtures at extremely short notice and, alas, several schools being forced to drop out mainly because of Covid problems too tedious to relate here. The most unfortunate was Wellington (Berks) who had no cases of their own but the whole area was put under highly restrictive orders. They thus lost the chance to compete against King's Taunton for the South West/ South Central place.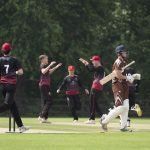 On the weather front, pun intended, many of us spent agonising hours poring over our weather apps which went from heavy rain for much of the day a few days in advance to heavy showers to light rain showers and finally to light rains showers or "drizzle" from time to time on the day itself. Happily "drizzle" turned out to mean the odd spot in the air but no more. It was only in the latter stages that this (as forecast) became fairly persistent light rain. Happily so light that most spectators were watching without umbrellas and play proceeded without (until very late indeed) the threat that play would have to be called off. Of which more later.
It was observed by many that there was little to choose between the four teams on display. All bowled from pretty well to very well and batsmen in all four played some spectacular strokes though also inevitably some poor ones. There were some spectacular catches but a few drops. What was, perhaps, lacking was cricketing intelligence of the kind which grows through experience. One coach thought this was what had been most missed in the non-season of 2020 and the highly disturbed season of 2021. In short, most observers thought that on a different day the three matches could have had completely different results.
The lack of experience was particularly evident in the running. There were several run-outs in the day and even more very close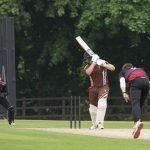 shaves. A good runner does not have close shaves. Rule one of batting is that a run is never worth a wicket (see my Golden Rules of Running) except perhaps in the very last overs with wickets in hand. In brief, a good runner places the ball with the right amount of power (often, but not always, very little) to make a run easy. Meanwhile his partner backs up seven paces (sic) down the wicket so that he has only 12 yards to run but can easily get back if the fielder throws down the stumps. See my "rules". Etc etc which I could expand on at much greater length if there were space.
This in turn means that an experienced batsman, who may have just hit the last ball for four or six, would be quite content to push the rest of the over for easy singles. What a scoring rate! Here through much of the day, the batsmen instead often tried to hit the next ball for four or six as well.
Though the wicket seemed dry or the surface, Arundel had suffered a prodigious amount of rain in recent days and weeks and there must have been some moisture underneath. Though it played superficially well for the whole day, there was a suspicious of variation of pace and it may have been more difficult to hit straight through the line as is the norm here. It was noticeable that a large number of big hits were in the direction of cowshot corner rather than long-off.
First semi-final: Sedbergh v King's Taunton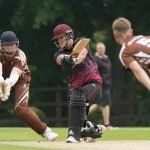 In the first match, played almost in lovely sunshine for the first half, Sedbergh won the toss and chose to bat. They were fresh from a huge score of over 200 in their thrilling tie with Myerscough (see page 6363 last week) but here a wicket in the first over was not propitious and they continued to fall at regular intervals. Things looked pretty dire at 65 for seven but now instead to trying to hit their way out of trouble as they had been (if in a hole, stop digging) they began to play rather more sensibly, taking ones and twos where they easily could in a well-spread field. Thus the last three wickets not far off doubled the score to reach 125 for nine. Off-spinners Henry Smeed and Will Chesterman impressed with their three for 16 and three for 21 respectively, and so did Sonny Baker with his considerable pace and bounce.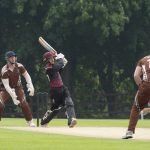 The total did not seem enough but when King's Taunton batted some doubts crept in as wickets began to fall just as often as Sedbergh's had (in fact, slightly more so) and a tight finish was in prospect. The situation was rescued by the King's number three, George Thomas, who steadied the ship with a sensible innings of 64 not out, in partnership particularly with Will Chesterman (21), and he steered them home in the final over for the loss of six wickets.
Second semi-final: Malvern v King's Taunton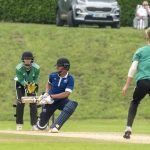 After lunch, under greyer skies but no real threat of rain, Malvern were put in by Tonbridge. They batted calmly and never looked in any great danger of losing wickets through rash hitting. It was a slight surprise to find that after 18 overs they had scored only 123 which seemed oddly modest. Here now the traditional value of preserving wickets in the earlier stages was demonstrated in spectacular measure as they proceeded to hit 35 in the final two overs with five sixes to close on 158 for six. Opener Oliver Cox led the way with 68 until he was run out, while Angus Catto and Charlie Williams provided the fireworks at the end.
This kind of score is pretty good but not insuperable. Two run-outs in the first three overs (five for two) was hardly a good start, but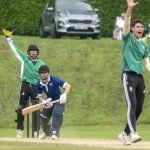 now with Sam Hadfield (55) and Harry Bevan-Thomas (25) taking the score to 88 things looked much more settled and Tonbridge were more or less matching the Malvern score. At 126 for six, they needed a further 33 from the final four overs but then things diverged sharply from the Malvern innings: Tonbridge now lost three wickets for a total of one run in the eighteenth over and all seemed lost. Thomas Masding and Archie Ramathan had neither the wickets in hand nor the firepower to match the theatrics of the first innings but they still produced some respectability to the score by finishing only 15 short.
The final: Malvern v King's Taunton
These two had had a sort of dress rehearsal only a week or two before in a normal match at King's where the home side had won a tight game (see last week).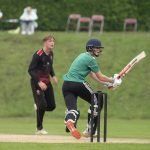 Malvern won the toss and elected to bat. Their innings proceeded in a not too dissimilar fashion from their semi-final but this time it was the other opener Tom Boorman's 62 which set the platform for the later stages after Cox had driven a remarkable forcing back foot shoot from the rapid Sonny Baker low to mid-off. Once again, they had scored only 129 for four from 16 overs but this time it was some steadier and sensible batting which steered them through to an almost identical 159 for six. The most extraordinary moment came when Boorman, having recently built up a head of steam, launched a big slog-sweep (formerly cowshot) straight to Sonny Baker who barely had to move to take the catch. The problem was he was standing right by the boundary rope and it would have taken a very slow-motion video replay for the umpires to determine whether in taking the catch Aussie-style (fingers up) he touched the boundary rope before he thrillingly threw it upwards, stepped backwards then forwards again onto the field of play and re-caught it to the screams of delight from the King's camp and outraged shouts of "six" from both the Malvern team and nearby impartial spectators. The umpires were very much in two minds and eventually, as custom dictates, gave the benefit of the doubt to the batsman. As it turned out this made little difference as Boorman's strike rate decreased and he was out shortly afterwards.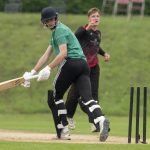 The King's innings followed a vaguely similar pattern: opener Henry Smeed scored 45 before attempting a big hit and merely skying it almost vertically. But the scoring rate was similar to Malvern's though slightly behind. As they approached about the 10th over, the spotting of rain began to turn to light rain but not the kind where you would normally come off. Indeed most spectators were standing out in it without umbrellas; it was also getting slightly darker (though it is virtually unheard of to come off for bad light except in the professional game). Thus Malvern began to be hindered by a wet ball but it is nothing new in cricket that the conditions can change sharply throughout the match. In the circumstances, the King's scoring rate began to increase, much to the chagrin of Malvern supporters, and they were clearly just overtaking the target needed. The target then became more precise as the rain ever so slightly increased and it began to be quite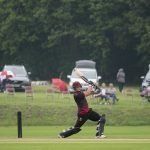 possible that the DLS system might have to decide the result of the match if it were abandoned at any point. This is built into the Play-Cricket scoring system, so it was possible to post on the scoreboard the target for each over.
Still the rain was not at any point so heavy that one would normally come off for it but by now it had persisted for several overs: both the ball and the grass were becoming ever more slippery but there were fewer than three overs left. It would have been a huge pity for the match to be decided by DLS after the whole competition – and the day itself – had come this far. Meanwhile King's may not have appreciated that DLS "penalises" wickets lost and the batsman in playing some rash shots began to lose them, putting their advantage under the system in peril.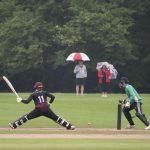 At this point one such umpire's decision was disputed by the batsman and, to cut a long and rather unpleasant story short, he was penalised five penalty runs for his pains. The target for the last two overs was anyway difficult and this made it more so (as the target had been increased by that margin). He later apologised for his misdemeanour but it may help to remind him that the umpire was doing his duty under the Laws of the game, put there in the recent update to try to trim unpleasant behaviour on the field of play.
National Schools Twenty20 – Finals day at Arundel Sunday June 27th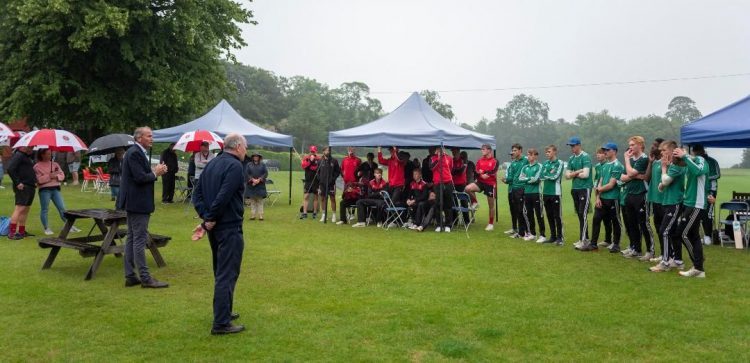 Chairman of Independent Schools Cricket Andy Whittall, the former Test and ODI player, addresses the teams at the end
Thus Malvern retained the trophy and won by 14 runs, King's having lost eight wickets in reaching 150.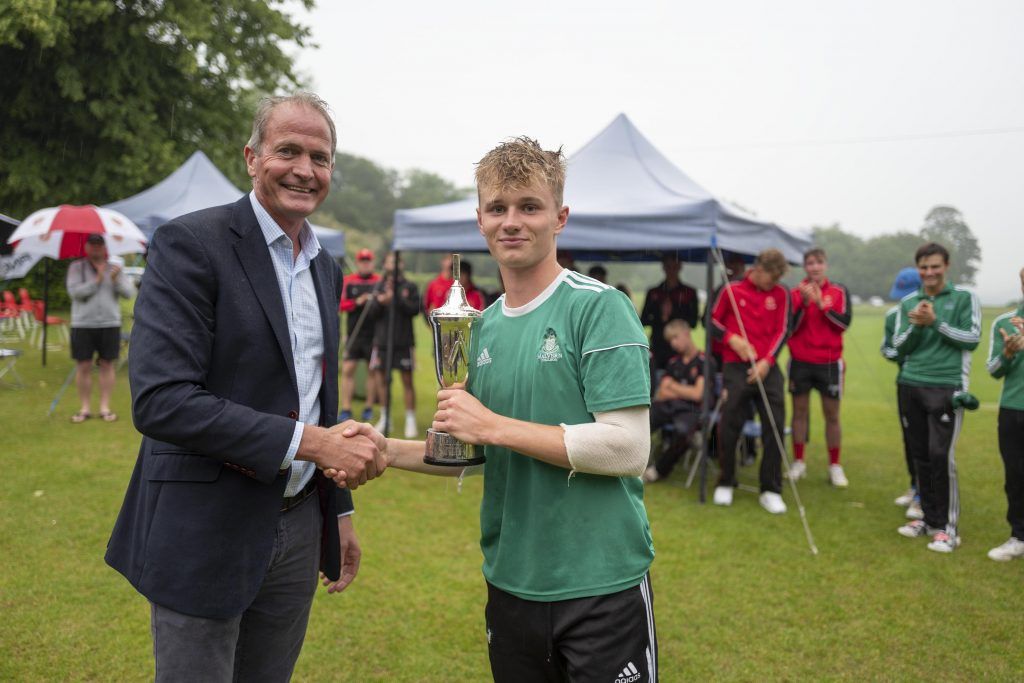 Captain Josh Dickenson receives the trophy from Andy Whittall
Results
MCC 224 (Y Majid 7-77), *Cranleigh 223-9 (J Kings 5-105)
*Denstone 159, Trent 162-3
Derbyshire CCC Development XI (45 overs) 226-9, *Denstone 174
Shrewsbury 196-8,*Rugby 73
*Wrekin 121-5 (20 overs), Shrewsbury 125-0
*Shrewsbury 265-5 (50 overs)(H Cooke 119), Manchester GS 165-8
*Oakham 143-6 (30 overs), Old Oakhamians 145-5
*Eltham 100, The XL Club 101-3
Eltham 188-5 (45 overs),*Caterham 160-9
MCC 210-8 dec,*Eltham 81
Bloxham 121 (35 overs) (J Murphy 5-14),*Wellingborough 125-6
Cranleigh 193-8 (50 overs),*Whitgift 196-4
*Eton 199, Winchester 134-8
*Stowe 250-5 dec (R Noble 114), Berkhamsted 174-4
Hymers 57, *St Peter's, York 59-3
*Pocklington 126, St Peter's, York 127-5
*Cranleigh 238-9, Old Cranleighans 104
*Scarborough College 284, St Peter's, York 211
Bryanston 79 (20 overs),*Clayesmore 80-3
XL Club 130 (35 overs) (H Grayson 5-11),*Wellingborough 132-4
*Eton 205 (50 overs), Cranleigh 34-3 (rain)
Wellingborough T20 festival
*Wellingborough 154-6, Princethorpe 81-8
*Wellingborough 91, The Leys 81-9
*Wellingborough 137-6, Wisbech GS 83-7
*Wellingborough 164-5, Wisbech GS 71