I am quite often asked ?is this a record??. This is a difficult question. The only easily accessible records which exist are those in spreadsheet form since I took over doing Wisden in 2005, which can be found here Wisden stats 2005 – 2014 Incidentally, this website now has an extensive and searchable archive of Wisden records since 2005 and indeed weekly reports and results since 2004. Before that, all one can do is look through every Wisden in printed form if you happen to have a complete set.
In olden times, before declarations were invented, games were played to a finish. Hence A. E. J. Collins's 628 not out (aged 12, in a house match) and other such legendary scores. In the more modern era, indeed until about 2003, almost all school matches were declaration games which meant that in practice a side had only about three hours? batting because you had to declare. This happened in 1979 when Chris Trembath scored 200 not out in under three hours (he was number 3, and the game was won), but double centuries were astonishingly rare because the side batting first had to declare in order not to kill the game (ie give themselves a chance of winning). Nowadays with wall-to-wall overs matches (more's the pity) AND the modern practice of giving it a bash from the start even in Test matches (eat your heart out, Sir Geoffrey) double centuries have become much more common in schools matches. Kills the game, of course; boring as hell.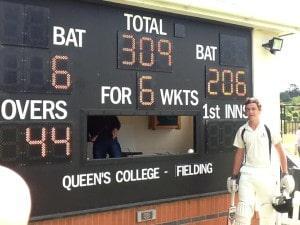 Which brings me to our third double centurion of the season, Henry Gater of Taunton school (and prompted the question with which I began). He made the highest score reported this season, with 206 in 44 overs, including nine sixes and 22 fours. I have often observed that the air in Taunton seems to breed fine cricketers in no fewer than three good cricketing schools (Taunton, King?s and Queen?s). Taunton School has produced many good players, among them John Jameson, Aftab Habib and Tom Abell (the last of them Wisden?s schoolboy cricketer of the year in 2012). But their achievements at school were eclipsed by the astonishing performance of Henry Gater who scored 206 in 44.4 overs against local rivals Queen?s. His first hundred came off 71 balls and his double hundred in 128 balls, some of his shots disrupting the tennis matches over the trees in an adjoining field.
Another record which may be hard to beat was achieved by Caterham when they faced Christ?s Hospital. In scoring 427 for five they exceeded by two runs the highest total I can remember in a school match, the 425 by Tiffin in 2004. Led by captain Ross Powell with 158, they amassed this score with some brutal hitting in the twenty overs after lunch. From an interval score of 176 for two, Powell and Cory Nelson put on 179 in just 81 balls before Powell was caught at long-on. The final five overs saw the score leap from 372 to 427, Nelson being bowled on 99. Hardly surprisingly, Christ?s Hospital had little chance of approaching this massive score and were bowled out for 201, a pretty respectable figure in normal circumstances.
Exam pressures seem to have forced many school matches, even on a Saturday, to be reduced to 35 overs or even 20. Free Foresters v Eton 20 overs (although midweek)? O tempora! O mores! When do we regain some sense of perspective in our education system?
There were many gripping fixtures this week, not least when (in a rare declaration game) the match finished in a draw on level scores. Hymers batted first and made a steady start (85 for three at lunch, a traditional sort of score) and eventually declared at 228 for six, Tom Jones making 72 and Lyndon Warkup 50. Ampleforth fell behind the required rate until Joe Lush scored a quickfire 44 from 24 balls before being run out. This inspired Ampleforth?s opener and captain Toby Pratt to lead his side to what seemed a relatively easy victory, needing only 13 from the final three overs. But when he was caught after a fine 105, Hymers managed to secure the draw when Tom Jones took a wicket on the last ball of the game with the scores level.
Shrewsbury gained revenge a day later when, after losing to Malvern in the National Twenty20 competition play-offs on Friday, they beat them convincingly on Saturday by bowling out the visitors for 142, having scored 222 for three in their 50 overs.
Oakham?s narrow victory over Stamford was even tighter than it seemed from the scoreline because the last pair were at the wicket as the winning run was scored, the captain and wicket-keeper Joe Kendall having dislocated his shoulder while in the field. This was the most serious but not the only drama in the match. Stamford batted first and made a decent start but then lost quick wickets later to finish at 173 for nine from 50 overs. In reply Oakham started disastrously at four for three but recovered thanks to a partnership of 112 in which Hamish Merriman made 54 and Lyndon James 44 (52 eventually). At 166-8 (effectively nine since Kendall couldn?t bat), the match was in the balance but the final pair held out to win with just over two overs to spare. A peculiar match in which 12 of the 19 batsmen failed to make double figures; seven of the 15 bowlers used failed to take a wicket.
In a high-scoring game at Woodhouse Grove Jibrael Malik scored a dominant 165, including 16 fours and nine sixes, as the home team amassed 287 for three. Captain Patrick Dixon also made 97 in an opening partnership worth 236. Durham fought hard but were eventually bowled out for 229 as the Grove secured a 58-run victory.
St Peter?s York are making a name for themselves these days. Their former captain Johnny Bairstow was the first Wisden schools cricketer of the year in 2007. Earlier this season, in a National Twenty20 round their captain Harry Stothard scored 94 not out from 48 balls, his fifty coming from 27 balls. On Saturday their latest young star William Huffer, aged only 15 and fresh from a heroic performance in England?s Under-17 football side when he came on in extra time and as goalkeeper saved a penalty in the shoot-out, took six for 14 in six overs against Ashville. St Peter's now play Woodhouse Grove in the North-East section final of the National Twenty20 competition.
Results
Free Foresters 254-4 dec (G Kennedy 125 not out), *St Edward's 255-1 (C Dickinson 138,W Bull 111 not out)
Hereford 177 ( G Cook 5-16), Monmouth 181-3 (J Norman 128 not out)
*Charterhouse 170-9 (55 overs), Eton 171-5 (Cowdrey Cup)
Solihull 85 (40 overs), *RGS Worcester 88-3
*Radley 211, Marlborough 214-6
Abingdon 294-7 (50 overs), *Haberdashers' Aske's 244 (L Bethell 5-45)
*Ashville 62 (W Huffer 6-14),St Peter's, York 63-2
*Sevenoaks 145-8 (35 overs), Eltham 146-5
*Bryanston 179-3 (35 overs)(P Oakshott 106), Clayesmore 177
*Woodhouse Grove 287-3 (J Malik 165), Durham 229
Tonbridge 353-6 (50 overs), *Dulwich 192
*King?s Taunton 293-7, Canford 183
*Reed's 190, Merchant Taylors' 192-8 (A Thomas 117 not out)
*St Edward's Oxford 203-9 (50.0 overs), Winchester College 198-9
Abingdon 294-7 (50 overs), *Haberdashers' Aske's 244 (L Bethell 5-45)
Hymers 228-6 (65 overs), *Ampleforth 228-7 (T Pratt 105)
Stamford 173-9 (50 overs), *Oakham 174-8
*Clifton 210-7 (50 overs) (F Trenouth 103), Dauntsey's 110 (G Jones 5-32)
*Caterham 427-5 (50 overs) (R Powell 158), Christ's Hospital 201
Taunton 355-9 (50 overs) (H Gater 206), *Queen?s Taunton 195
*Shrewsbury 222-3 (50 overs), Malvern 142
*Ashville 62, St Peter'sYork 63-2 (W Huffer 6-14)
Wellington (Berks) 187-8 (50 overs), *Cranleigh 191-4
Charterhouse 114-5 (20 overs), *Bede's 115-3
Wellingborough 249-9 (50 overs), *Bedford Modern 144
Myerscough Under-17 160-8 (40 overs), *Shrewsbury Under-17 163-3
Free Foresters 126-7 (20 overs),*Eton 112-6
*Eastbourne 232-9, Bede's 220
National T20 competition recent results
North-West section play-offs
Manchester GS 157-3, Bolton 161-5
North-West section final
Sedbergh 165-5, Bolton 88-6
Sedbergh win the North West section and now play either St Peter?s or Woodhouse Grove
West Midlands and Wales play-offs
Malvern 149-4, Shrewsbury 120
South West semi-final
SGS (Filton) 156-5 (20 overs), *Clifton 104-9