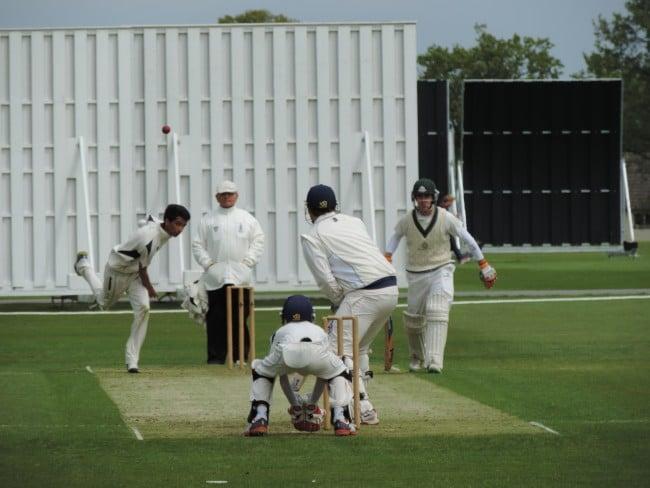 Haberdashers' captain Jay Purohit bowling to Reece Hussain
London buses syndrome. The third double-century in two weeks was recorded by Felsted?s Reece Hussain (nephew of Nasser). The game didn't look like a 230 win victory at lunch with 134-7 on the board though Hussain was on 98 not out. Felsted were rescued by a partnership of 122 for the eighth wicket. Arjun Minocha batting at nine and scoring a very composed 55 was essential to the recovery. For the visitors, left-arm spinner Shaniel Lakhani took six for 91. Hussain went on to reach 200 not out in a superb, chanceless performance and Felsted declared at 305 for eight. Haberdashers? were a shade shell-shocked at trying to surmount such a formidable target and batted perhaps a shade defensively, especially when their best batsman Ian Harris, fresh from a recent century, was out cheaply, and the young side collapsed to 77 all out.
St Edward?s Oxford was another school to post a score of over 300, in this case 329 for four in 50 overs, with Calvin Dickinson (181) and Alexander Woodland (109) scoring centuries. Again, the target proved a shade daunting for The Oratory who were dismissed for 102.
I suppose it couldn?t last. The fair weather of April, albeit with rather chilly breeze, gave way to the sort of weather with which schools cricketers are all too familiar. A fair amount of rain and ? slightly unusually for May ? very stiff winds. A typical match was at Oundle when Wellingborough arrived for a 40 over contest. It was a relatively low scoring game in very windy conditions where both teams struggled to score runs against spin. After the visitors posted 172 for four, Oundle were always on or just behind the rate in their chase but wickets near the end increased the rate just too much. With nine down and needing 12 off the last over to win, they could manage only five.
The National Twenty20 competition in the North West was completely washed out at the group stage and the regional organiser David Moss (formerly chairman of HMC schools cricket) was forced to do a complete re-jig of the structure with major exams imminent.
A really good advertisement for schools' cricket ended with an apparently more comfortable victory for Eton than it really was. Eton had posted a healthy score of 265 for seven in 55 overs, Al Russell (89) and captain Will Gordon Lennox's (53) partnership of 94 after lunch at more than a run a ball was crucial. Wellington were always up with the rate until they lost too many wickets. Russell then took a brilliant stumping to remove Wellington's danger man, Sam Curran. Eton followed this impressive win with victory over another fine cricketing school, Bede?s from Sussex. After setting a formidable target, 283 for six from 50 overs, they bowled out the visitors for 179.
Last year?s National Twenty20 winners Woodhouse Grove recorded their fourth win of the season against local rivals Bradford Grammar School. Off-spinner Nicky Bulcock took five for five in an impressive eight- over spell and they were dismissed for 70. Woodhouse Grove went on to win by nine wickets.
Results:
Wellingborough 172-4 (40 overs), *Oundle 165-9
*Taunton 118-6 (20 overs), Richard Huish 104-6
MCC 191-7 dec, *Bede's 181
*King?s Canterbury 176 (55 overs), Bede's 178-6
Bryanston 113-6 (20 overs),*Clayesmore 83-8
Eton 265-7 (55 overs), *Wellington (Berks) 226
*Eton 283-6 (50 overs), Bede's 179
Poole GS 48 (30 overs),*Clayesmore 49-2
Bryanston 113-6 (20 overs),*Clayesmore 83-8
Gentlemen of Leicestershire CC 123-7 dec, *Oakham 127-1
*Wellington (Berks) 242-8 (55 overs), Radley 138
*Felsted 305-8 dec (R Hussain 200 not out) (S Lakhani 6-91), Haberdashers' Aske's 77
Winchester 171 (50 overs), *Bradfield 173-7
Charterhouse 236 (49.5 overs) (R Hughes 118), *Cranleigh 238-5
Shrewsbury 229-3 (50 overs) (O Westbury 111), *Repton 185
*Clifton 295-5 (50 overs), Kingswood 279-9
Sevenoaks 151-5 (35 overs), *Sutton Valence 152-4
Prior Park 109 (40 overs), *Dauntsey's 110-0 (Peak Sports League)
Glasgow Academy 159-6 (30 overs), *High School of Glasgow 50
*Lord Wandsworth College 199-3 (35 overs), City of London Freemen?s 114-9
Stamford 153 (J Keeping 5-46), *Stowe 156-3
Bristol GS 102-9 (50 overs), *Blundell's 104-1
St Edward?s Oxford 329-3 (50 overs) (C Dickinson 181, A Woodland 109), *Oratory 102
*Caterham 230-3 (35 overs)(H Hanford 101 not out), Worth 231-4 (Martin Berrill Sports League)
*RGS Worcester 193 (50 overs), Monmouth 190-7
Eastbourne 230-8 (40 overs), *Brighton 193-9
*Reed's 196, King's Canterbury 168-7
*King Edward VI School, Southampton 130 (50 overs), Bryanston 134-8
*Woodhouse Grove 182-1 (P Dixon 102 not out) v Manchester GS (rain)
Bradford GS 70 (N Bulcock 5-5), *Woodhouse Grove 71-1
*Harrow 326-5 (55 overs), Tonbridge 181
*Whitgift 280-7 (50 overs), Bede's 229
Wellingborough 211-9 dec, *Oakham 145-4
*Bedford Modern 153-8 (45 overs), Berkhamsted 103
National Twenty20 competition
North East section group 4
*Durham 150-4, Barnard Castle 104-9
Durham win the group
North East section group 4
Hymers College 120-9, *St Peter?s, York 121-0
Ampleforth withdrew
St Peter?s win the group
Eastern section B group 5
Oundle 149-7, Kimbolton 85
Kimbolton 94-5, Wellingborough 95-1
Wellingborough 125-6, Oundle 79
Wellingborough win the group
Eastern section B group 6
Bedford 133-8,*Stowe 102
There are other matches to be played in this group
South East section final
Bedes 122-7, *Tonbridge 123-1
Hurstpierpoint 260-5, Duke of York?s 59
Tonbridge 129-6, Hurstpierpoint 134-0
Hurstpierpoint win the South East section and now play the London winners
South London section group 2
Dulwich 117-7, St George?s Weybridge 119-7
Dulwich win the group
South London section group 2
St Paul's 88-6, Trinity 91-5
Caterham and Epsom withdrew
Trinity win the group
South West section group 1
Bristol GS 61-9, *Clifton 62-1
There are other matches to be played in this group
South West section group 2
SGS College 110-5 (20 overs), *Kingswood 99
There are other matches to be played in this group