I wrote last year (and in Wisden) about two startling bowling performances. One was by Robert Bassin of Bedford Modern who took all ten wickets for nine runs in the Under-14 county cup; the other was Aldenham?s Lee Tyrrell with an almost unbelievable nine for three.
These two extraordinary performances were last week trumped in an RNCF Under-13 Cup game by Oli Tomalin of St Olave?s (St Peter?s York prep school) who took all ten wickets for seven runs in 3.5 overs. All ten were clean bowled and his amazingly brief spell (and entire innings!) included a hat-trick with the first three balls of the innings and, just for good measure, a further two in the same over. Breath-taking stuff, and I think we can safely say this is a record which neither he nor anyone else will ever beat.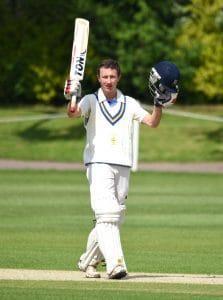 Alex (AJ) Woodland who scored 204 for St Edward's
St Edward?s Oxford have enjoyed outstanding success in recent years and always lead the way in playing a huge number of regular fixtures every season. Last week they broke school records when Alexander (AJ) Woodland and Ben Charlesworth put on 310 for the first wicket reaching 331 for one in their 50 overs. Woodland scored his fourth century of the season in reaching 204 not out and 4th-former Charlesworth his second with 110.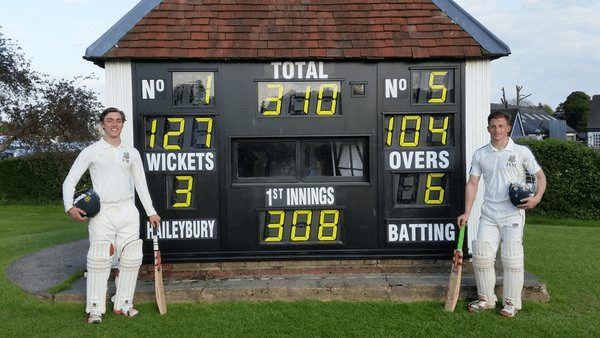 Freddie Walker and Ollie Heazell's remarkakble stand
In that endangered species a time game, Stamford might have thought their declaration of 308 for four a bit challenging, albeit after only 49 overs. That was largely due ? after being dropped on 1 – to an excellent double hundred (202 not out) by their captain Sam Evison (and his brother Joey has scored two centuries for the first team in five matches as a Year Nine). Hosts Haileybury probably thought so too when they were 10 for two. However, from this unpromising position the game was turned around first by number four Ben Morris with a fluent half-century and then by opener Freddie Walker (127 not out) and Ollie Heazell (104 not out) who took altogether only 43 overs (and six to spare) to overtake the target.
Beechen Cliff, a boys? state school in Bath, takes its competitive sport and other extra-curricular activities admirably seriously. They nearly pulled off an astonishing victory against Clifton in the National Schools Twenty20 competition. In difficult conditions because of recent rain, Clifton struggled to get the ball away easily and reached only 116 for four, a modest score these days. However, when Prem Sisodiya reduced the visitors to 12 for five, taking three for six in his first couple of overs, that seemed to be it. Far from it. With very sensible batting and excellent running Tom Holman and Louis Mann then put on 82 for the sixth wicket and seemed to be nudging Beechen Cliff to a tight but likely victory. At this point, in a game-changing spell, Fergus Cole took a crucial hat-trick, the first of whom was Holman on 54. An over later Mann on 26 seemed to have hoisted a massive six over long-on, only for the ball to be plucked from the air by Rob Clarke. Finally, Beechen Cliff needed four from the last ball with nine down but the challenge proved too great: the last batsman, attempting the four, was caught and the visitors were all out for 113.
There was an even more tight and thrilling finish at the lovely Whitgift ground. Harrow?s 230 all out after being inserted was particularly dependent upon another brilliant century (110) from Anshuman Rath and the total seemed inadequate, especially once Whitgift?s openers got going. However, the Harrow spinners began to assert control such that the last over saw Whitgift needing nine from the last over with nine down. By the final ball of the match two were needed for a win and one for a tie. Ed Taylor with a nifty under-arm throw from extra cover ran out the last Whitgift batsman to win the game for Harrow by one run.
A brief follow-up to last week?s item about record scores. I was reminded by an alert reader (not connected with either school) that Solihull and Nottingham High School achieved the highest aggregate score in a match in 2010. I have now corrected this and you can read about it here.
The previous week, The Royal Grammar School Worcester were in deep trouble at 36 for five against Monmouth but they were rescued by Year 12 number four batsman Rhodri Williams who not merely scored his maiden century (105) coming in at nine for two to lead them to 209 all out but in the process nursed the lower order with stands of 53 for the sixth wicket, 61 for the seventh and 52 for the 9th. Sadly the game was then curtailed by rain with Monmouth on 81 for three.
Sign of the times: when Glasgow Academy played the XL club (the wandering club for players aged 40+), 16 players represented the school side. Some played in the morning and went home in the afternoon to prepare for an exam. Others revised in the morning and played in the afternoon. All credit to the boys for honouring the fixture and to the XL club for allowing this bizarre arrangement (though hockey teams have long since had a squad of 16 players who can come and go during the game). The game itself was not that exceptional, the XL being bowled out for 161 and the school overhauling their total to win by five wickets.
Results:
*St Edward's 338-1 (50 overs) (A Woodland 204 not out, B Charlesworth 110), Abingdon 87
Stamford 308-4 dec (S Evison 202 not out), *Haileybury 310-3 (F Walker 127 not out, O Heazell 104 not out)
RGS Worcester 209 (R Williams 105), *Monmouth 81-3 (rain)
Gentlemen of Leicestershire CC 178-5 dec, *Oakham 180-8
Watford 2nd XI 104-6 (20 overs), St Columba's, Herts 69
Stowe 250-7 dec (B Lee 122), *Uppingham 171-5
Uppingham 281-9 dec & 161-6 dec, *Oundle 225-9 dec & 149-6
Trent 160, *Uppingham 117
Bede's 114-7 (20 overs), *Cranleigh 115-6
XL club 161, *Glasgow Academy 162-5
*Bede's 205, Eton 206-4
*Bristol GS 131-9 (40 overs), Kingswood 101 (J Nightingale 5-23)
*Winchester 149-9 (50 overs), Charterhouse 150-7
Cranleigh 235-7 (50 overs) (O Pope 105), *St Paul?s 131
Sevenoaks 170-7 (35 overs), *Cranbrook 97
Haberdashers' Aske's 277-6 (50 overs), *St Albans 146 (S Lakhani 5-22)
* Durham 176 (C Wood 5-39), St Peter?s York 57
Hymers 73, *Pocklington 74-4
Sedbergh 183 (50 overs), *Shrewsbury 184-5
*Clifton 271-3 (50 overs), Monmouth 62
*Durham 176 (C Wood 5-39), St Peter's, York 57
Hutchesons' GS 120, *High School of Glasgow 121-1
Brighton 243-6 (40 overs), Portsmouth GS 187
*Oakham 252-7 (50 overs), Warwick 224 (49.2 overs)
Stowe 202, *Bradfield 164
*Stowe 137-7 (20 overs), Cranleigh 95
Cranleigh 201-1 (20 overs), *Stowe 140-6
*Harrow 279-7 dec, Stowe 167-5
Abingdon 98-8 (20 overs), *Stowe 99-3
*Stowe 166-7 (20 overs), Bedford Modern 150-4
Stowe 202, *Bradfield 164
*Stowe 200-5 dec, Rugby 196-4
Stowe 250-7 dec,*Uppingham 171-5
*Bloxham 126-5 dec, Wellingborough 129-3
Caterham 220-7 (40 overs), *Seaford 186-9 (Martin Berrill Sports League)
*Uppingham 178-8 dec, Repton 179-6
Kingston GS 195-7 (35 overs), *Christ?s Hospital 174
Sir Thomas Rich?s 98?8 (25 overs) *Wycliffe 94 6
*Wycliffe 145?5 (20 overs) Pate?s 142?5
Hampton 225-7 (50 overs), *St John?s Leatherhead 217-8
*Culford 162 (J Hulley 5-27), Framlingham 127
Kelvinside 36, *Glasgow Academy 37-0
RGS Guildford 159, *Reed?s 160-3
Colston?s 98, *Dauntsey?s 99-5
*Sherborne 122, Cheltenham 124-1
Woodhouse Grove 279-3 (50 overs)(B Worcester 135 not out, N Bulcock 104), *QEGS Wakefield 173-4
National Schools Twenty20 (cumulative)
To see the state of the competition overall, click here.
North East section group 1
Durham 145, RGS Newcastle 100-9
Durham 144-5, Barnard Castle 93-8
Durham win the group and now play Worksop
North East section group 2
Silcoates 88-6, QEGS 92-5
Silcoates 85-6, Bradford 86-1
QEGS 106-6, Bradford 94-8
QEGS Wakefield win the group and now play Woodhouse Grove
North East section group 3
Worksop College 136-8 St Peter's, York 58
Hymers College 141 Worksop College 142-0
Hymers College 118-8 St Peter's, York 119-3
Worksop win the group and now play Durham
North East section group 4
Woodhouse Grove 188-4, Birkdale 59
Ashville 164-7, Pocklington 144-8
Woodhouse Grove 201-3, Ashville 173-5
Woodhouse Grove win the group and now play QEGS Wakefield
North West section group 4
*Manchester GS 201-1 (S Perry 139 not out), Stockport GS 80
Cheadle Hulme 95-7, *Manchester GS 99-3
Manchester GS win the group
North West section group 5
Lancaster RGS 118-7, *Sedbergh 120-3
Myerscough 110-9, *Sedbergh 112-1
*Sedbergh 168-4, Birkenhead 55
Sedbergh win the group
North West section play-off
Merchant Taylor?s Crosby 64, Bolton 65?7
North West section semi-finals
Bolton School 104?9, Manchester GS 105?2
Sedbergh 168-4, Birkenhead 55
Manchester GS play Sedbergh in the North West final
East section group 1
Repton 135-6, *Oakham 136-5
*Oakham 222-4, Trent 166-8 (20 overs)
Leicester GS 90, Repton 93-4
Oakham win the group
East section group 2
Perse 128-5, Leys 132-5
Greshams 134-8, Leys 113
Perse 154, Greshams 47
The Perse win the group
East section group 3
Felsted 148-7, Shenfield 93 9
Felsted 170-5, Ipswich 91-8
Felsted 188-5, St Joseph?s 96-8
Felsted win the group
East section group 4
Stamford 165?6, Rugby169?5
Oundle 117, Rugby 121-3
Rugby win the group and now play Bedford in the semi-finals
East section group 5
Bedford 169-5, *Wellingborough 133-6
Wellingborough 187-3, *Kimbolton 110-5
*Bedford 137-3, Stowe 108
Bedford win the group and now play Rugby in the semi-finals
East section play-offs
Felsted 181-5, Perse 120-8
*Felsted 162-4, Oakham 126
Felsted play either Rugby or Bedford in the regional final
West Midlands section group 1
Denstone 98-9, Bablake 99-2
Bablake 134-4, Warwick 138-2
Bloxham withdrew
Warwick wins the group; Bablake runners-up
West Midlands section group 2
*RGS Worcester 197-1, Wycliffe 96-4
Monmouth 130-6, Dean Close 131-8
Monmouth 154-7, Wycliffe 153-8
*RGS Worcester 154-5, Dean Close 112
RGS Worcester win the group; Dean Close runners-up
West Midlands section group 3
Bromsgrove 200-6, Queen Mary?s GS Walsall 40
Malvern 138-8, Wrekin 139-5
Queen Mary?s GS Walsall 111-9, Malvern 114-3
Bromsgrove 155-7, Wrekin 110
Bromsgrove win the group; Wrekin runners-up
West Midlands section group 4
*Shrewsbury 138-4, Wolverhampton GS 76-6
Newcastle under Lyme 50, Ellesmere 53-3
*Shrewsbury 117-8, Ellesmere 62-8
Wolverhampton GS 110, Newcastle under Lyme 102
Shrewsbury win the group; Ellesmere runners-up
South East section group 1
Bede's 125-8, Aldridge 116-7
Ardingly 162, Brighton 89
Ardingly, *Bede's 103-2
Bede?s win the group
South East section group 2
Eastbourne 132-8, *Cranleigh 133-4
Lancing 106, Hurstpierpoint 111-2
Hurstpierpoint 112-8, *Cranleigh 116-2
Cranleigh win the group
South East section group 4
Kent College 99-8, Epsom 103-4
Simon Langton withdrew; Tonbridge had a bye
Tonbridge 190-3, Epsom 109-6
Tonbridge win the group
South East group semi-final and final
*Tonbridge 218-5, Bede?s 160-9
Dukje of York?s RMS withdrew
*Tonbridge 120-9, Cranleigh 121-9 (T Pettman 5-24)
Cranleigh win the South East section
North London section group 1
Forest 83-9, *St Albans 84-1
St Albans win the group
North London section group 2
*Mill Hill 79, Berkhamsted 77-8
Mill Hill win the group
North London section group 3
*Merchant Taylors' 214-4, Aldenham 104
Merchant Taylors' win the group
North London section semi-finals
Merchant Taylors' 165-8, Berkhamsted 151-4
St Albans had a walkover after Mill Hill withdrew
North London section finals
Merchant Taylors' 165-8, St Albans 147
Merchant Taylors? win the North London section
South London section group 1
RGS Guildford 169-5, Trinity 171-4 18.3 overs
KCS Wimbledon 142-9, RGS Guildford 144-5
KCS Wimbledon 121-7, Trinity 110
RGS Guildford win the group on NRR
South London group 2
Whitgift 198-3, Wilson?s 64-6
St George?s 114, Reed?s 115-?
Whitgift 199-5, Reed?s 57
Whitgift win the group
South London section group 3
*Dulwich 194-4, John Fisher 90
St Benedict's 89, Hampton 95-1
Hampton 155-7 *Dulwich 136-6
John Fisher 126-5, St Benedict's 128-2
Hampton 141-7, John Fisher 109-4
St Benedict?s 117-8, *Dulwich 121-5
Hampton win the group
South London section group 4
Eltham 166-3, Ibstock 59
Langley Park 94, Chigwell 95-5
Eltham 153-2, Chigwell 113
Eltham win the group
South London section semi-finals
*Whitgift 171-4, Hampton 124-7
*Eltham 98-8, RGS Guildford 99 for 3
Whitgift play RGS Guildford in the South London final
South West section group 1
King Edward?s Bath 146-7, *Beechen Cliff 147-4
*Bristol GS 136-3, Beechen Cliff 138-4
*Bristol GS 136-4, King Edward?s Bath 137-3
King Edward?s S Bath conceded to Clifton
*Clifton 116-4, Beechen Cliff 113
Clifton win the group
South West section group 2
Taunton 190-5, *Downside 99-5
*Taunton 118-7, Kingswood 119-2
SGS (Filton) 168-4, *Taunton 108-9
SGS (Filton) 90-8, *Kingswood 84-6
Downside 108, *Kingswood 112-0
?SGS (Filton) win the group
South West section group 3
*Clayesmore 109, Plymouth 110-5
Millfield 235-4 (T Lace 110), *Sherborne 109-7
Millfield win the group
South West section group 4
Queen?s Taunton withdrew
King's Taunton win the group
South Central section group 1
*Winchester 133-9, Abingdon 99
Elizabeth College Guernsey withdrew
Winchester win the group
South Central section group 2
Lord Wandsworth 80 (20 overs), *Bradfield 84-0
Lord Wandsworth 132-9 (20 overs), Radley 118-8
*Bradfield 146-5 (20 overs), Radley 104-8
Bradfield win the group
South Central section group 3
*St Edward?s 104-7, Wellington (Berks) 107-1
Ryde withdrew
Wellington win the group
South Central section group 4
*Oratory 79-9, Portsmouth 80-3
*Oratory 126-8, Marlborough 127-3
Portsmouth 152-4, Marlborough 156-6
Marlborough win the group
South Central section play-offs
Winchester 95-9, *Wellington (Berks) 96-2
Bradfield 91-9, Marlborough 95-4
Wellington play Marlborough in the South Central section final
South Central section final
*Wellington (Berks) 167-5, Marlborough 151-6
Wellington win the South Central region