Click on either thumbnail below to see a larger version
A 13-year-old girl at Felsted prep school while playing for Essex girls Under-13s (as of September 1st 2013) produced an astonishing performance recently, hitting three centuries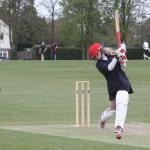 (100 not out, 110 not out and 141) in consecutive innings. Essex are sure that this has never been achieved in the county before, and statisticians are searching the record books to discover whether this has ever been achieved at any level of women?s or girls? cricket. Hundreds in any women?s cricket have been pretty rare until recent times and hundreds by any Under-13 rarer still, given the brevity of their games. All three hundreds were remarkably scored in 35 over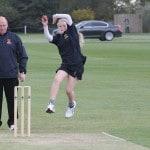 matches.
Nancy Hebron is following in the footsteps of her two brothers who both played with distinction for Felsted and also represented Essex in junior teams. For good measure, she also opens the bowling both for Essex and for the Felsted prep school 1st XI, where she plays with one other girl and nine boys.
Two thrilling matches from ten days ago, both of them further fine advertisements for schools cricket. Bromsgrove won the toss on a very sunny day at Malvern and elected to bat. The hosts struggled to stem the flow of runs or catch their catches with Henry Moberley batting maturely for a fine 108. This set the scene for a destructive innings of 88 not out by Matthew Lamb leading to a formidable score of 298 for four in 50 overs. Malvern were determined not to panic but lost two quick wickets, after which Josh Haynes and Alex Milton batted superbly, the latter finishing on 115. Once he was out there was still much to do but the lower order nudged their way towards the total leaving 13 to score from the last over. They managed 12 of them, thus tying the scores with nine down but as this was also a Chesterton cup match Bromsgrove were deemed to have won by losing fewer wickets.
Jason Gallian of Felsted and Mark Ealham at King?s Canterbury, the England Test cricketers who formerly played together for Notts CCC, were opposing coaches when the two schools met at Felsted on that glorious Saturday. King?s understandably chose to bat and set off vigorously, led by George Baker White (140) who threw his hands at anything wide. With Oliver Tikare (run out for 50) he built a excellent partnership of 164 until a flurry of wickets led by off-spinner Henry Hoare began to keep the runs in check. A clever declaration of 256 for five before half-time was attacked sensibly by Oliver Grayson (son of the Essex coach Paul) and Peter Kilpatrick (47) leading to a teatime score of 60 in 14 overs. The game remained in the balance until Felsted lost five quick wickets, three of them to Tikare?s leg-spin. At a somewhat precarious 140 for five, with the draw still an option, Felsted went for the win led by Grayson (90) and Ashleigh Cox (83 not out), who together kept the scoreboard moving without taking too many risks. The partnership of 95, increasingly dominated by 16-year-old Cox, was enthralling as Felsted combined ones and twos with the occasional boundary. The game was all but won but then Grayson was caught in the deep. Cox seized his moment to take 16 from the 17th over of the final 20 and Felsted finished with a six from their number eight (Arjun Minocha), to win with eight balls to spare.
King?s Taunton?s captain Neil Brand has been in fine form this season scoring three centuries in two weeks (against Millfield, Bryanston and Exeter). In the latter game he scored 176 to take King?s to 360 for two in 50 overs. He has totalled 517 in just four weeks at an average of 130, and also contributed 12 wickets with his slow-left-arm. Oliver Westbury of Shrewsbury managed six consecutive 50s, taking his tally for the season to 440. This might have surpassed 500 runs had he not missed the first four matches of the season as a result of being on a tour in St Lucia with Worcestershire Under-17s.
In the National Twenty20 competition, severely hampered by rain on the wrong days and the difficulties of re-scheduling during the wretched exam marathon (sometimes known as the summer term), Shrewsbury, the current holders and at least semi-finalists in all four years of the competition, were knocked out by Bromsgrove, while Bede?s with a similar record but never having won were knocked out by Tonbridge.
In a thriller of a National Twenty20 match Bradfield grabbed victory from the jaws of defeat. Abingdon won the toss and elected to bat first, which paid immediate dividends as Daniel Matthews and Rory Garrett raced to 79 off just eight overs before Matthews fell for a brilliant 57 from 34 balls. At that stage on a belter of a wicket it looked as if Abingdon might post 180+, but some excellent bowling from Bradfield in the middle overs restricted Abingdon well. Wickets soon fell regularly, but still leaving an impressive total of 156-6. Bradfield also made a quick start with openers Oliver Baker and Gus Atkinson flying to 46 from five overs before both were out in a superb Leo Bethell over. Once again the middle overs were extremely well managed by Abingdon with excellent fielding, in particular their catching, producing several wickets. After 16 overs Bradfield were only on 124-6 but a superb cameo from Oliver Smithson (17 from 10) combined with exellent batting and running between the wickets with Alistair Higginson (29 not out) brought Bradfield in sight of victory. Smithson was brilliantly run out by Matthews going for the winning run with three balls left, but Bradfield were not to be denied. An exhilarating run chase was a fitting end to a superb game of cricket.
A combination of half-term, rain and exams means a very short list of results. For a complete list of all National Twenty20 results played before this week see Tuesday May 20th 2014. To see details of the 2014 competition click here.This comprises six linked spreadsheets. Click on the tabs at the bottom.
Results:
Bradford GS 136 (50 overs), *GSAL (Leeds) 138-9
Blundell?s 192-6 (40 overs), *King?s Taunton 193-7
*King?s Taunton 360-2 (50 overs) (N Brand 176, B Lynch 123 not out), Exeter 107
Bromsgrove 298-4 (50 overs) (H Moberley 108), *Malvern 298-8 (A Milton 115)
King?s Canterbury 256-5 dec (G Baker White 140), *Felsted 262-6
XL club 81 (C Burt 5-14),*Glasgow Academy 82-4
Repton 201-7 dec,*Uppingham 118-9
MCC 155-9 (30 overs), *Taunton 156-8
Eastbourne 132, *Bede's 134-8
Harrow 166-5 (40 overs), *Bradfield 123
*Winchester 196-7 (50 overs), Bradfield 186
Wellington 100-7 (20 overs), *Bradfield 52
Bradfield 203 (50 overs), *Radley 197-8
National Twenty20 competition
Eastern region A final
Bedford 182-6, *Oakham 123-9
Bedford now play the winners of Eastern region B
West Midlands and Wales region play-offs
Malvern 253-3, Llandovery 55-9
Leicester GS 115-5, RGS Worcester 118-2
Denstone v Monmouth ? Monmouth conceded
Bromsgrove 184-6, Shrewsbury 152
Regional semi-finals: Malvern v Bromsgrove, Denstone v RGS Worcester
South London section play-offs
Hampton 100-9, Whitgift 105-1
(Reed?s withdrew)
Whitgift now play Eltham in the South London final
South Central section play-offs
Abingdon 157-7, Bradfield 159-7
St Edward?s Oxford 183-2, Oratory 98
St Edward?s Oxford now play Bradfield in the South Central final