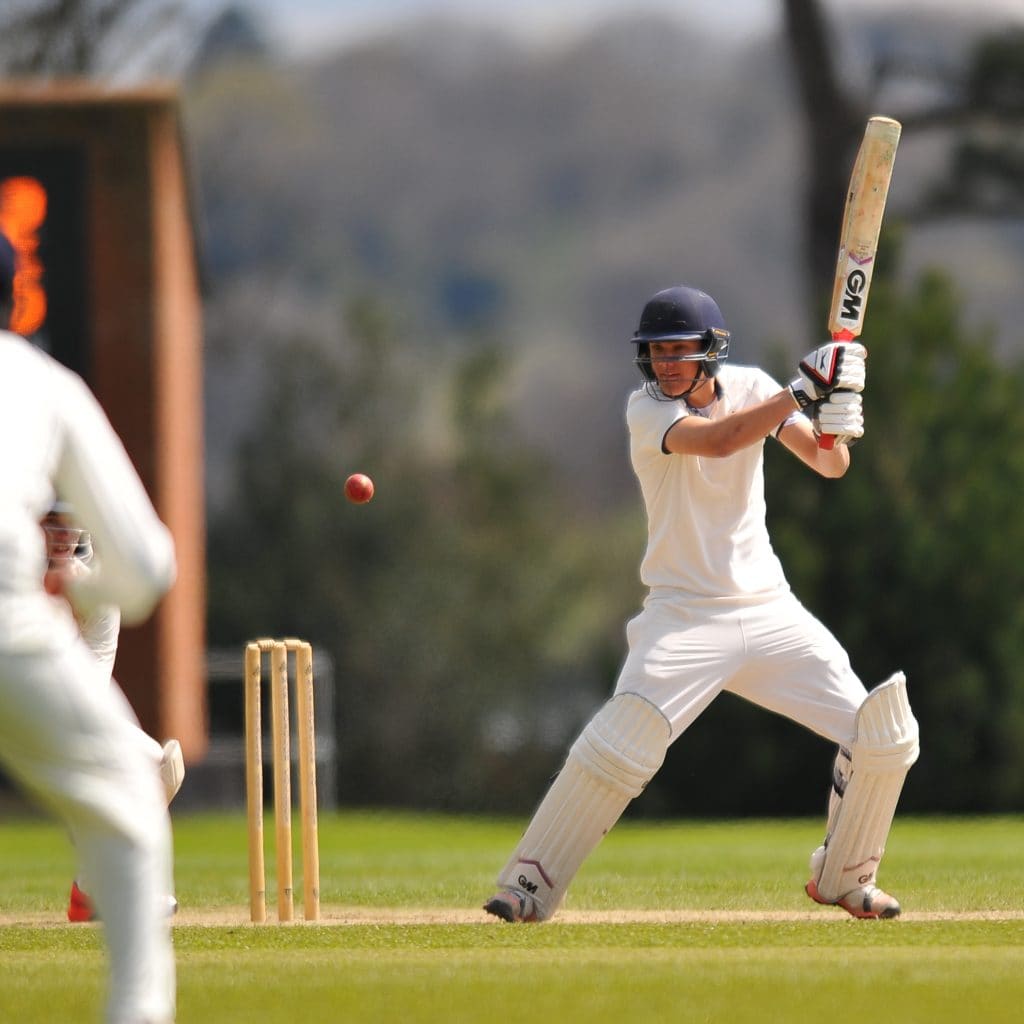 Only two weeks into the season and we already have another massive score. Marlborough captain Billy Mead (pictured above) scored 214 not out from 112 balls including 12 fours and 18 sixes in a total of 401-3 from 50 overs. Not surprisingly, Sherborne found the total daunting and were all out for 208.
Bedford rattled up 330 for six with Emilio Gay scoring 126 of them, while Clifton, fresh from a tense three-run win against Cheltenham midweek scored 307 for three against Taunton, the all-rounder Prem Sisodiya making 123.
I normally cover only Under-19 (ie 1st XI) cricket, but news reaches me of an extraordinary performance by a 12-year-old in Year 7. Harry Seagrave of Haileybury opened the batting and hit 14 fours and 5 sixes. He used 21 balls to get to his 50 and 40 balls in total for his century. The opening partnership was 141 before Harry was retired without giving any chances. He then scored another century last Saturday.
At Queen Mary's Grammar School, Walsall, Hashim Iqbal played his first (and probably last!) match for the 2nd XI and scored 101 including'10 fours and'5 sixes.
One of the penalties of playing nothing but overs cricket (not to mention ECB regulations on safety) is that bowlers have too little opportunity to develop their skills. Indeed, it can often happen that, just when a bowler is on a roll he has to be taken off. Oliver Clarke of Stowe had neither problem when playing a declaration match against Bradfield. As a left-arm spinner he was allowed to bowl through the innings and did so, taking eight for 44. He also opened the batting and was top-scorer with 37, chasing 121. Oliver also plays for Oxfordshire CCC.
Woodhouse Grove started the season with an unlikely three-run victory against St Aidan's School. Chasing the Grove's 177-6 in 40 overs, St Aidan's were 142-0 with eight overs remaining and only 36 runs required. In a massive swing of momentum Grove managed to secure victory with some tight bowling and fielding in the final few overs. St Aidan's is a highly regarded state school in Harrogate who play some senior cricket on Wednesday afternoons but only three full fixtures – Woodhouse Grove, MCC and Ashville College. They should play more! Several of their pupils play in strong local league sides.
The National Twenty20 is now well under way with, happily, several state schools making their mark, including Shenfield in Essex who have won through to the next round.
Results:
Marlborough 401-3 (S Mead 214 not out), Sherborne 208
*Magdalen College School 290-6 (50 overs) (T Scriven 101), Haberdashers' Aske's 209
Reigate GS 213-5 (30 overs), *Christ's Hospital 146-5
*Christ's Hospital 60, Lancing 61-3 (Langdale Cup)
*Christ's Hospital 167-9 (40 overs), Worth 130 (Martin Berrill Sports League)
*Brighton 196 (50 overs), Epsom 178
*Uppingham 107 (43 overs) (E Tattersall 5-21), Oakham 108-1
Bradfield 120 (O Clarke 8-44), *Stowe 124-4
*RGS Guildford 297-6 (50 overs) (A Gonella 105), Trinity 278
*Winchester 200-8 (50 overs), Dauntsey's 124-9
St Edward's 235-8 (50 overs), *King Edward VI Southampton 176
*RGS High Wycombe 245-4 (28 overs)(E Casterton 119), Aylesbury GS 210-7
RGS High Wycombe 224-5 (45 overs), *Merchant Taylors' 228-8
Downside 57,*Bryanston 58-1
*Eastbourne 259, King's Canterbury 70
*Lawrence Sheriff 82, Queen Mary's GS 86-3
*GSAL (Leeds GS),151-7 Durham 137-7
Durham CCC Academy 169-9,*Durham 172-3
RGS Newcastle 115,*Durham 117-1
MCC 184-2 dec (M Jefferies 108 not out),*Culford 159-9 (A Packer 111)
*Woodhouse Grove 177-6 (40 overs), St Aidan's 174-4
*Clifton 155-8 (35 overs), Cheltenham 152-8
Rugby 132-7 (20 overs),*Warwick 137-4
*Canford 191-5 (30 overs)(F Organ 118 not out), Winchester 137
*Bristol GS 230-6 (40 overs) (M Brewer 111), KES Bath 182
RGS Worcester 270 (50 overs) (C Turner 102, M Leatherdale 5-54), *Warwick 117
*Christ's Hospital 60 (20 overs), Lancing 61-3
*Eastbourne 173-2 (20 overs)(B Twine 106 not out), Seaford 79
Beechen Cliff 128 (40 overs) (J Grant 5-20),*Dauntsey's 132-2 (Monkhouse Intersport League)
*Charterhouse 213 (55 overs), Eton 133
Bablake 139-5 (20 overs),*KES Birmingham 144-1
Bromsgrove 194-2 (20 overs), (F Jajura 107 not out),*KES Birmingham 117-6
MCC 253-6 (J Marsh 100 not out), *Malvern 255-4
Emanuel 181-8 (40 overs), *Latymer 131
MCC 225-7 dec (P Davies 101),*Haberdashers' Aske's 226-7
MCC 184-4 (100 overs),*Framlingham 187-7
MCC 200-3 dec,*Kirkham GS 163-8
*St Albans 251-5 (40 overs) (C Scott 106), Watford 174-9
*Bedford 152-2 (20 overs), Perse 128-7
*Bedford 330-6 (E Gay 126), Felsted 175
Clifton 307-3 (P Sisodiya 123),*Taunton 159
*Uppingham 172-4 (29 overs),Oundle 159-6
*Uppingham 107, Oakham 108-1
MCC 203-2 dec,*Ratcliffe 120
Ratcliffe 202,*King Henry VIII 203-0 (S Chatta 103 not out)
*King's Macclesfield 170, Cheadle Hulme 101
*Radley 242-9 (55 overs), Eton 222
*Manchester GS 243-9 (S Perry 110) (50 overs),Woodhouse Grove 196-6
Bradfield 120 (O Clarke 8-44),*Stowe 124-4
Old Wycliffians 276-2 dec (N Cooper-Llanes 126),*Wycliffe 217-5 (W Naish 107)
*Malvern 224 (J Haynes 84), King's Taunton 199-9
*Malvern 125, Repton 126-4
*St Peters, York 120, Worksop 121-1.
Durham 310-4 dec,*Barnard Castle 56
Oakham 190-6, Stowe 194-9
Oakham 160, Dubai College 82
Bedford 197, Oakham 198-5
Oakham 229-7, Zayed Cricket Academy 150
Emanuel 181-8 (40 overs),*Latymer 131
*Charterhouse 213 (55 overs), Eton 133
MCC 200-3 dec, Kirkham GS 163-8
*St Albans 251-5 (40 overs) (C Scott 106), Watford 174-9
*Bedford Modern 102-8 (20 overs), Stowe 103-4
*QEGS Wakefield 144-8 (45 overs), Sedbergh 145-6
*Sedbergh 342-7 (50 overs) (H Brook 163), Old Sedberghians 41 (C Sanders 5-13)
Framlingham 162,*Norwich 163-6
*Bede's 185, Cranleigh 186-2
Judd 50,*Eltham 52-1
Wellingborough 216 (Z Akhtar 5-36),*Perse 152
*St John's Leatherhead 169, St Paul's 173-5
Royal Logistic Corps 130-7 (20 overs),*Wellington (Berks) 134-1
Whitgift 144-8 (20 overs),*Wellington (Berks) 148-7
Hurstpierpoint 183-3 (20 overs),*Wellington (Berks) 139-5
National Schools Twenty20 competition (cumulative)
North West section group 1
Merchant Taylors' *Crosby) 140'7, King's Chester 142'3
King's Macclesfield 173-8, Grange 88
Grange 143-6, Merchant Taylors' 148-0
Kng's, Chester 120-8, King's, Macclesfield 104-7
King's, Chester win the group
North West section group 2
Birkenhead School 290-2, Wilmslow HS 48
Birkenhead School 237-2, Liverpool 50
Birkenhead win the group
North West section group 3
Bolton 203-1, *AKS Lytham 121-8
*AKS Lytham 244 -4, Kirkham 220 – 6
Altrincham GS 91, Bolton 95-1
Bolton win the group
North West section group 4
Manchester GS 185-4, Stockport GS 111-5
Audenshaw 72, Cheadle Hulme 73-0
Audenshaw 160-7, Stockport 129-8
Cheadle Hulme 84, Manchester GS 86-5
Manchester GS win the group
North West section group 5
Sedbergh 235-3, Myerscough 114-9
Sedbergh 195-5, Lancaster RGS 97
Sedbergh win the group
East section group 2
Oakham 99-9, *Oundle 95
Stamford 101, Oakham 105-3
Oakham win the group
East section group 3
Stowe 146'8, Rugby 150'1
Stowe 131'6, LGS 134'2
Rugby 168'7, LGS 120
Rugby win the group
East section group 4
*Kimbolton 125-6, Wellingborough 129-2
*Bedford 174-4, Wellingborough 106-7
Bedford win the group
East Region group 6
Gresham's 69-8, Norwich 70-4
Gresham's 138-3, Framlingham 141-2
Norwich 175-5, Framlingham 152-7
Norwich win the group
East section group 7
Shenfield 174-6, 113-6
Ipswich 171-8′ Brentwood 123-8
Shenfield 100-2, Ipswich 96-8
Shenfield win the group
South East section group 1
Bede's 126, *Eastbourne 127-3
*Eastbourne 140-6, Brighton 102
Bede's 115-7, Aldridge Cricket Academy 94-8
Eastbourne 127-3, Bede's 126
Eastbourne win the group
South East section group 2
Cranleigh 175-6, *Reigate GS 90
Cranleigh 207-2, St Lawrence 62
Reigate GS 166-3, St Lawrence 125-9
Cranleigh win the group
South East section group 3
Claremont 107-3, Ashford 91'8
*Hurstpierpoint 161-4, Claremont 137-2
Hurstpierpoint win the group
South East section group 4
Tonbridge 242'6, Kent College 52
*Tonbridge 235'4 (J O'Riordan 121), Simon Langton 100
Tonbridge win the group
North London section'group 1
UCS Hampstead 95, *Merchant Taylors' 98-1
Aldenham 141-7, Forest 144-6
*Merchant Taylors' 214-2, Forest 118
Merchant Taylors' win the group
North London section group 2
*St Albans 183-2, Bancroft's 163-7
St Albans win the group
South London section group 1
St Benedict's 82-8, Whitgift 85-1
Whitgift 192-5, Reed's 163-6
Whitgift win the group
South London section group 3
Epsom 124-7 Hampton 125-5
Trinity 179-5 Langley Park 126-8
Trinity 156-6 Hampton 103
Langley Park 105-5, Epsom 106-2
Trinity win the group
South West preliminary play-off
Mount Kelly 148-3, *Clayesmore 95
South West section group 4
*South Dartmoor Community College 81-9 (20 overs), Sherborne 83-2
(others still to be played)
South Central section group 1
*Oratory 133-6, RGS High Wycombe 137-5
Radley 160-4, RGS High Wycombe 161-3 (E Casterton 109 not out)
Radley 179-4, Elizabeth Guernsey150-6
RGS High Wycombe win the group
South Central section group 2
St Edward's 154-4, Abingdon 107-9
Magdalen College School 211-5, Reading Blue Coat 70
*St Edward's 128-5, Magdalen College School 106
St Edward's win the group
South Central section group 3
Wellington (Berks) 198-6, Dauntsey's 93
Wellington (Berks) 93, Bradfield 94-1
Lord Wandsworth 91-9, *Bradfield 92-4
Dauntsey's 153-6, Lord Wandsworth 130-8
Bradfield win the group
South Central section group 4
Portsmouth GS, 174-5, *Winchester 130-8
Portsmouth GS 153-6, Marlborough 145-7
Marlborough 147-3, *Winchester 111-5
Portsmouth GS win the group