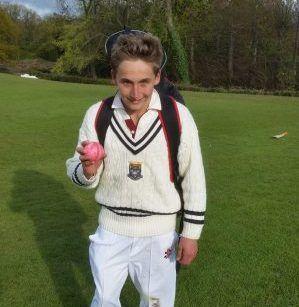 Henry Wines who took 8 for 15 in four overs
There were two extraordinary performances last week. In a 20-over match (not part of the National Schools competition) a 14-year-old exchange pupil from Knox Grammar School in Australia took eight wickets for 15 in his allotted four overs with some highly skilled leg-spin. Henry Wines is at Haileybury and, having only just arrived and?after just?a week in the nets, was known mainly as a useful batsman. Aldenham were somewhat running away with the game at 58 for one chasing 130 for five when the captain, perhaps in desperation, threw him the ball in the 12th over. His feat is believed to be a record for a 20-over match. Hard enough to take two or three wickets in four overs. Eight is phenomenal. Aldenham were all out for 81.
Until about fourteen years ago a score of 300+ was a very rare event, mainly because sides had to declare or kill any chance of winning. Nowadays, with the almost universal 50-over format in schools games such scores are not exactly common but not that unusual. Twelve years ago, Tiffin caused a considerable stir by amassing what seemed an extraordinary total of 425, and last year Caterham went two better with 427. Now a new record seems to have been set by Harrow with a quite astonishing 442 for six against Hampton who very remarkably responded with 327 for six. Amazing but hugely commendable to make that score yet lose by over a hundred runs. I hope to publish fuller details of this extraordinary game a little later.
In the first round of the National Twenty20 competition, Manchester Grammar School?s Sam Perry scored an impressive 139 not out against Stockport Grammar School. What a huge score for a 20-over game.
Luke Henderson of Durham, who missed the best part of two seasons through injury, skittled out Barnard Castle for 29, taking five for two in seven overs. In the previous match against RGS Newcastle he took six for 71.
Ben Waring, Wisden?s schoolboy cricketer of the year for the 2015 season, still has another year to go at Felsted and began the season in strong form with his slow left-arm taking seven for 65 against MCC. His performance was then eclipsed by Jordan Cox who is still only in Year 10 but guided his side to victory with 140 not out. A member of the Kent academy, he scored 1000 runs for the school?s Under-14s last season with four centuries in a row.
Another slow left-armer, Clifton?s Louie Shaw, had a day to remember when they entertained Taunton. After taking seven for 25 to dismiss the opposition for 157, he opened the batting and finished on 99 not out. Unfortunately, owing to a malfunctioning scoreboard, he was unaware of his own score when on 93 he cheerfully hit the first ball of the 32nd over for six but was then left stranded one short of a century as the winning run was struck from the other end.
Results
*Haileybury 130-5 (20 overs), Aldenham 81 (H Vines 8-15)
*Harrow 442-5 (50 overs)(A Rath 171, R Wijeratne 115), Hampton 327-6 (T Ryan 157)
*Shrewsbury 182-4 (37 overs), Free Foresters 183-4
MCC 156-7 dec, *Malvern 102-8
MCC 275-4 dec (R Soulsby 114 not out), *Haberdashers' Aske's 192-8
*RGS Newcastle 296 (R Peyton 170, L Henderson 6-71), Durham 240-7
*RGS High Wycombe 187-4 (35 overs)(F Pestana 101), Queen Elizabeth?s, Barnet 129-8
*RGS Worcester 170-3 (30 overs), Hereford CS 117-9
*Winchester 159-9 (35 overs), Canford 160-6
*Cheltenham 149-7 (35 overs), Clifton 150-8
MCC 242-5 (A Gravell 104), *Culford 197
*Wellington (Berks) 126-8 (20 overs), Royal Logistic Corps CC 118-5
MCC 231 (B Waring 7-65), *Felsted 232-4 (J Cox 140 not out)
*Sherborne 102-8 (20 overs), Bryanston 12-3 (rain)
*Oxford MCCU 139-6 (20 overs), St Edward's 86-5
Taunton 157 (L Shaw 7-25),*Clifton 160-2
Reigate GS 123-8 (30 overs),*Christ?s Hospital 127-4
Christ?s Hospital 168-6 (35 overs), *Worth 151 (Martin Berrill Sports League)
Haberdashers' Aske's 239-6 dec (C Mack 100 not out), *Mill Hill 152-7
Bryanston 144-5 (30 overs), *Downside 145-7
*Radley 213-7 dec, MCC 214-2
*St John's Leatherhead 123, St Paul's 124-1
*St Edward's 281-6 dec (A Woodland 122), Free Foresters 142 (H Ward 6-38)
Warwick 254-7 (50 overs), *RGS Worcester 179
*Shrewsbury 143-7 (45 overs), Bromsgrove 147-3
*Dauntsey?s 175-8 (40 overs), Beechen Cliff 39-2 (rain) (Monkhouse Intersport League)
Winchester 61 (F Hooke 6-35), *Dauntsey?s 65-2
Bedford 242 (L Chapman 5-75), *Felsted 157
Oratory 161-3 (20 overs), *Pangbourne 136-8
*St Edward's 191-4 (20 overs), Rifles 140-3
Bradford GS 187-7 (50 overs) *St Peter's, York 188-5 (37
Marlborough 224-8 (50 overs), *Eton 228-5 (H Hardman 107)
Stowe 166-5 (20 overs), *Bedford Modern 150-4
*Wellington (Berks) 257-8 (55 overs), Eton 258-6
KCS Wimbledon 130, *Reed's 132-2
Bede's 143-6 (20 overs), *Eastbourne 146-2
Queen Mary's GS, Walsall 83-9 (20 overs), *King Henry VIII 84-4
*Durham 194-5 dec, Barnard Castle 29 (L Henderson 5-2)
Portsmouth GS 68, *Cranleigh 69-0
*Cranleigh 240-1 (20 overs), Portsmouth GS 122
RGS High Wycombe 126, *Magdalen College School 127-0
Kimbolton 155-8 (40 overs), *Bedford Modern 156-4
Hampton 178, *Dulwich 156-9 (L Minshull 5-23)
*Millfield 201-8 (45 overs), Sherborne 204-2
Kelvinside Academy 103-6 (20 overs), *High School of Glasgow 104-5
Reading Blue Coat 99, *Merchant Taylor's, Northwood 102-1
*Reading Blue Coat 179 (C Bolton 5-28), King Edward VI School, Southampton 86
National Schools Twenty20 competition (cumulative)
North East section group 2
Silcoates 88-6, QEGS 92-5
Silcoates 85-6, Bradford 86-1
QEGS 106-6, Bradford 94-8
QEGS Wakefield win the group
North East section group 4
Woodhouse Grove 188-4, Birkdale 59
Ashville 164-7, Pocklington 144-8
Final still to be played
East section group 3
Wellingborough 187-3, *Kimbolton 110-5
*Bedford 137, Stowe 108
Final still to be played
West Midlands section group 1
Denstone 98-9, Bablake 99-2
Bablake 134-4, Warwick 138-2
Bloxham withdrew
Warwick win the group; Bablake runners-up
West Midlands section group 2
*RGS Worcester 197-1, Wycliffe 96-4
Monmouth 130-6, Dean Close 131-8
Monmouth 154-7, Wycliffe 153-8
*RGS Worcester 154-5, Dean Close 112
RGS Worcester win the group; Dean Close runners-up
West Midlands section group 3
Bromsgrove 200-6, Queen Mary?s GS Walsall 40
Malvern 138-8, Wrekin 139-5
Queen Mary?s GS Walsall 111-9, Malvern 114-3
Bromsgrove 155-7, Wrekin 110
Bromsgrove win the group; Wrekin runners-up
South East section group 1
Bede's 125-8, Aldridge 116-7
Ardingly 162, Brighton 89
Ardingly, *Bede's 103-2
Bede?s win the group
South East section group 2
Eastbourne 132-8, *Cranleigh 133-4
Lancing 106, Hurstpierpoint 111-2
Hurstpierpoint 112-8, *Cranleigh 116-2
Cranleigh win the group
South East section group 4
Kent College 99-8, Epsom 103-4
Simon Langton withdrew; Tonbridge had a bye
Tonbridge 190-3, Epsom 109-6
Tonbridge win the group
North London section group 1
Forest 83-9, *St Albans 84-1
North London section group 2
*Mill Hill 79, Berkhamsted 77-8
North London section group 3
*Merchant Taylors' 214-4, Aldenham 104
South London section group 1
RGS Guildford 169-5, Trinity 171-4 18.3 overs
KCS Wimbledon 142-9, RGS Guildford 144-5
KCS Wimbledon 121-7, Trinity 110
RGS Guildford win the group on NRR
South London group 2
Whitgift 198-3, Wilson?s 64-6
St George?s 114, Reed?s 115-?
Whitgift 199-5, Reed?s 57
Whitgift win the group
South London group 3
*Dulwich 194-4, John Fisher 90
St Benedict's 89, Hampton 95-1
Hampton 155-7 *Dulwich 136-6
John Fisher 126-5, St Benedict's 128-2
Hampton 141-7, John Fisher 109-4
St Benedict?s 117-8, *Dulwich 121-5
Hampton win the group
South London group 4
Eltham 166-3, Ibstock 59
Langley Park 94, Chigwell 95-5
Eltham 153-2, Chigwell 113
Eltham win the group
South West section group 1
King Edward?s Bath 146-7, *Beechen Cliff 147-4
*Bristol GS 136-3, Beechen Cliff 138-4
*Bristol GS 136-4, King Edward?s Bath 137-3
Others still to be played
South West section group 2
Taunton 190-5, *Downside 99-5
Others still to be played
South West group 3
*Clayesmore 109, Plymouth 110-5
Others still to be played
South central section group 1
*Winchester 133-9, Abingdon 99
Elizabeth College Guernsey withdrew
Winchester win the group
South Central section group 2
Lord Wandsworth 80 (20 overs), *Bradfield 84-0
Lord Wandsworth 132-9 (20 overs), Radley 118-8
*Bradfield 146-5 (20 overs), Radley 104-8
Bradfield win the group
South Central section group 3
*St Edward?s 104-7, Wellington (Berks) 107-1
Ryde withdrew
Wellington win the group
South Central section group 4
*Oratory 79-9, Portsmouth 80-3
*Oratory 126-8, Marlborough 127-3
Portsmouth 152-4, Marlborough 156-6
Marlborough win the group