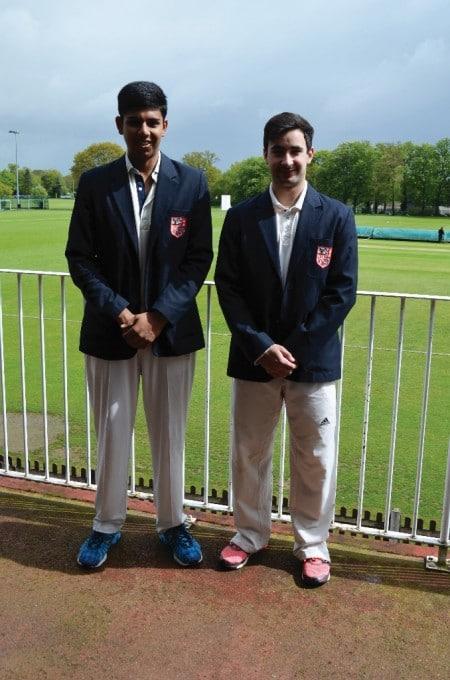 Rishi Patel (200) and Harry Levy (150 not out)
Another week, another astonishing score. In a partnership of 342, Brentwood?s Rishi Patel scored 200 from 138 deliveries with 31 fours and six sixes, while Harry Levy took 150 not out from 128 balls with 19 fours and four sixes. They declared at 384 for 1, probably rather too many for Dr Challoner?s Grammar School to chase, but they secured a draw, reaching 198 for eight.
Two other schools also scored over 300; indeed both scored 311 in 40 overs. King Edward VI in Southampton arrived there for four against Reading Blue Coat while Wellingborough lost five for the same score, opener Ben Wall making 112 of them against King?s Ely. He was joined for a large part of the innings by skipper Drew Brierley who fell agonisingly short of three figures on 94 to a waist high full toss from a part-time spinner. Both schools won their games comfortably, all-rounder George Groenland rattling up a quickfire 54 from 32 balls and then taking five for 19 in his eight overs. Earlier in the week, Reading Blue Coat had produced a superlative performance, overhauling the formidable 20 over score of 201 by Merchant Taylors? (Northwood) by nine wickets, Martin Andersson scoring 100 not out.
Ratcliffe and King Edward VIII school in Coventry seem to make something of a habit of ties with their second in six years. The latter knocked up 198 for nine in their 40 overs, with Jack Nightingale taking five for 25 for Ratcliffe. He was also facing on a score of 90 when he was dismissed with the scores level.
The National Twenty20 is making some progress despite rain in several parts of the country. To see the current state of the competition, click here.
Several recent UK schools players were on show at the weekend in the Test match as well as some old hands. Chris Jordan (Dulwich) returned to his native Barbados for England while Shai Hope (Bede?s) lives there and plays for them; he scored a double century for Barbados in March. Jos Buttler (King?s Taunton), the 2009 Wisden schools cricketer of the Year, was twice stranded at the crease, running out of partners; perhaps he should be opening, as he did at school! On Friday the Wisden schools cricketers of the year for 2007 and 2008 are on show in Dublin: Jonathan Bairstow (St Peter?s York) and James Taylor (Shrewsbury), the latter as captain.
Results
Cranleigh 168-4 (20 overs), *Bede's 158-9
Beechen Cliff 173-5 (40 overs), *Dauntsey's 174-3 (Peak Sports League)
Ellesmere Under-17 107-8 (35 overs) (C Cooke 5-24), *Shrewsbury Under-17 108-1
*St Edward's Oxford 216, Bradfield 201
MCC 181-3 dec, *Haberdashers' Aske's 182-5
*King Edward VI Southampton 227-4 (40 overs), Halliford 99
Hereford Cathedral School 102, *RGS Worcester 103-5
*Blundell?s 88 (40 overs) (P Rajh 5-22), SGS College 91-3
Merchant Taylor's, Northwood 201 (20 overs), *Reading Blue Coat 202-1 (M Andersson 100 not out)
*Shrewsbury 212-7 (40 overs), Free Foresters 148
*MCC 196, (B Anderson 5-14), Kirkham GS 145-9
*Monmouth 192-4 (20 overs) Dean Close 103-5 (Chesterton cup)
MCC 281-8 dec , *Felsted 273
Oakham 154-8 (40 overs), *Uppingham 155-7
*MCC 148 (C Purton 6-40), Radley 143 (J Williams 6-34)
MCC 249-7 (50 overs), *Malvern 252-1 (B Tegg 104 not out)
Monmouth 155 (50 overs) (J Haynes 5-25 ),*Malvern 157-2
Repton 116 (50 overs), *Malvern 120-1
*RGS Guildford 92 (30 overs), Reed's 96-3
*KCS Wimbledon 162 (50 overs)(N Spreeth 5-28), Reed's 163-3
Dulwich 309 (50 overs) (A Greenidge 125), *Hampton 189 (W Anthony 5-25)
Charterhouse 141, *Tonbridge 143-4
*Winchester 207-9 (50 overs), Dauntsey?s 168-9
MCC 259-4 dec (D Bicknall 105), *Ratcliffe 137
*King Henry VIII 198-9 (40 overs) (J Nightingale 5-25), Ratcliffe 198
Mill Hill 195 (G Lawrence 6-43), *Haberdashers' Aske's 197-5 (I Harris 113 not out)
Ipswich 237-2 dec (B Parker 111), *Royal Hospital School 170-7
Bryanston 182-6 (30.0 overs), *Wells Cathedral School 155-5
Durham Pilgrims 144, *Durham 145-2
Durham 105-2 v *Barnard Castle (rain)
Clifton 292-7 (50 overs) (L Shaw 121), *Taunton 284 (S Whitefield 121)
Shrewsbury 229-6 (50 overs), *Bromsgrove 129
*Bristol GS 322-5 (50 overs) (H Thompson 144), KES Bath 198
*Brighton 155, Epsom 156-5
*King Edward VI, Southampton 311-4 (40 overs) (T Fay 139 not out), Reading Blue Coat 190
St Paul?s 200-6 (50 overs), *Cranleigh School 201-5
*St Peter's, York 77, GSAL 78-3
*King's Canterbury 177, Bede's 178-6
*Wellingborough 311-5 (40 overs) (B Wall 112), King's Ely 145 (G Groenland 5-19)
Worth 250-9 (40 overs)(T Pullan 122), *Christ?s Hospital 128 (Martin Berrill Sports League)
*Christ?s Hospital 182-6 (40 overs), Barns Green CC 184-3
Seaford 116 (40 overs), *Christ?s Hospital 118-4 (Martin Berrill Sports League)
*Brentwood 384-1 dec (R Patel 200, H Levy 150 not out), Dr Challoner's GS 198-8
RGS Worcester 212-6 (40 overs) (E Bartlett 100), *Warwick 213-2
*St Edward?s Oxford 216 (50 overs), Bradfield 201
Bradfield 157 (50 overs), *Portsmouth GS 160-3
*Kimbolton 177-9 (40 overs),Bedford Modern 178-4
National Twenty20 round 1, group stage
North East section group 1
Silcoates 115-6, QEGS Wakefield 92-5
Birkdale 78, Silcoates 79-3
QEGS Wakefield 131-2, Birkdale 122-7
Silcoates win the group
North East section group 2
Ashville 123-5, Woodhouse Grove 124-5
Woodhouse Grove 161-4, Pocklington 123-7
Ashville 134-5, Pocklington 120-4
Woodhouse Grove win the group
East section B group 6
*Stowe 153-8, Bedford Modern 61
Stowe win the group
West Mdlands and Wales section group 1 (rain)
Queen Mary's, Walsall 75-6 (16 overs) (C Cooke hat-trick), Shrewsbury 76-1
Ellesmere 165-2 (16 overs) v Queen Mary's Walsall (rain)
Rain prevented this group from finishing the round
South East section group 3
Bede's 131-8, Lancing 77
Bede?s win the group
South London section group 2
Langley Park 108-6, *Dulwich 109-6
St George?s Weybridge 191-6, Kingston GS 112
Dulwich play St George?s Weybridge to decide the group winner
South West section group 1
*Bristol GS 152-8 (C Scott 102 not out), Prior Park 118-6
Other matches in this group still to be played
South West section group 3
*King's Taunton 172-5, Clayesmore 89
Other matches in this group still to be played