Twenty over matches have been played for years but the Twenty20 brand has only really been around for just over a decade. The National Schools competition produced an astonishing succession of events in the South London section last week.
Hampton won their group but by the tightest of margins, overcoming Eltham by a single run (having lost the same number of wickets) and then tying scores with the hosts Dulwich but losing two fewer wickets. That was merely the prelude. For practical reasons the match between Eltham and John Fisher was postponed until Wednesday and it produced probably the most startling batting any twenty over cricket has ever seen (sadly Wisden records do not cover such things).
Given the structure of the competition, Eltham knew that a strong net run rate would give them the chance to progress in the competition as the best runner-up (Hampton having already won the group as described above). It was therefore imperative to score a large number of runs as quickly as possible but without losing wickets (such is the net run rate rule in this competition). And how they succeeded. In brief, George Haley, the captain and batting number three (pictured below – click on the image for a larger version), scored a quite astonishing 208 not out, hitting 22 sixes and 16 fours – with full-size boundaries – and going from 102 to 202 in just 22 balls, almost all of them straight sixes. And he didn?t start batting until the last ball of the fourth over! His innings was 56 balls in total. What an achievement!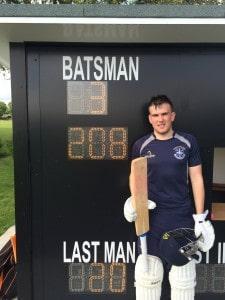 Meanwhile, in a 40-over match in the Under-15 ECB/ESCA cup competition Sedbergh?s Harry Brook (pictured below) scored 164 from 93 balls, the last 64 of them coming from just 15 balls. This included his hitting six sixes in one over, thus emulating the feat achieved not just famously by Sir Garfield Sobers but also by Kyle Cunningham of Bedford Modern last year.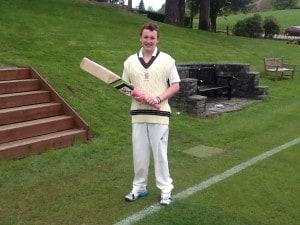 Neil Brand was on good form for King?s Taunton and earned himself a place in Somerset?s 2nd XI. First of all, against local rivals Millfield he salvaged the innings after two early wickets with a fine 100 to reach 245 for 7. Millfield needed 30 in the last over to win and did manage 19 of them. Brand followed this up with 137 to post a formidable 319 for two away at Bryanston, a total which proved far beyond range for the hosts.
Eton held their nerve to win a tense match at home to Radley. Having scored a relatively modest 216 for nine in 55 overs, thanks to an unbeaten 10th wicket stand of 37, they thought Radley would overhaul them when James Todd, the opener (85) was going strong and needed 36 from the five overs. But Todd fell in the final over, leaving the visitors 12 short. Eton had previously lost quite heavily to the ever-developing Sussex school Bede?s; for the latter Fynn Hudson-Prentice a Sussex Academy player, was in particularly good form against King?s Canterbury scoring 142 including 11 sixes after being dropped on 37.
RGS Worcester have a very promising off-spinner in young (Year 11) Amar Jawanda. In the match against Hereford Cathedral school, he achieved the extraordinary analysis of five wickets for one run.
Woodhouse Grove?s openers Jibrael Malik (109) and captain Dylan Budge (99 not out) put on 190 for the first wicket against Manchester Grammar School and their 231 for two in 50 overs was enough, together with tight bowling, to secure a comfortable win.
Budge was not the only one who failed to reach a target by one run. In a low-scoring game on a slow pitch at Hymers, Silcoates struggled against some economical bowling to reach 166 for seven from their 45 overs, despite a good innings by their captain Josh Holling (46 not out) and some lusty hitting at the end. The home side paced their innings well and it was mainly the captain Tom Morgan (54), Tom Jones (56 not out) and Henry Sweeting (26 not out) who seemed to be winning the game. However, when it came down to scoring two runs from the final ball, the batsmen could scamper only a quick single, thus tying the match.
Results:
*AKS (Arnold KEQMS) 68, Kirkham GS 72-2
*Giggleswick 204-7, Kirkham GS 158
MCC 138-9 dec,*Kirkham GS 74-9
*Abingdon 307 (40 overs) (S Bhadra 154), Bloxham 78-3 (Schoolspsorts magazine U-17)
*Hampton 201-7 (40 overs), RGS Guildford 170
Bede's 204-5 (35 overs), *Eton 126
Durham Pilgrims 166-5 (40 overs),*Durham 9-0 (rain)
Free Foresters 164-5 (40 overs), *Shrewsbury 165-2
MCC 258-3 dec, *Haberdashers' Aske's 236-5 (R Mandumula 101)
*Denstone 275-3 (H Hosein 102 not out), Wrekin 168 (W Burrows 5-43)
MCC 177, *Malvern 181-3
*Oakham 163-9 (30 overs), Uppingham 133-7
*Sedbergh 317-4 (40 overs), Rivington & Blackrod HS 70 (U-15 ECB/ESCA cup)
*Felsted 182-5 (20 overs), New Hall 72
MCC 185-2 (T Kennedy 107 not out), *Ratcliffe 0-0 (rain)
*Oakham 164-9 (30 overs), Uppingham 134-7
King?s Taunton 245-7 (50 overs)(N Brand 100), *Millfield 234-7
King?s Taunton 319-2 (50 overs) (N Brand 137), *Bryanston 143 (C Ayers 5-43)
Tonbridge 148-8 (40 overs), *Cranleigh 149-3
*Wellington (Berks) 177-6 (50 overs), Cranleigh 178-9
Tonbridge 197 (55 overs), *Charterhouse 168 (Cowdrey cup)
*Merchant Taylors? Northwood 219, St Paul?s 154
*Ardingly 114-9 (20 overs), Christ?s Hospital 73 (Langdale cup)
Eastbourne 78-5 (20 overs), *Lancing 79-1 (Landale cup)
*Christ?s Hospital 156-8 (30 overs), Reigate GS 154-8
Christ?s Hospital 105 (40 overs), *Worth 106-4 (Martin Berrill Sports League)
Malvern 236- 6, *Repton 172
*RGS Worcester 77, Malvern 79-1 (Chesterton cup)
*RGS Worcester 247-2 (35) (J Watts 114 not out), Hereford CS 85 (A Jawanda 5-1)
*RGS Worcester 265-4 (50), Warwick 186
*Eton 216-9 (55 overs), Radley 204-8 (Cowdrey cup)
Kingswood 194-4 (30 overs), *Wycliffe 184-9 (Peak Sports League)
*Monkton Combe 189-5 (40 overs), Wycliffe 154 (Peak Sports League)
*Durham 233-4 dec.(L Henderson 120 not out), Barnard Castle 86 (S Taylor-Gell 5-40)
*St Albans 194 (40 overs), Bancroft?s 171
Winchester 159-6 (50 overs), *Dauntsey's 123
*St John's Leatherhead 159 (50 overs), Eastbourne 161-8
Royal Hospital 91, *Ipswich 95-2
*Trent 158, Shrewsbury 160-0
Bede's 317-5 (F Hudson-Prentice 142), King?s Canterbury 221-8
*King Edward's Bath 187-4 (40 overs), Bristol GS 98
*Mill Hill 140, Haberdashers' Aske's 127 (E Bamber 5-8)
Tiffin 126-6 (35 overs), *Reed?s 130-3
RGS Guildford 168-6 (35 overs),*Reed?s 172-7
KCS Wimbledon 79 (H Thorpe 6-14),*Reed?s 82-0
Silcoates 166-7 (45 overs), *Hymers 166-3
Clifton 236-4 (50 overs), *Taunton 149 (J Probert 5-32)
*Stewart's Melville 207-5 (35 overs)(M Angelini 105 not out), High School of Glasgow 86-5
Colfe's 243-5 dec (T Stiddarrd 152 not out), *Caterham 172-8
Woodhouse Grove 231-2 (50 overs) (J Malik 109), *Manchester 124
*St Edward?s 85-2 v Bradfield (rain)
Bradfield 197 (50 overs), *Stowe 114
Marlborough 155-7 (50 overs),*Sherborne 156-2
*Merchant Taylors?, Crosby 189-9 dec, Kirkham GS 191-4 (J Seward 109 not out)
Northants Under-17 154, *Stowe 155-4
Bradfield 198, *Stowe 120
Kimbolton 128, *Bedford Modern 129-9
St Peter?s York 144-8 (50 overs), *Grammar School at Leeds 145-8
*Perse 254-5 dec (C Pepper 106 not out), Leys 197-6
National Twenty20 competition ? round 1
North East section group 1
Woodhouse Grove 128-6, *Silcoates 80
Birkdale 103-5, *Silcoates 104-1
Birkdale 54-9, Woodhouse Grove 55-0
Woodhouse Grove win the group
Eastern section A group 3
Kimbolton 75-8, Wellingborough 76-4
Stowe 135-9 (J. Richardson 6-15), Bedford Modern 130
Stowe 68, Wellingborough 69-1
Wellingborough win the group
Eastern section B group 4
King? Ely 101-8, Stamford 102-1
Wisbech GS 96-8, Stamford 99-3
(Thomas Deakin withdrew)
Stamford win the group
West Midlands and Wales group 1
Monmouth 137-8, Llandovery 107
(Christ Brecon withdrew)
Monmouth win the group
West Midlands and Wales group 2
*King's Worcester 64, RGS Worcester 65-1
(Dean Close withdrew)
RGS Worcester win the group
West Midlands and Wales group 5
*Shrewsbury 177-9, Canon Slade 25
Oswestry 70, Leicester GS 71-3
Oswestry 101-7, Canon Slade 102-8
Leicester GS 66, *Shrewsbury 67-2
Shrewsbury win the group
South London Section group 1
Dulwich 172-5, John Fisher 99-10
Hampton 122-7, Eltham 121-7
Eltham 136-6, Dulwich 125-7
Hampton 180-4, John Fisher 117-7
Dulwich 139-9, Hampton 139-7
Eltham 318-1 (G Haley 208 not out), John Fisher 82-9
Hampton win the group
South Central section group 2
Bradfield 120-8, Dr Challoner?s GS 107-9
Dr Challoner?s GS 135-8, *Lord Wandsworth 74
*Lord Wandsworth 102-6, Bradfield 105-3
Bradfield win the group