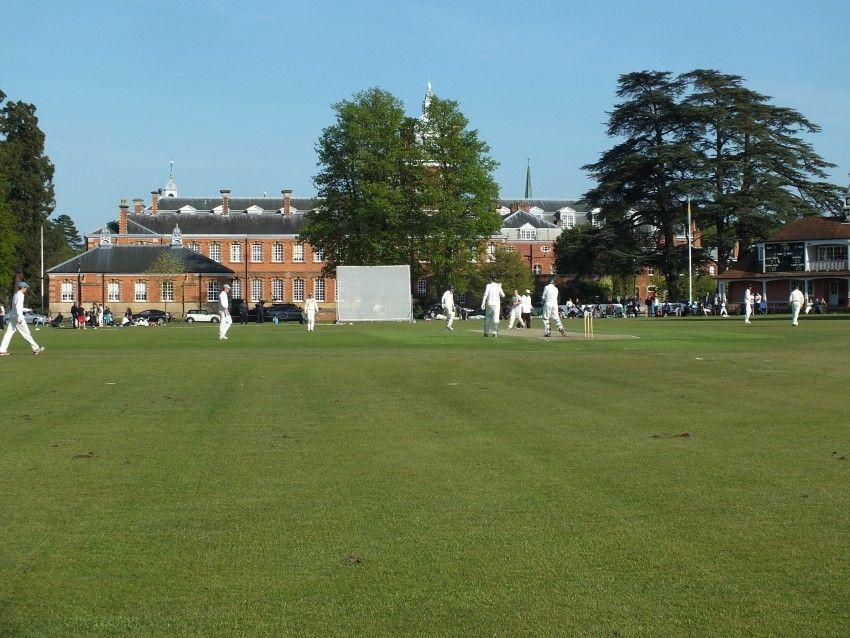 Click on any thumbnail to see a larger image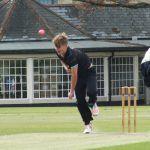 Cricket has always been the major summer boys' sport at Wellington but it began to flourish following 1874 and still does so to this day and it should be noted that it is now growing as a summer option for girls too. Cricket took longer than other sports to develop at Wellington due to a lack of appropriate pitches, caused by the 'heathy' nature of the ground, which was not completely rectified until 1905/1906, thanks to Mr OT Perkins. However, cricket at Wellington was firmly placed on the public schools map from 1880 onwards, largely due to the efforts and talent of Prince Christian Victor, after whom the College bowling prize is now awarded.
In 1861 the original wooden pavilion opened on Turf, but was demolished in 1901 due to damage caused by rats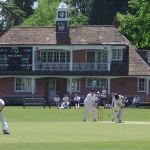 . The now Pink Pavilion was opened in 1901, although it was originally lime green, but during refurbishment in 1994 it was repainted pink. The Pink Pavilion stands on the corner of Turf and provides a splendid back drop on a sun kissed afternoon in June.
Wellington College's earliest recorded school fixtures were against Haileybury and Charterhouse but the current list includes the likes of Eton, Harrow, Tonbridge, Radley, Marlborough and Bradfield. The outstanding post-war Wellington teams have been those of 1955 and 2003. The outstanding cricketers in the 50's were batsman R O'Brien (CUCC and Ireland), all-rounder DJ Mordaunt (Sussex) and medium fast bowler DK Fasken (OUCC and Gentlemen). After 1970, RIHB Dyer (Warwickshire) and PHL Wilson (Hampshire, Surrey and Somerset) were prominent figures. DW Jarrett became the first player to win a Blue at both Oxford and Cambridge and GD Reynolds and JS Hodgson also won Blues in later years. In the late 1980's and 1990's the school 1st XI was anchored by the four Hodgson brothers of whom TP Hodgson went on to play for Essex. In more recent times, 2000 onwards, those to play first class cricket from Wellington College have included TK Curran and SM Curran (Surrey and England), BJ Curran (Northamptonshire), EJG Young (Gloucestershire), PJW Young (Oxford UCCE) and LE Durandt (Durham UCCE and Durham). The school's leading run scorers in any season have been CPR Hodgson and LE Durandt, both with over 1200 and the most successful wicket taker is AJM Stileman with 67. A handful of Wellingtonians have gone on to play Test cricket: in 1930, MJC Allom took 4 wickets in 5 balls in the first Test match played by New Zealand, in the same game FT Badcock, another Old Wellingtonian, also uniquely bagged a king pair on debut. More recently, 2017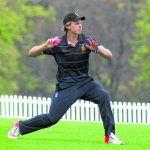 saw TK Curran make his England Test debut against Australia in the Boxing Day test at the MCG and Tom has now played Test, ODI and T20 cricket for England and furthermore SM Curran also made his England Test and ODI debuts in 2018 following in the footsteps of older brother Tom.
The Old Wellingtonians Cricket Club, who has strong ties with the College Club, went on to win the Cricketer Cup in 1995 and more recently in 2017 too.
If you are travelling to Wellington College please follow this link for directions http://www.wellingtoncollege.org.uk/2532/contact.