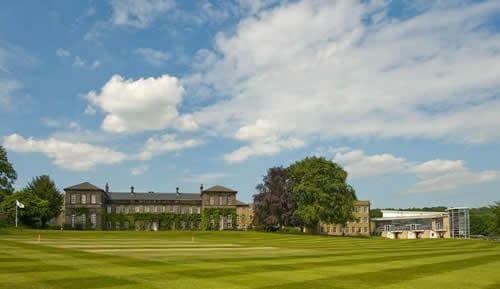 Cricket has been the main summer sport at Woodhouse Grove for many years with the current fixture list including; Manchester GS, Worksop College, Lancaster RGS, Durham, Bradford GS, QEGS Wakefield and Leeds GS. The 1st X1 would normally play approximately 18 matches in a season with the most recent development being a two day game against Warwick School.
The 1st X1 have undertaken overseas tours since 1998 with venues including;
Zimbabwe, Barbados, Grenada, St Lucia and this year's destination is Antigua and St Lucia in March.
The school produces a number of county schoolboys each summer and has enjoyed some success at junior level in recent years. The Under 14 team have been Yorkshire Champions in the Lords Taverners Cup in three of the last four years and in 2008 the Under 15 X1 were North Runners Up in the Daily Telegraph 20/20 Competition losing to Lancaster RGS in the North Final.
Contracted county cricketers include:
Ajmal Shahzad: Yorkshire 2004-2010
Uzair Mahomed: Durham 2005-2008
Andrew Bairstow: Derbyshire 1996
Craig Rika: Northamptonshire 1993-1994
Kathryn Leng represented England Ladies from 1994-2000.
Minor counties cricketers:
Simon Kippax: Cumberland 1993-2000
Bruce Percy: Buckinghamshire 1990-1997
Dalton Polius: West Indies U19 2010
Master i/c Cricket: Ian Frost
Cricket Professional; Arnie Sidebottom
Further information: www.woodhousegrove.co.uk
Contact: frost.ri@woodhousegrove.co.uk
Tel: 01132 502 477