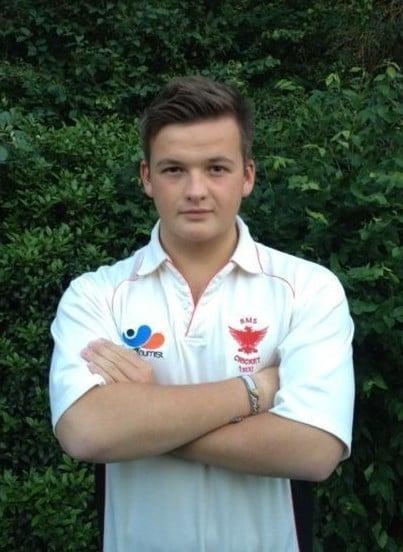 Kyle Cunningham of Bedford Modern School who hit six sixes in an over
A bumper week of extraordinary matches and performances. Pride of place has to go to the match between Bedford Modern School, alma mater of Monty Panesar, and Haileybury which not only had a nail-biting finish but featured a once-in-a-lifetime performance. My wife asked whether there was a special name for it, but it is so rare that cricketers would probably refer to it as a Garry Sobers. I refer to the six sixes in an over hit by Bedford Modern?s Kyle Cunningham who for good measure also hit his next ball for six (two balls later, at the other end) and was then dismissed on 99 scored from 35 balls. Interesting day at the office. After this display of extraordinary fireworks, resulting in a score of 237 for nine in 30 overs (reduced from 50 because of rain), Haileybury in a fine all-round team performance responded admirably positively, keeping up with the run-rate all the time but also losing wickets. This left them with 12 balls to score two runs to win with two wickets in hand; game over, one would have thought. Not at all. A stumping and a run-out from the next ball left them one short of Bedford Modern?s total.
Another dramatic game also reduced to 30 overs resulted in a tie between Wellingborough and Kimbolton. The latter batted first and reached a rather modest 105 for nine. Wellingborough needed nine from the last over with nine down, which then became three from the last ball to win. The batsmen scampered two leaving them also 105 for nine.
Canford who had enjoyed a very successful season, losing only to the formidable King?s Taunton in regular matches (that is, not including the National Twenty20 competition) travelled to Dauntsey?s who were without their star player Jack Mynott (playing for Hampshire Academy instead). Dauntsey?s declared at 223 for eight, with captain Kit Patrick making 110. The game seemed to be drifting towards a tame conclusion as Canford had reached only 118 for four with only ten overs of the last twenty to go. However, Felix Ambrose with 63 from 64 balls and Mike Haines with 45 from 48 had other ideas and changed the course of the game, leaving the visitors with ten to score from the last over with five wickets in hand. Tight bowling from Matt Janes kept it to six from four balls, including a wicket on the first. The fifth resulted in a catch on the boundary and the final ball was one leg bye making it a thrilling draw. A fine advertisement for declaration cricket.
Another fine advertisement for declaration cricket but in rather a perverse way was at Malvern in the form of a 50 over match against Oundle. No blame can be attached to either side for playing the game as arranged, but once the home side had rattled up the astonishing score of 379 for three, Tom Kohler-Cadmore making 187 and Alex Milton 112, the game was essentially over. Malvern can have very short boundaries on one side, but no sixes are ever allowed on this ground and this is still quite extraordinary for a 50 over game. Commentators nowadays talk incessantly about scoreboard pressure and when you are forced to make 380 from 50 overs it is not surprising that Oundle fell short by a large margin, being dismissed for 157.
Sadly there was another example of modern schoolboy captains not quite understanding declaration cricket. Oakham, guilty of declaring far too late last week (see June 18th), found themselves given only 41 overs to Stowe?s 60. As I wrote last week, there is only very rarely any justification for declaring (in this case, being bowled out) well after half-time, especially if you win the toss, as Stowe did. Admittedly Stowe were in a spot of trouble, the over-rate was poor (on both sides) and several overs were lost owing to rain, a lost ball and an injury. Anyway, the visitors were bowled out for 193, a fairly modest score which reflects the slightly difficult conditions for batting, though that just means that the same will apply to the opposition. Given that Stowe seemed to have a more than decent bowler in Henry Woodward, who took six for 33 in Oakham?s score of 134 for eight, clearly an earlier declaration would most probably have secured a win for Stowe rather than a draw.
Dulwich were put in by Whitgift and made a solid start, with a partnership of 92 from skipper Theo Gwyther and Akil Greenidge (both of whom made half-centuries) for the third wicket, giving them 149 at the fall of it. Some sharp fielding and bowling from Whitgift followed, however, after which Dulwich were 153 for five. But nonetheless they managed to post a respectable 208 for six from their 50 overs. Whitgift's Dominic Sibley and Jack Lloyd put on 60 for the first wicket, but Dulwich persisted and had Whitgift 168 for eight with 11 overs to go. Tail-enders Harshil Patel (21) and Joseph Murtagh (25) managed to make the 41 runs required runs to bring their side home with two overs to spare.
Wellington (Berkshire), visiting Charterhouse, made a positive start with 48 in the early overs but they soon collapsed to 55 for five. Only some excellent lower order batting retrieved the situation to reach 160 all out. Charterhouse lost early wickets and were reduced to 80 for seven. Once again rescued by the lower order, they found themselves one short of their target with nine down and two to win from the last ball of the match. This was top-edged and caught, leaving the home side also all out, but for only 159.
St Edward?s Oxford in a thrilling encounter won the John Harvey cup, competed for by themselves plus Radley, Marlborough, Bradfield, Winchester and Cheltenham. At the start of the day both St Edward?s and Cheltenham started on level points having won all their previous matches. St Edward?s batted first on the fast Cheltenham ground and rattled up a century opening stand between Feroz Baig (56) and Joe Barrett (64), followed by a swash-buckling 57 from captain Ruairi Willis. This gave them a competitive 267 for seven, but on the Cheltenham ground all sorts of unlikely scores are possible. At 83 for five it looked as if Cheltenham?s challenge was doomed, but an outstanding century from Alexander Duncliffe-Vines meant that with seven balls to go only 15 were required but with nine down. Miles Hammond who last week made his first class debut for Gloucestershire against Glamorgan claimed the final wicket in the penultimate over to seal victory for the visitors.
Taunton at home won the toss and batted against Sherborne in cloudy and windy conditions. After a slow start with only 28 for two from 15 overs against some very tight bowling there was an excellent partnership between Max Kelly (41) and George Hallas (30) but both fell shortly before lunch. Henry Gater held things together with 35 but wickets fell around him and Taunton were all out for 167 which seemed hardly enough. James Vitali was the pick of the Sherborne bowlers with six for 18. The visitors in reply started rapidly but lost two wickets in the fourth over to Charlie Smith. Things began to look bleak at 79 for six shortly after tea but debutant Year Nine pupil Greg Willows ? son of the Sherborne professional – scored 46. Once he was yorked and a run out followed immediately afterwards, Jamie Williams (15) and another debutant, Conrad Fish (19) looked as if they might make the twenty runs needed even with eight down. However, when Fish was in turn run out, the last man offered a spooned catch to point leaving Sherborne all out just two runs short of Taunton?s score.
Merchant Taylors' bowlers warmed up before their match against UCS Hampstead by bowling in the nets at the Australian tourists, who were using the school's facilities for two days to prepare for the Ashes series. The warm-up paid off as UCS were restricted to 105 for nine in their 30 overs (reduced because of rain), but the batsmen made hard work of the run chase before eventually winning by two wickets (107 for eight).
Other notable individual performances included Luke Hansford, the Lower Sixth captain at Christ?s Hospital, who scored his fourth century in five innings with 120 not out to overhaul the Sussex Martlets declaration of 225 for six. For Shrewsbury, Worcestershire Academy player Ed Pollock (140) struck 11 sixes in his second hundred of the season, against Warwick, leading to a formidable total 320 for five. Warwick replied with 230 for nine, a draw had it been a declaration game, but this was a 50 overs match.
Captain Tom Colverd might have caused grievous bodily harm when his side Haberdashers? Aske?s visited Oxford?s Magdalen College School. In his 148, he cut loose after reaching his century and deposited one big six into the Cherwell, happily missing the leisurely punts passing by. Their 277 for five proved too much for the home side who were all out for 203.
Bolton won the regional final in the North in the National Twenty20 competition, beating St Peter?s York. They join Bede?s from near Eastbourne for the South East, and Shrewsbury for the East and West Midlands region who overcame Bedford. King?s Taunton defeated first Millfield and then Clifton for the South West region and now play Portsmouth Grammar School on Thursday evening for the last finals day place. Interestingly, King?s in any other region would have been knocked out in round one, Millfield having won the group stage. But in the admirable structure of the South West, runners-up at the group stage have a second bite of the cherry. To see the current state of the competition, click here. Finals day is on Friday July 5th at the lovely Arundel Castle ground in Sussex. The first semi-final starts at 10am and the event is open to the public, with no entrance charge. Light lunches and a bar are available.
Eton (203 for five) defeated Harrow (201 all out) at Lord?s by five wickets. For a full report click here. To see the full electronic scorecard, charts etc click here. This takes half a minute to load and you need a PDF reader (Adone etc). To see a simpler version click here
Results:
XL Club 120 (75 overs), *City Of London Freemen's 124-3
Shrewsbury Under-17 149 (40 overs), *Sedbergh Under-17 124-9 (National Schools Under-17 Cup Quarter Final)
*Trent 203-8 dec, Oakham 53-1 (rain)
Emeriti CC 213-7 dec, *Ratcliffe 95-2 (rain)
Perse 114-8 v *Ipswich (rain)
Hampton 250 (C O?Brien 100), *Eton 252-3 ( E James 144 not out)
MCC 222-7 dec, *Wellington (Berks) 218-7 (A Dewes 107 not out)
*Malvern 379-3 (50 overs)(T Kohler-Cadmore 186, A Milton 112), Oundle 157
Cheltenham 217-4 (50 overs)(O Ringrose 100), *Bradfield 179
*Bristol GS 210-7 (40 overs), Queen's Taunton 122-7
*Taunton 167 (50 overs) (J Vitali 6-18), Sherborne 165
Felsted 287-5 dec (J Hunter-Jordan 103 ), *Eltham 181 (J Hebron 5-35 )
Harrow 201 (55 overs), Eton 203-5 (at Lord?s)
Stowe 193, *Oakham 134-8 (H Woodard 6-30)
Sussex Martlets 225-6 dec, *Christ?s Hospital 226-5 (L Hansford 120 not out)
Haberdashers' Aske's 277-5 (50 overs) (T Colverd 148), *Magdalen College School 203
*Dulwich 208-6 (50 overs), Whitgift 212-8
*Ipswich 166-7dec St Joseph's 59 (T Watson 6-9)
MCC 229-6 dec, *Durham 190-7
Ashville 81, *Durham 84-8
*Dauntsey's 223-8 dec (K Patrick 110), Canford 219-6
Wellington (Berks) 160 (50 overs), *Charterhouse 159
*Hymers 124, St Peter?s 125-5
St Edward's School 267-7 (50 overs), *Cheltenham 252 (A Duncliffe-Vines 104 not out)
*St John's, Leatherhead 180-6 (50 overs), Cranleigh 181-2
Old Blues 210-7 dec, *Christ?s Hospital 186-8 (L Hansford 101)
*Shrewsbury 320-5 (50 overs) (E Pollock 140), Warwick 230-9
Thomas More College, Durban 105-5 v *Shrewsbury (rain)
*Kimbolton 105-9 (30 overs), Wellingborough 105-9
Bradfield 196-9 (35 overs), *Marlborough 153
Bradfield Waifs 244-4 (J Bransgrove 109), *Bradfield 191 (H Riazuddin 5-16)
Bedford Modern 237-9 (30 overs), *Haileybury 236
*Merchant Taylors?, Northwood 193 (35 overs), Mill Hill 85
UCS 105-9 (30 overs), *Merchant Taylors?, Northwood 107-8
King's Worcester 117 (50 overs), *RGS Worcester 121-4
National Twenty20 competition
South West region final
King?s Taunton 175-3, *Clifton 145-7
King?s Taunton now play Portsmouth GS for a place on finals day
North region final
St Peter's York 103, Bolton 104-4 (played at Heywood CC)
Bolton win a place on finals day at Arundel, Friday July 5th
East and West Midlands region final
*Shrewsbury 116, Bedford 99
Shrewsbury win a place on finals day at Arundel, Friday July 5th